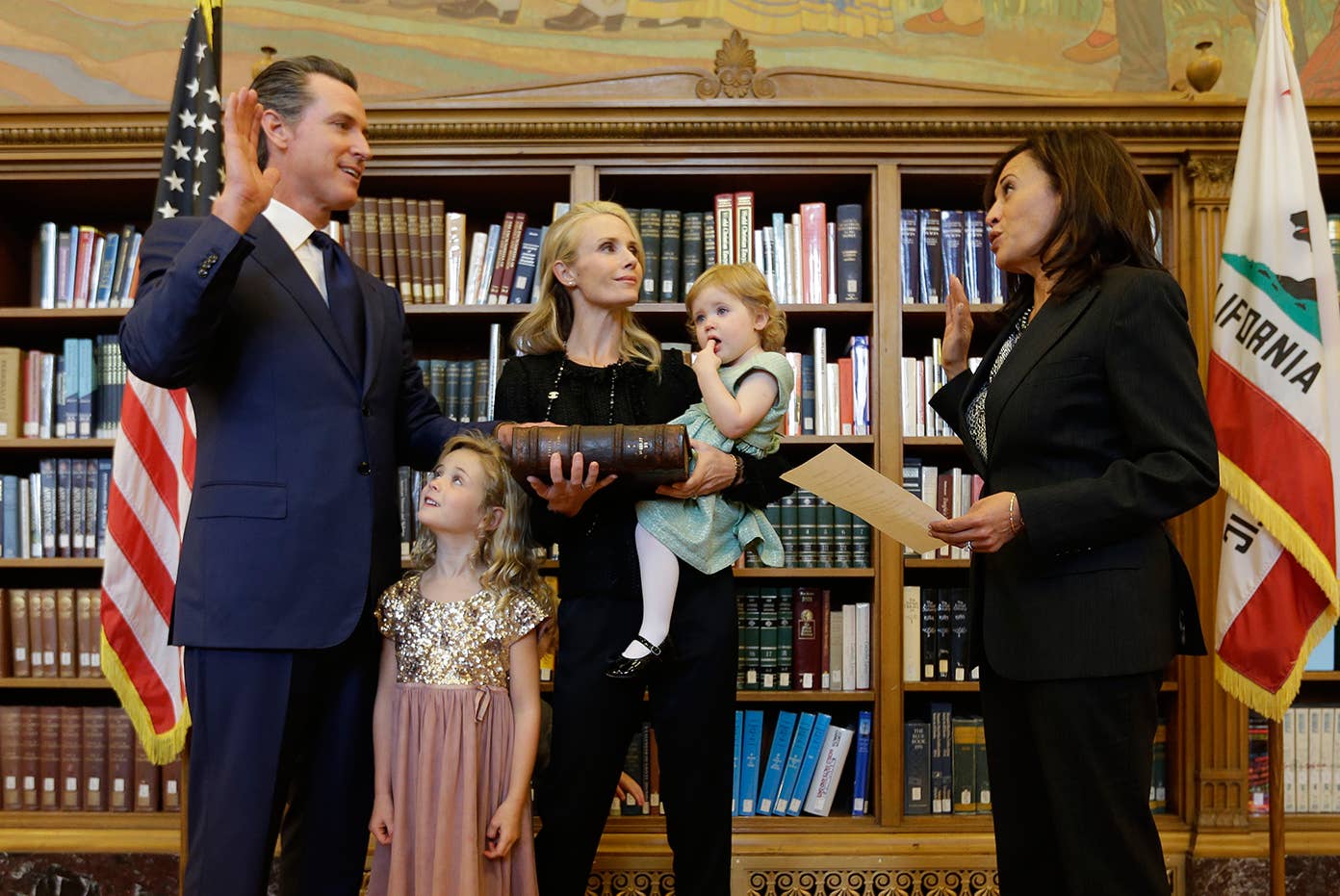 On Saturday night, two days and six hours after the announcement that Barbara Boxer would retire from the U.S. Senate, Lou Paulson was still fielding phone calls.
The labor chief ticked off the potential candidates. He knows each personally: Gavin Newsom, Kamala Harris, Antonio Villaraigosa, Tom Steyer. Any one of them could run for the seat that opened up last Thursday to the next lot of California talent.

"We have a deep relationship with everybody," said Paulson, president of the state's firefighters union and an executive board member of the California Federation of Labor. There was that time Newsom, for instance, "helped sort out…"
Paulson stopped. A long pause on the line. Then a laugh.
"That's Gavin Newsom on the phone right now," he said. "Can I call you back?"
That's how the conversations went in California this weekend. Most people knew it was coming. (They even expected it'd be in January.) Boxer would retire in two years at the end of the term, her fourth, at age 75. And for the first time in more than two decades, the state would send someone new to Washington. Then there would be another governor's race. And then the other senator, Dianne Feinstein, now 81, might step down, too. But on Thursday, when the West Coast woke up to Boxer's announcement, the first of three statewide seats was there for the taking — except no one knew what would happen, including the candidates.
Few expected Boxer to announce her retirement this soon — not this early in the month and not last week. The news sent the state's top Democrats clambering to figure out whether the job they want is the job they can get, depending on who else from what part of the state might run for the same seat and announce it first. More than one California strategist described the maneuvering as a "game of three-dimensional chess."
On Saturday, two Democrats said they were "considering" a Senate run: Villaraigosa, the former mayor of Los Angeles, and Steyer, a hedge fund billionaire and climate activist. But the contest still depends on the two strongest candidates, Newsom and Harris. He is the lieutenant governor and former San Francisco mayor. She is the attorney general and former San Francisco district attorney. He is 47, and she is 50 — young stars who came up in California politics together, advancing every four years in near lockstep. Newsom and Harris share the same donors and base. They share the same political consultants. They share the same inherent electoral advantage in Northern California, where more people vote and the margins of victory are higher for Democrats than below the Kern County line. And they both know, they've long said, that they can't share the same ballot.
The situation is more fluid than it is opaque. Most expect one to run for Senate in 2016, and the other for governor in 2018, succeeding Jerry Brown. In interviews this weekend, people close to Newsom and Harris described a fast-changing, somewhat uncomfortable three-day period of deliberation in which each has sought advice and consulted family, while navigating the concentric circles of their shared political universe, of which there are plenty.
Harris and Newsom are both represented by the same San Francisco firm, SCN Strategies. The firm is led by Ace Smith, who also ran Villaraigosa's mayoral run-off in 2001 and two subsequent re-elections. Smith's partner at SCN, Sean Clegg, was Villaraigosa's deputy mayor. And Jason Kinney, a strategist handling press for Newsom on Thursday, has worked closely in the past with Chris Lehane, the operative who serves as Steyer's top adviser.
Still, there is no "deal" between Newsom and Harris. No "smoke-filled room," no secret pact that would install one as senator and the other as governor. The two Democrats, who share a long and complicated history, have not even spoken directly since before Boxer announced her retirement, according to a person familiar with their correspondence.
People aligned with both elected officials pushed back unanimously on press accounts of an assumed behind-the-scenes deal, negotiated by Newsom and Harris, or their consultants. ("There is no deal. There never was a deal," said one strategist advising Newsom.)
The two camps have said the decision-making process can't stretch far past early this week. But even as the weekend draws to a close, there remains a tacit understanding between both teams, sources said, that they would respect each other's process and come to decisions independently. There is also a perception, including among their advisers, that neither candidate would surprise the other with a public announcement. The two will likely talk directly before making a final plan, one person close to Newsom said.
Now, Harris and Newsom are considering both Senate and gubernatorial bids, sources said.
In past months, supporters in each camp have stressed their candidate's experience as an "executive" and their interest in managing the state, which ranks among the largest economies in the world and is considered one of the best national platforms in politics. But after Boxer's announcement — with the decision now here to make — the Senate has taken on more appealing hues. Some Democrats who spoke with Newsom and Harris over the weekend were surprised by the extent to which both were thinking about a job that, at least publicly, neither candidate seemed to want as much as the state's biggest stage.
"The governor's office is the top prize in California politics," said Gil Duran, who has worked both for Harris and for Brown, now serving his fourth and final term in Sacramento. "That's the job you want if you're a top tier of Democratic leader. I think it would be hard for anyone who thinks they have a real shot a governor to run for Senate instead."
Harris has been more guarded — publicly and privately, even with some advisers — about what she wants to do. Newsom is vocal and overt about his long-held ambition to serve as governor. (He has run for the job before — once, briefly, against Brown in 2010. But Newsom did poorly, withdrew, and campaigned instead for lieutenant governor, a position he has said he dislikes because it lacks executive authority.)
At a recent Bay Area fundraiser for Sen. Cory Booker, Newsom found himself among a group of four or five attendees when one asked for his thoughts on the Boxer seat.
"I'm really more of an executive," Newsom replied, according to a person present.
After Boxer's announcement, his former aides were pushing the same idea.
Nathan Ballard, Newsom's former communications director, outlined the catalog of experiences that told of his boss's "proven track record of executive leadership." There were the restaurants he opened, and the whole city of San Francisco, Ballard said. "When you've been mayor of San Francisco, it's like the king of a city-state. You have the city and county, over 30,000 employees, a port, an airport, and a regional center that views itself to be on par with New York, London, and Paris. So you really do have extraordinary power."
But Newsom's calculus was shifting by Friday. The lieutenant governor has long told close friends and advisers that a Senate bid wouldn't be viable: He and his wife, Jennifer Siebel Newsom, the documentary filmmaker, didn't like the idea of moving their three young children to Washington. On Friday morning, to the surprise of many of his advisers, that changed. Newsom's wife, two sources said, decided she was "open to the possibility."
By Saturday, the Newsom allies were extolling his virtues as a legislator. "For him all along, he has had that legislative experience," said one, citing his first job in politics, on the city's board of supervisors. The Senate, they said, "has always been of interest to him."
"He's seriously considering it," another person close to Newsom said.
Harris seems to be, too. Since Thursday, she has weighed whether the job of governor would be more limiting than a seat in the Senate, where some of the party's most influential figures have built strong footholds and massive platforms. In Washington, officials from EMILY's List, a group that supports pro-choice women running for office, and from the Democratic Senatorial Campaign Committee have been courting Harris with particular zeal, two sources said. Both organizations declined to comment on recruiting efforts.
Harris, a former prosecutor, has been more visible outside her state than most attorneys general. During her first term, she secured billions for California in a high-profile foreclosure-abuse settlement. Democrats in Washington have reasoned that she would be a boon to the party's fundraising efforts. Newsom isn't known as such a disciplined fundraiser. It was one reason he dropped out of the gubernatorial race in 2010. (One former strategist recalled Newsom talking policy, not money, during call-time with donors.)
Harris did spend more money in 2014, while Newsom saved most of his. Neither election was competitive, and some said the distinction shows Harris working to widen her state profile, particularly in Southern California, where she is less established. (Harris recently married and is now splitting her time between Los Angeles, where her husband is based, and San Francisco and, to a lesser extent, Sacramento.) The month before the election, Harris launched two positive television ads in Southern California: one on a truancy initiative, the other on the broad outlines of her law enforcement career. Disclosures also show Harris spent a hefty $50,000 on polling one month out from the race.
Harris may feel the pull of Washington, but her network of supporters still said this weekend that governor has been the idea. Newsom has more transparently and aggressively telegraphed his interest to the world in the executive role, and some who want Harris to hold off for the governor's race said they worried she was being "shoehorned" into the running for Senate. But a large share of her donors still expect and envision a gubernatorial campaign. Harris would be the state's first woman and first black governor.
Steve Phillips, a California donor and an early Harris backer, said his expectations haven't changed. "I know many of her donors want to see her in the governor's office."
The real opportunity in the Senate race, regardless of what Harris and Newsom decide to do, will be for the next tier of candidates who can angle for second place. The campaign to fill Boxer's seat will be the first open statewide race since California enacted a top-two primary system, where the two best-performing candidates advance to the general election regardless of party affiliation. "It's a whole new ballgame," said Garry South, who was a senior strategist on Newsom's failed campaign for governor. "Even if you don't win, you've got a statewide fundraising network and, if you do well, you're a top-tier candidate for the Feinstein seat."
There's a history of candidates who lose their first time out and come back to win in California. Pat Brown, Jerry's father, lost his first statewide race for attorney general in 1946 but won four years later and eventually became governor. And Feinstein lost her bid for governor in 1990, but won a special Senate election two years later.
"It's far from being a death knell," said South.
Villaraigosa, who served as the mayor of Los Angeles for two terms, has the least to lose in this sense, state Democrats said. He's been out of office for a year and a half and could benefit from putting himself in the running, as he did on Saturday: "The urgency of the needs of the people of this great state have convinced me to seriously consider looking at running for California's open Senate seat," Villaraigosa said in a statement.
The former mayor has no political operation at the moment, and no entity through which he could raise money, pay for staff, or commission polling. Over the weekend, one adviser was fielding his press requests. Villaraigosa is known as a fierce campaigner, and could take advantage of his spot as one of the strongest Southern California candidates. State operatives also said he would benefit from better Latino turnout in 2016 than in an off-year race for governor. But Villaraigosa has not run statewide before, and could face a problem with organized labor because of his high-profile fights as mayor with unions.
"Antonio carries the most baggage," said Paulson, the president of the California Professional Firefighters. "Our members didn't have a great relationship with him."
He may end up running against Harris or Newsom, but it's more crucial for Villaraigosa to stay off the same ballot as another potential candidate: Eric Garcetti, the ambitious new mayor of Los Angeles who would siphon off some of the Southern California vote.
Before last week, Villaraigosa had told friends privately that he had no interest in the Senate, just governor, two people familiar with the conversations said. But on Thursday, Garcetti took himself out of the running for Boxer's seat, suggesting he too wanted to run for governor.
Villaraigosa's moves don't change much for Harris and Newsom, people close to the two Democrats said. And neither do warnings that Steyer, the hedge fund manager and environmentalist, would be prepared to spend tens of millions in a Senate race.
In the 2014 election cycle, Steyer spent around $100 million funding candidates, largely through his super PAC, NextGen Climate, which has helped launch the financier's political career. (After the election, the group laid off a large share of its staff, a NextGen Climate aide confirmed, describing the downsizing as "a natural part of the campaign cycle.") The PAC will continue in 2016, regardless of Steyer's personal plans.
Asked how much money Steyer is willing to put into the Senate race he's considering, an aide would not name a specific figure, but said, "[He] would spend what is needed."
California voters have not historically been good to first-time self-funding candidates. Chris Lehane, the strategist advising Steyer, said, "As a general proposition for any election and where — but especially in California — while money will get you a ticket to the electoral dance, it won't, can't, and shouldn't buy you electoral love. You need to be genuine, you need to be likable, and you need to give people a reason as to why to support you."
Like most of the candidates thinking about the Senate now, Steyer originally had his eye on the governor's office. But the hedge fund manager has considered whether he could better "leverage the issue of climate change" from the bully pulpit of the Senate, said a person close to the possible candidate. The team has also already done polling.
An aide said that Steyer, like all the rest, would decide about the race by next week.
But still, it all comes back to Harris and Newsom, and the line, years running now, about their relationship and political future: that the two Democratic stars are cordial rivals at best, and that the doom of their "collision course" is impending and certain.
In the last six months or so, they've tried to change that refrain.
Last summer, when the California Democratic Party chair asked each candidate to put on a fundraiser, Harris and Newsom volunteered to do one together instead — a first.
And this month, before his swearing-in, Newsom texted Harris to see if she would administer the oath herself, a source familiar with the conversation said.
Harris replied quickly in the affirmative.