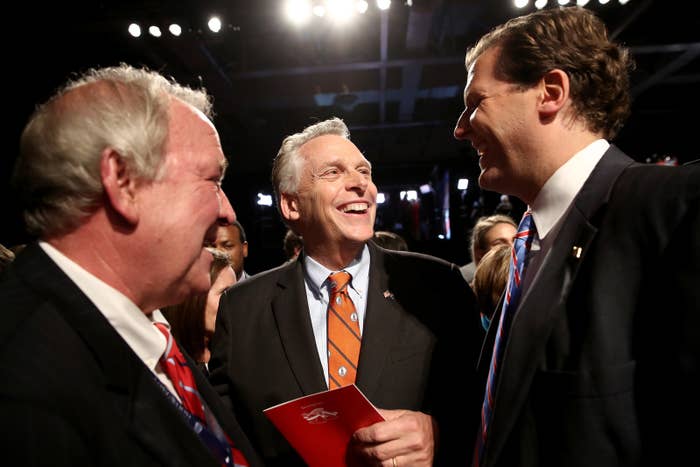 "If I do run, it will be the funnest campaign," Terry McAuliffe recently said.
"It will be a happy tour."

The 62-year-old former governor of Virginia — a close Bill and Hillary Clinton ally, a master high-dollar fundraiser, and a gregarious, always-hyperactive, always-smiling presence on the campaign trail — will not be bringing his "happy tour" to the 2020 race for president, he announced on Wednesday night in an interview with CNN.
"I thought long and hard," said McAuliffe, wearing an orange University of Virginia polo shirt. "I've been reaching out to folks all over the country. Dying to run for president. Think I could really make a difference. Think I could beat Bush — I mean, Trump — like a rented mule. But we've got issues in Virginia and I'm concerned about Virginia. Since February, we've had a lot of problems there," he said.

Before he left office in Virginia, McAuliffe helped to successfully elect Ralph Northam, his lieutenant governor, as his hand-picked successor. Northam remains in office, but became beset by scandal earlier this year after admitting to using black face as a young adult in the 1980s. McAuliffe, along with other elected officials in and outside Virginia, called on Northam to resign, calling the situation "untenable."
"Where can you help people the most and change people's lives," McAuliffe said on Wednesday. "As you know, it happens at the state level. And I don't want anyone in Virginia to think that I've abandoned them. I would love to have run for president."
"But you know what, getting into a field of 20 today and trying to get your message to break through, where tomorrow I could make a real difference to the commonwealth of Virginia."
Asked by CNN's Chris Cuomo whether he would run again for governor of Virginia, where governors may serve only one term consecutively but can run again in the future, McAuliffe did not rule out another gubernatorial campaign.
"That's two years away," he said, noting he is focused on helping Virginia Democrats win back control of the state House and Senate.

McAuliffe, who left the Virginia governor's mansion in early 2018, spent the last year hinting at a potential presidential run. He appeared regularly on MSNBC and CNN. He worked the phones for advice and gossip — calling as many as 400 friends, donors, and former elected officials, some multiple times each, according to former aides. And on Twitter, he got into the habit of taunting President Donald Trump.

McAuliffe has a distinct political style, born out of decades spent energetically chasing checks as a top Democratic fundraiser and staffer. He started in his native Syracuse, New York, at age 6, when he worked his first fundraising event for his father, standing guard at the entrance. "Terry," the elder McAuliffe told his son, "if they don't give you the money, they don't get in the door!" Years later, he said he'd "stop at nothing" to get a check, including (once) wrestling an alligator.

"People like me because I'm a man of the people," he's said, "a hustler."
In 1988, he told aspiring campaign operatives that he liked fundraising because, in part, "I'm not in Des Moines, Iowa," he said of the early-voting caucus state. "It's the cities of San Francisco, Los Angeles, Houston, Dallas, New York, Miami, Chicago."

"Few people work harder than me," McAuliffe told BuzzFeed News in 2017.
"I will outwork you."
As governor, McAuliffe focused that energy on economic development.
"I think job creation is the single most important value a governor could have," he said in the interview. "To me, it is the core issue of what government is about." His time at governor was also marked by his initiative to restore voting rights for felons and investing in programs for education, childhood hunger, and cybersecurity.
He left office, improbably, as a leader in the national party and Governing magazine's Public Official of the Year, seen as both most progressive governor in Virginia history and the best in economic development, bringing to the state a record-breaking $18.7 billion in new capital.
Current and former aides said that up until his announcement, McAuliffe had been going back and forth for months on his 2020 decision, paying particular attention to what Vice President Joe Biden might do. (Biden, who was seen taping a possible ad in his Pennsylvania hometown, looks poised to join the race this month.)
"I love Joe Biden, I'll be very honest," McAuliffe said when asked about his choices for 2020 Wednesday night. "But listen we're gonna have a good, healthy process."

McAuliffe initially said he would make the call before the end of March.
He missed his own deadline by more than two weeks, appearing Wednesday night in the surprise interview on CNN.
"It would have been a fun campaign," he said. "You know that. I love campaigning. I love fighting."