Susan Rice: China Could "Do More" To Pressure North Korea
The UN ambassador said the neighboring country knows Kim Jung-un has "gone too far."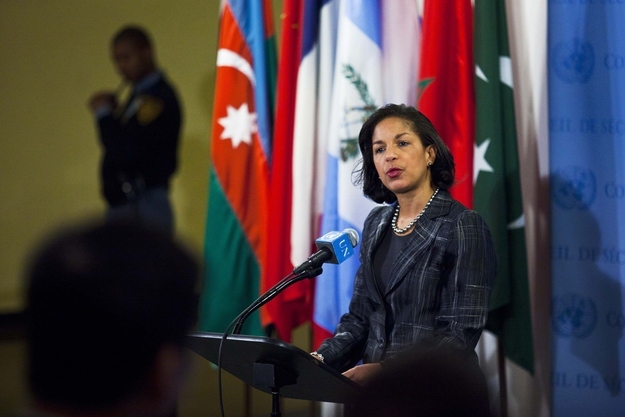 United Nations Ambassador Susan Rice said Friday that the latest round of threats and provocations from North Korea have escalated to a level at which China is now "of the view that Kim Jung-un has gone too far," but added that the country could do more to pressure its neighbor to comply with U.N. sanctions.
The United States has received threats of war from North Korea before, said Rice at a panel sponsored by The Daily Beast's Women in the World summit, but "what seems to be somewhat different is the level of rhetoric and pace of provocation."
Asked by moderator Andrea Mitchell of NBC whether or not China could increase pressure on North Korea, Rice said that although China has been implementing the sanctions passed by the UN in February, "clearly with the border they have, with the economic relationship that they have, they can do more."
"What's interesting about China's stance now, is that you can tell by the nature of their statements, by the nature of their actions, that unlike in the past," said Rice, "they've also are very much of the view that Kim Jung-un has gone too far, and that this now is a situation that has the potential to directly threaten their interests in the region — both economic and security."
Rice cautioned, though, that the United States and its allies "are fully capable of defending ourselves" against Kim Jung-un, adding that Americans shouldn't "get too jumpy when he wakes up in the morning and issues another provocative statement."
The recent threats from North Korea, said Rice, have been "isolating [the country] more and more, impoverishing its people more and more, and taking itself further into the realm of becoming a full-scale international pariah with maximum sanctions on its doorstep."
Rice, speaking from New York City's Lincoln Center, advised Kim Jung-un to "step back and to heed what has been the call of President Obama and other world leaders to choose the path of peace."
"We remain in very close communication with the Chinese, with the Russians, and of course, with South Korea and Japan, our allies in the region, about the collective way to deal with this threat," Rice said. "The reality is, we are united with the rest of the world in ensuring that this threat is contained."