Steve Lonegan Still Wants Chris Christie's Support Amid Scandal
Christie, still facing questions over political retribution, will host a fundraiser Thursday for Lonegan, who vows his "loyalty" to the governor. The former mayor says the bridge controversy is nothing compared to Hillary's "hit list."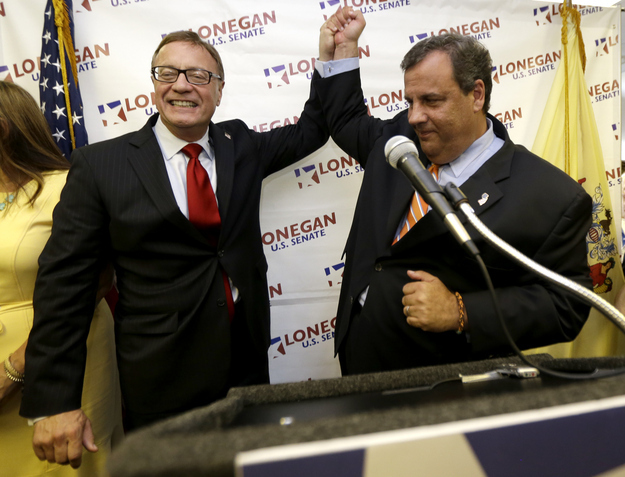 At the height of the media storm over the George Washington Bridge scandal last Friday, Steve Lonegan called Chris Christie's closest adviser to see if the governor, who is headlining a fundraiser for Lonegan this Thursday, wanted to back out.
Lonegan, a Tea Party Republican who lost a U.S. Senate race last year and announced recently that he would run for Congress this fall, assumed Christie would want to reschedule the fundraiser — what with "this shit hitting the fan," said Lonegan in a phone interview Tuesday afternoon.
Bill Palatucci, the adviser, told him the fundraiser — an event to help Lonegan pay off debt from his campaign last year — was still on.
"Palatucci said, 'No he's committed,'" Lonegan recalled. "I give him credit for that."
Lonegan said he stands by Christie, who is still mired in controversy amid revelations last week that his staff members closed lanes on the bridge connecting New York to New Jersey as political retribution. Despite the scandal, Christie will still headline the fundraiser alongside other Republican lawmakers Thursday in Morris County. The news of the fundraiser was first reported by the Star-Ledger.
"There is not a single shred of evidence that he had knowledge of the bridge issues," Lonegan said. "Until anybody proves otherwise, I will support the governor."
"It's deeply saddening for the governor that he had to let people go so close to him," he added. "I don't know what the hell these people were thinking."
Lonegan, now gearing up for a congressional campaign in South Jersey, also accused Democrats inside and outside the state of "piling on because they think that have an opportunity to take this guy down."
Michael Czin, a spokesperson for the Democratic National Committee, said in response, "I think Steve Lonegan's just happy to not be the most controversial politician in the room for once."
Speaking generally about political retribution, Lonegan compared the bridge scandal to a "hit list" of enemies allegedly maintained by aides to former Secretary of State Hillary Clinton, according to an excerpt published this week of a new book.
"Democrats are masterminds of the use of intimidation, whether it's in Hudson County," Lonegan said, referring to the North Jersey region famous for its political corruption, "or whether it's the 'hit list' by Hillary Clinton."
Lonegan vowed to stand by the Christie — who was once his political foe. Lonegan, before losing to Cory Booker by 11 points in last year's special Senate election, challenged Christie from the right in the 2009 gubernatorial primary.
Later, when Lonegan ran the New Jersey chapter of the Tea Party group, Americans for Prosperity, he routinely attacked Christie's record as governor.
"If anybody would be subject to retribution, you'd think it'd be me," Lonegan said, noting that he and Christie have since worked well together. "After the primary, we sat down at my house for a couple hours and had lunch, just the two of us."
"Retribution in politics is not a new idea. What is a new idea is loyalty," he said.
Correction: An earlier version of this article stated that the Sunlight Foundation first reported the news of the fundraiser. It was the Star-Ledger.