Steve Lonegan Seeks Momentum As Cory Booker Goes Negative
The Republican Senate candidate touts an internal poll his campaign leaked to the press and eyes the government shutdown as a rallying point. Booker turns his attention Tuesday to the one-time longshot.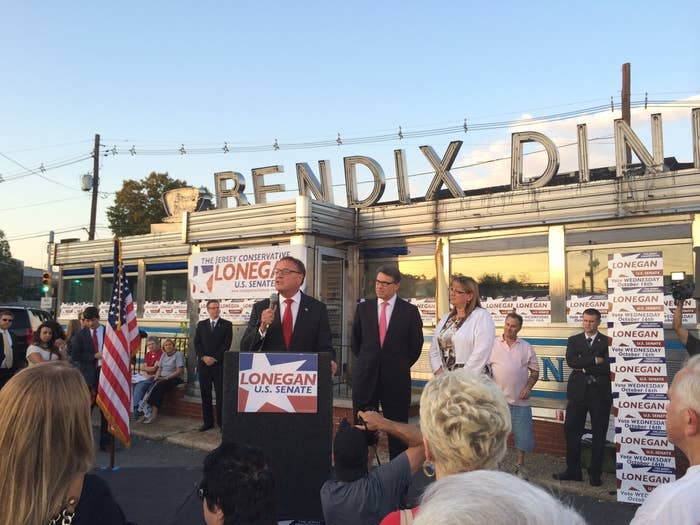 HASBROUCK HEIGHTS, N.J. — From the parking lot of the Bendix Diner on Tuesday night, the New Jersey special Senate election, now just two weeks away, almost felt like a different race.
Steve Lonegan, the Republican up against Cory Booker in the off-season bid to replace the late Sen. Frank Lautenberg, told a crowd of just over 100 supporters here in Bergen County that he was closer than ever anticipated to overtaking his opponent. He was only six points behind now, he said.
"Just 12 weeks ago, my opponent had a 35-point lead. He was the Hollywood choice!" Lonegan said, standing outside the Bendix, a small trailer-style diner on the slab of concrete where Routes 46 and 17 meet. "Then three weeks ago, it was a 20-point lead. Then a week ago, it was a 12-point lead. Now listen to Sean Hannity talk about a six-point lead today."
Lonegan, appearing alongside Texas Gov. Rick Perry, who headlined a total of three events for the candidate on Tuesday, referenced Booker's "six-point" lead all day. The statistic originated from "internal polling" conducted by the Lonegan campaign and "obtained" by National Review, which published the figure and others on its blog. Rick Shaftan, Lonegan's chief strategist, said Tuesday night outside Bendix that he had given the website the numbers himself, and that they accounted for the "real problem" on Booker's hands.
Booker, meanwhile, still holds a steady lead against Lonegan in surveys released throughout the last month by multiple polling organizations. But it has tightened — a Monmouth University Poll published this week has Booker up 13 points, a far smaller margin than the 35-point lead he enjoyed at the start of the general election in August. And as Lonegan campaigned across the state with Perry, Booker showed his focus has shifted considerably to Lonegan in the final days of the campaign.
On Tuesday morning, Booker put an ad on the air — his second of the general election, and his first that goes negative — calling Lonegan "too extreme" for the state and criticizing his positions on social security, abortion, and the budget fight in Washington. "New Jersey, we're better than that," a smiling Booker says in the ad.
His campaign then hosted a call for reporters with Reps. Rob Andrews and Debbie Wasserman Schultz, who spoke at length about what she called Lonegan's "extreme vision" for the Senate. "What a different place New Jersey would be if Rick Perry and Steve Lonegan were calling the shots," Andrews added, saying the two were in the "wrong zip code" and should go back to Texas.
Later in the day, Booker looked for opportunities to jab his opponent. At Fairleigh Dickinson University, where he was slated to outline a plan to improve access to higher education, Booker spent "more than half" his speech on Republicans in Washington, their "divisive" partisanship, and Lonegan, according to a report in the Star-Ledger. And during a Reddit "Ask Me Anything," an online question-and-answer forum, Booker wove multiple references to his "opponent" into his answers.
Booker's choice to "go negative" isn't surprising — his campaign has said it wants voters to know where Lonegan stands on issues like same-sex marriage and the minimum wage — but Rick Shaftan, Lonegan's strategist, has another word for it: "Panic," he wrote Tuesday night on Twitter.
At his rally with Perry in Hasbrouck Heights, Lonegan also suggested the dynamic in the race had changed, citing momentum his campaign stood to gain from Republicans in Washington who, he said, "had the guts to hold the line" in the health care fight that shutdown the government this week.
"We're going to have a battle now. It's a battle over our economic future," said Lonegan. "Yesterday, the Republicans had the guts to the hold the line against the Obamacare assault on our health care."
Rick Perry, who is the latest national-name Republican to campaign for Lonegan, following Sen. Rand Paul and New Jersey Gov. Chris Christie, introduced the candidate as a man who "understands to his soul what public service is really about," and rallied the crowd over the Affordable Care Act. Although Perry told ABC News last week that a government shutdown would be "nonsensical," the outgoing Texas governor echoed Lonegan's hot rhetoric on the issue, comparing President Obama's law to a "criminal act" against younger generations.
"If this health care law is forced upon the people of this country, the young men and women of this audience are really gonna pay the price," Perry said. "That, I will suggest to you, reaches to the point of being a felony towards them and their future. That is a criminal act from my perspective — to put that type of burden on them."
Lonegan embraced the shutdown without reservation.
"Some people are saying, 'Oh, this is really terrible,' but look around at Hasbrouck Heights. They're delivering police services, the schools are open, the library is open, the highways are working," Lonegan said, pointing from his podium to the cars whizzing by on nearby Rt. 17.
The crowd of supporters — some dressed in t-shirts that read, "Lonegan Liberty" — cheered as the candidate announced that the stock market, undeterred by the shutdown, had closed showing gains on Tuesday. "The stock market said, 'Hey! We're shutting down those unnecessary parts of government. Good!'" Lonegan said. "My message to the Republicans in Washington, D.C.: Hold the line."