Steve Lonegan Ramps Up Rhetoric In Debate Against Cory Booker
Lonegan goes after Booker, Newark, and President Obama in the last New Jersey Senate debate. "The reality here is that's the kind of rhetoric that's going to drive further gridlock," says Booker.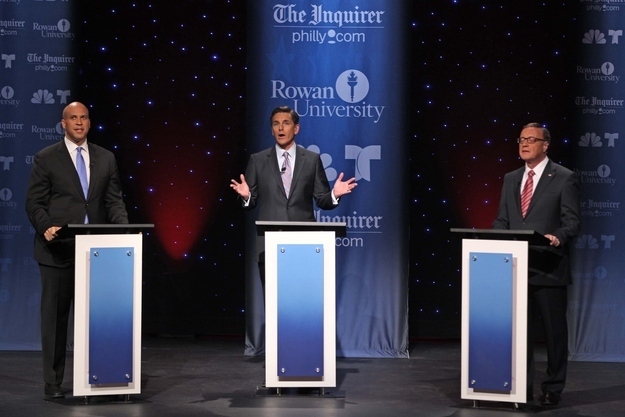 In the second and final New Jersey Senate debate Wednesday night, Steve Lonegan heightened attacks against Cory Booker (a "Hollywood stand-in"), the city where he serves as mayor (a "big black hole"), and his most prominent backer, President Obama (a "tyrant").
Lonegan, the former mayor of Bogota and the Republican candidate in next week's special election, described Newark, where Booker has been mayor since 2006, as an economic "black hole" for "rural and suburban taxpayers." The city, New Jersey's largest, is so ridden with crime, said Lonegan, that dead bodies prevent residents from swimming in the Passaic River.
"You may not be able to swim in that river, I think, probably because of all the bodies floating around from shootings in the city," said Lonegan, provoking an audible reaction from the audience at Rowan University.
"Oh my god, oh my god," said Booker. "This is what he thinks of our cities — that there are bodies floating in city. How insulting is that to the people of the city and others working together? This is insulting."
Later in the hour-long debate, which touched on policy issues like abortion rights, the Affordable Care Act, and same-sex marriage, Lonegan responded to a question about the current shutdown of the federal government by targeting the president, who endorsed Booker in a statement in August.
"I'm proud that Republicans are finally standing up to this tyrant," Lonegan said of Obama.
"I don't know if my opponent is running against me or Barack Obama," Booker said later. "Both," Lonegan responded. "Because you're one in the same."
For his part, Booker attempted to tie Lonegan to the Tea Party and the partisan gridlock in Washington — a strategy he used in the first debate last Friday — and argued that voters should elect a candidate who will "bring people together" and "end extremism" in Congress.
"Your words don't hurt me," Booker said, "but your policies hurt the people of New Jersey."
Booker has seen his lead in the polls shrink over the last several weeks, but has maintained a double-digit advantage over Lonegan in the race to succeed the late Sen. Frank Lautenberg, who passed away early this year.
"Listen to my opponent's rhetoric. Listen to his positions," said Booker. "It seems like he's doing more to try to run and replace Rush Limbaugh than Frank Lautenberg. The reality here is that's the kind of rhetoric that's going to drive further gridlock."
Electing Lonegan to an already divided Congress, Booker said, would be like "pouring gasoline on a fire."
Asked at one point to name a sitting senator he admired, Lonegan named several, including Sen. Mike Lee and Ted Cruz, who have been held up as heroes by the Tea Party amid the ongoing government shutdown debate. "They stand tall," he said.
Lonegan, who served as New Jersey state director for the Tea Party group, Americans for Prosperity, seemed to anticipate Booker's line of attack. Early Wednesday afternoon, his staff sent reporters an email — headlined with the hashtag, "#BookerSaidTeaParty" — that promised supporters would donate to his campaign each time Booker said "Tea Party" during the debate.
"That's what his pollsters and his messaging people tell him to do," said Lonegan, who insisted in a news conference after the debate that he, not Booker, had momentum in the campaign.
"I have something he does not have: amazing momentum," Lonegan said. "I just clobbered him in this debate."
Booker, in his own post-debate press conference, said he was "very happy" with his performance — and with his opponent's.
"Tonight, [Lonegan] told his truth for everyone to see," Booker said.