Sarah Palin Makes The Tea Party Case For Steve Lonegan
In the final days of the New Jersey special election, Lonegan zeroes in on the base at the New Egypt Speedway. "Just know that the eyes of America are on you right now," says Palin.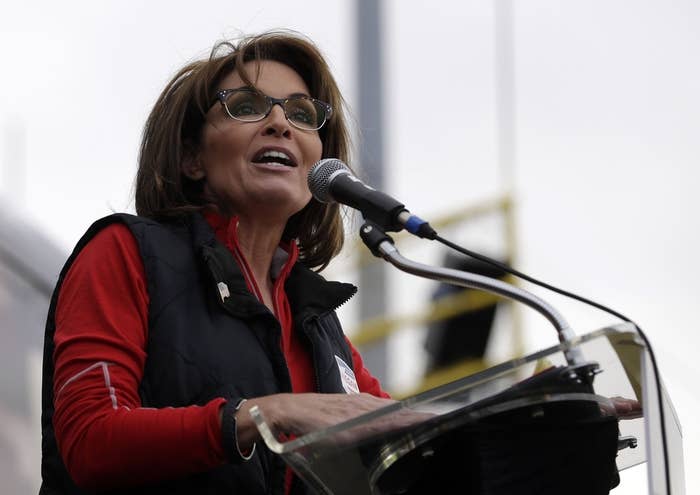 NEW EGYPT, N.J. — About a mile north of New Egypt Speedway Saturday, the dusty D-shaped racetrack where Sarah Palin promised a crowd of thousands that Republican Senate candidate Steve Lonegan would prevail in next week's election, the first "Lonegan for U.S. Senate" yard sign appeared.
Half a mile out, the signs dotted either side of Pinehurst Road by the dozens. Then by the hundreds. Then, outside the racetrack, they were everywhere — in the parking lot, outside the parking lot, on the bleachers, on the cars, on the grass, on the fence, on the buildings.
The effect was intended to be overwhelming. Rick Shaftan, Lonegan's chief strategist, who was fired Friday after giving an obscenity-laced interview to Talking Points Memo, told the same website that signs would be the campaign's secret sauce in the last four days of the race.
"We've got all these people. They're just going to be picking up signs and putting them all over the place," he said. "We want them everywhere. We want them like on every road — every place you go you just see Lonegan signs."
That signs are no measure of votes — and that the polls in this year's special senate election still show Mayor Cory Booker leading by double digits — didn't at all faze the estimated 2,000 Lonegan supporters at Saturday night's rally with Palin and conservative radio host, Mark Levin.
"New Jersey, just know that the eyes of America are on you right now," Palin said on stage. "Something big is happening here. And it's exactly clear — it's called momentum."
In the final weeks of the race, Lonegan has increasingly sought that momentum from the Tea Party, a loud but likely small block of voters in a state that has voted for Democratic presidents since 1992 and Democratic senators since 1979. The event Saturday was just past the Ocean County line, one of New Jersey's reliably conservative areas; Mitt Romney, John McCain, and George W. Bush all did well in this South Jersey Republican stronghold.
The crowd, receptive to Lonegan's stump speech lines about the Revolutionary War, hawked standard-fare Tea Party flags in the air — "Don't Tread on Me" and "Liberty or Death" were two — and held up signs that called for the president's impeachment.
A singer who took the stage before the speakers to perform live warned attendees of a possible "U.S.S. of A" — the United Socialist States of America. "They'll own our banks, our healthcare too. They'll own our houses, they'll own our food. They'll own the cars we all will drive, they'll own every aspect of our lives," she crooned. "They're takin' away our liberty, it's a nightmare, don't you see?"
The event, Lonegan's biggest yet, was sponsored in part by the bus tour group, Tea Party Express, and by Palin's political action committee, Sarah PAC.
Lonegan, who also received endorsements from Sen. Rand Paul and Gov. Rick Perry last month, has more recently focused his campaign on the partisan gridlock in Washington that shutdown the federal government two weeks ago.
In a debate with Booker last week, Lonegan said he'd "like to see the government open," but at the racetrack, he had a different message. "Tell Republicans in Washington, D.C., to hold the line," Lonegan said, speaking before Palin. "Hold the line! Hold the line! Hold the line!"
Palin downplayed the negative impacts of the shutdown. "They're callin' it the government shutdown — I think it should be called the slim-down," she said during her 15-minute speech. "Because really it's only 17 percent of our bloated, burdensome, out-of-control federal government that has even slowed down this week."
Levin, host of the syndicated radio program, "The Mark Levin Show," pitched Lonegan as a "man of the people" who has cross-party appeal. "Union worker, non-union worker, Republican, Independent, Democrat — he's the kind of guy who will represent you in Washington," Levin said.
Another introductory speaker, Amy Kremer, chair of the Tea Party Express, said Lonegan would go to Washington to join other senators like Ted Cruz, whom Lonegan named in last week's debate as a role model along with another conservative favorite, Sen. Mike Lee.
Palin, though, was the undeniable star in New Egypt — even the fliers advertising the event put Palin, not the senate candidate, front and center. The rally was Palin's first major political appearance since March, during the Conservative Political Action Conference, when she held a 32-ounce 7-Eleven "Big Gulp" in the air on stage to mock Mayor Michael Bloomberg's attempt to regulate sugary drinks in New York City.
The former vice presidential nominee described Lonegan as one of "the good guys," she said. "Steve won't forget where he came from." Palin also ribbed Booker and his sizable following on Twitter, repeated a favorite Lonegan line, which could be seen written in red marker on the inside of her hand. "We need a leader not a tweeter," she said. "That was poem-worthy!"
Several attendees said that while they supported Lonegan, it was Palin who brought them to Ocean County for the rally. "She was definitely the tipping point," said Paul Johnson, 46, of Morris County.
Richard Smekal, a tall wide-framed man of 53, pushed his way through the crowd around the stage to have Palin sign his shirtsleeve after the event. Smekal said Lonegan would be the clear choice over Booker for any conservative. "I don't like what they want to take away from me," he said of Democrats in Washington. "They want in my pocket and they want to control my life. No thank you."
Kelan Vorbach, a 47-year-old resident of Monmouth County, said Palin's trip to New Jersey showed the race would be close. "To have a national figure supporting him is significant," Vorbach said, dismissing poll numbers. "The election's gonna come down to who shows up. And we're motivated to show up."
Lonegan, though, has yet to close the gap in the final days of the race. The most recent poll, conducted by Quinnipiac University, has him trailing Booker by 12 points.
His campaign has also spent much of the weekend dealing with fallout from Shaftan's interview with Talking Points Memo, in which he described Booker's Twitter messages with a stripper, revealed last month by BuzzFeed, as "strange" and "like what a gay guy would say."
Asked if Shaftan had come to the Palin rally, Lonegan spokesman Will Gattenby shook his head. "Vendor terminated," he said.