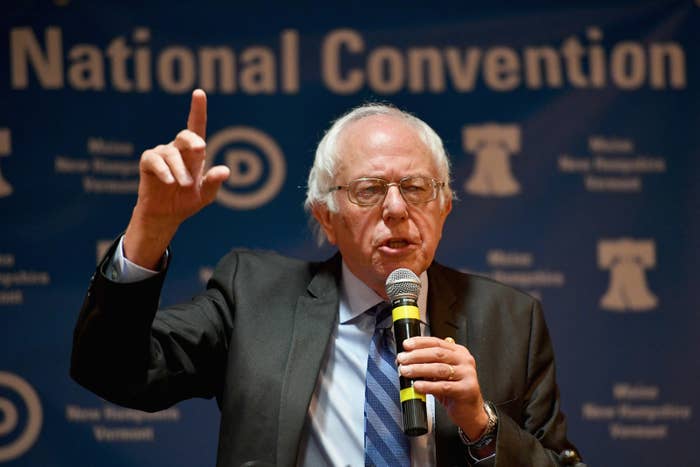 Just three weeks after its launch, Bernie Sanders' new political organization has seen a change in top leadership followed by resignations from as many as eight staff members, two people close to the group said late Monday evening.
In the last week, the US senator from Vermont brought on his former 2016 campaign manager, Jeff Weaver, to run "Our Revolution," a 501(c)(4) nonprofit that began soliciting its first donations at the start of this month.

Weaver's entry came in the wake of a report by ABC News about the group's structure and whether it might violate campaign finance rules, one source said.
A 501(c)(4) may accept unlimited cash without having to disclose donors, but as a senator, Sanders may not ask contributors for more than a certain amount — $2,700 to a campaign committee and $5,000 to a super PAC. Sanders, who is involved in the group's management, signed Our Revolution's first fundraising email.
As many as eight staffers from a variety of departments have since quit over the appointment of Weaver, their former colleague on this year's campaign.
Under Weaver's management, Sanders won 22 states and raised hundreds of millions against Hillary Clinton. He has long been and remains the senator's close confidant, but could be seen as a polarizing figure among some staffers.
Those departing include Kenneth Pennington, the digital director during the campaign who served in the same role at Our Revolution, as well as Claire Sandberg, the digital organizing director for the campaign and group.
Other departures include the organization's two senior political staffers, two other organizing staffers, one other digital staffer, and one data staffer, according to one of the people close to the group.
The shake-up comes just days before Our Revolution's first event, a livestreamed "Organizing Kickoff" on Wednesday with watch parties planned across the country where Sanders will, his website says, "lay out the path forward for our movement."
Shannon Jackson, the aide who traveled alongside Sanders throughout the 2016 campaign, will remain the group's executive director.
Other staffers also plan to stay on at the organization.
Sanders announced the group about a month ago in an interview with USA Today, promising that it would help boost a range of at least 100 progressive candidates running for office this year, from school board to congressional campaigns.
The group has yet to make clear what its exact focus will be or in what way it will approach fundraising and advertising.
In the same interview, Sanders also signaled that he would launch two additional groups — a second focusing on campaign advertising and a third structured as an "education" group called the Sanders Institute. The senator and his aides have not spoken further about plans for efforts outside the existing 501(c)(4) organization.
The future of Sanders' "political revolution" has been a subject of discussion and debate for months inside and around his campaign, going back well before the June 7 primaries effectively ended his race to become the Democratic nominee.
In May, worried that they'd seen "no evidence" of aides putting thought into plans beyond the primary, some Sanders allies helped put together a proposal urging the candidate to drop out and found a new entity. In June, a memo from the campaign titled "End Game" advocated for Sanders to keep an aggressive travel schedule throughout the fall in battleground states to campaign for Senate candidates.
For now, Our Revolution maintains a bare-bones website without much more than a fundraising solicitation. The page says that the group will "fight to transform America and advance the progressive agenda."