RNC Report Gives House Republicans Cover On Immigration Bill, Activists Say
The call to "embrace and champion" immigration reform in the GOP's new blueprint gives Boehner the legroom to ignore the Hastert rule and bring a bill to the floor. "Most Republicans get it," says Sharry.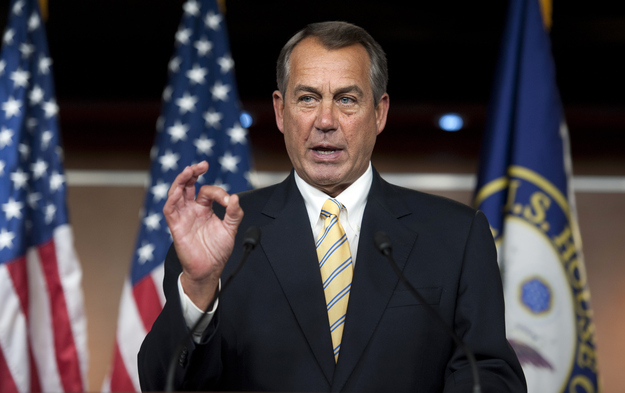 Immigration activists voiced their approval for the Republican National Committee's new roadmap, a 97-page report on the future of the party, which calls on conservatives to "embrace and champion comprehensive immigration reform."
Support from the Republican establishment for immigration legislation clears the way, advocates argued Monday afternoon on a press call, for Speaker of the Republican-controlled House John Boehner to bring a comprehensive immigration reform bill to the floor without support from the majority of his party, skirting the unofficial "Hastert rule" that traditionally blocks such legislation from seeing a vote.
"The report this morning provides really important political cover for the Speaker to bring a bill to floor," said Gary Segura, professor at Stanford University and a principal at the polling firm, Latino Decisions. "It may not convene the support of the majority of the party, but it would convene the majority of support of Congress overall."
Because the RNC report, released Monday morning, highlights immigration reform as key to the future of the party, conservatives dissenters would "understand the need for the party to do it," said Segura.
"We applaud the Republican National Committee for endorseing comprehensive immigration reform," added Clarissa Martinez de Castro, a director at the National Council of La Raza. "It's a solid step forward."
Asked if the report should have specifically endorsed a pathway to citizenship — which 70 percent of Latino voters want included in new immigration legislation, according to a poll released Monday by Latino Decisions — Segura said the Hispanic community doesn't need "lock-step conversion among all aspects of the Republican Party."
"We're pretty confident that we will end up with comprehensive immigration reform with a pathway to citizenship," said Frank Sharry, executive director of America's Voice, an immigration advocacy group based in Washington, D.C.
"The RNC report signifies that Republicans have made a decision that the party needs to get this issue behind them," he said. "At the end of the day, it will help them get a new hearing from many new voters who can't hear them now because their tone and their policies have been so anti-Latino."
Sharry acknowledged that "hardliners" in the Republican party will "continue to make stupid comments," he said, citing pundits like conservative radio host Laura Ingraham. But the positions outlined in the RNC report, he said, make clear that "most Republicans get it."