In 2016, Revolution Messaging was breaking fundraising records for Bernie Sanders.
Two years later, after a period of rapid growth that embodied the rise of the ascendant left's "political revolution," the award-winning digital firm is in a state of upheaval.
In interviews with 23 current and former employees, staffers described Revolution Messaging in grim terms: The firm, they say, is "in a tailspin." It's "spiraling." "In crisis." The work culture is "toxic" and "volatile." There's a "fear of retaliation," "a lack of value for employees." There's "confusion," "unease," and "anxiety." It's "paranoia city."
"People feel the ship is sinking."
Over the last six months, at least 27 employees have left Revolution Messaging or given their notice. The campaigns department, where staffers helped raise more than $218 million for Sanders, is a shell of the same group that made a name for the firm in 2016. When two senior staffers exited the company in early 2018, that team lost four marquee accounts: Bernie Sanders, Kamala Harris, Chris Murphy, and Giffords PAC. (The firm retains some business with each client, such as web services, a spokesperson said.)
Since 2017, the firm has lost names like Adam Schiff, Mahlon Mitchell, Rich Cordray, Ben Jealous, Brian Schatz, Alex Padilla, Andrew White, Katie Porter, Patty Murray, Dan Helmer, Vincent Fort, Justin Nelson, and Barbara Lee. Before this month, the firm's largest remaining client, according to former staffers on the campaigns team, was Texas Rep. Beto O'Rourke. Last Friday, he left Revolution Messaging for a competing firm.
The company, molded in the "DIY punk rock" image of its founder, Scott Goodstein, began nearly 10 years ago with a simple promise to progressive operatives: Amid all the "bad gigs in the Democratic Party ecosystem," as Goodstein once put it, this would be a place where staffers were actually treated well, working for clients they actually liked.
After 2016, Revolution Messaging became synonymous with the politics, policy, and campaign strategy of the Sanders brand that nearly every Democratic leader is trying to emulate in a sudden rush to embrace the politics of the new left ahead of 2020. Amid a transformational moment in American politics, however, current and former staffers describe Revolution Messaging as a cautionary tale of what happens when movement aspirations meet the hard reality of building a long-lasting institution.
Inside their Washington headquarters, staffers have long harbored concerns about the firm's work environment, Goodstein's "trial-by-fire" approach as a manager, and a "sink-or-swim" culture that's left employees overextended and afraid to voice their frustrations. As CEO, Goodstein remained involved in day-to-day client work. Blow-ups, according to his employees, were not uncommon. He could be aggressive and unclear in his expectations, they said. Multiple staffers described the same pang of alarm upon seeing Goodstein's name light up their phones with a Slack or email notification.
If these concerns were shared by staffers inside the building, they often had a way of staying buried — voiced privately among coworkers, or anonymously on review websites like Glassdoor. (See: "Scary" from Current Employee, Anonymous, Feb. 24, 2016. Pros: "Clients are groups who do good in the world." "People are fun and smart." Cons: "Most employees are terrified of the CEO." "Women, comparatively, are treated badly.")
In late 2017, three employees filed HR complaints about Goodstein's management style, according to copies of confidential company documents. One of the complaints, filed by a former female employee, claimed that his communication issues had a particularly acute effect on women at the firm — an opinion voiced by other current and former employees in interviews over the last month. (The other two complaints were unrelated to gender-related issues.) The gender discrimination claim against the CEO prompted a months-long internal investigation by an independent third-party firm, Helios HR.
During that same period, management was also working to contain a forthcoming HuffPost story about the firm's work environment and its handling of a sexual assault allegation in late 2015 — news that opened up a dialogue between Revolution staff and senior leadership, but also helped precipitate some of the staff departures this spring.
In response to the reporting in this article, outlined for the company in a 45-point email, Revolution Messaging officials acknowledged that Goodstein's management style has been problematic and that the firm has struggled with issues related to its growth and scaling. As a result, officials said, the company's three partners — Goodstein, Keegan Goudiss, and Arun Chaudhary — are taking ongoing executive leadership training.
In weeks' worth of emails and phone calls, Revolution Messaging strongly disputed other aspects of this article, including concerns among current and former employees about the way women fared at the company. The Helios inquiry, according to an employment law attorney who handles HR matters at the firm, did not substantiate the gender discrimination claim against Goodstein. His communication problems, the investigators found in their final report, extended to men and women alike.
"The culture does not match our mission statement," one former employee said. "At all."
Officials also provided a number of statements about the financial health of the firm: Since late 2017, they said, Revolution Messaging has hired 15 new employees. They retain more than 200 clients — including 77 new accounts since January. And the company's largest two teams have not lost any staff, they said. Officials also suggested that competing digital firms have made attempts to poach their business and staff.
Last month, Goodstein announced that he would step down as CEO, but remain at the firm as a partner. He relinquished the role, he said in a statement provided by company officials, "to make space for new leadership and to focus on taking on new challenges now that we are no longer a feisty start-up and needed help growing and scaling."
"These are different skill sets, and I'm excited for the next generation of leaders to take the helm and start this new chapter."
When staffers talk about what happened to Revolution Messaging, and their reasons for leaving a company they loved, they don't describe a turning point at the firm — a single moment when things changed or went south. They talk about a place that never caught up to its original promise: partners who never learned to manage, a company that never stopped being a start-up, a work environment that never quite lined up with its own values.
"The culture does not match our mission statement," one former employee said. "At all."
"We're supposed to be better," said another, "especially because we presented ourselves as being better."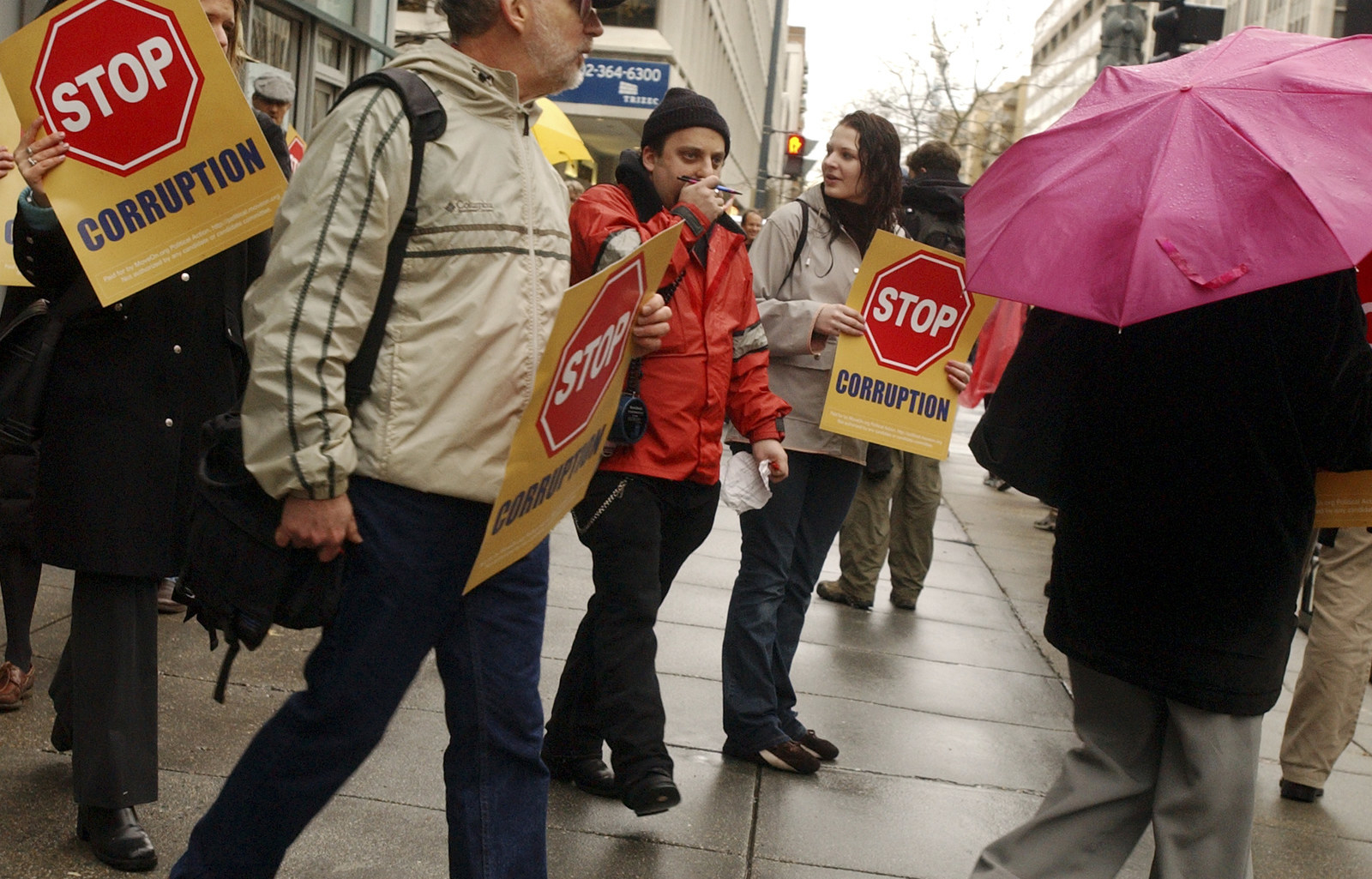 Almost every conversation about Revolution Messaging, good or bad, has a way of somehow coming back to Scott Goodstein. To talk about one is to talk about the other.
For the 44-year-old operative, the firm was a statement about his personal and political worldview, shaped as much by his time on campaigns as by D.C.'s punk rock scene — Goodstein's home as a college kid at American University in the early '90s, blocks from the shows at Fort Reno. He was drawn, he's said, to the "open, socially conscious vibe" of the DIY music world. It wasn't just a concert: "The guys on stage are just one piece of it. The guy that makes the fanzine is a piece of it, too. The crowd singing along is a piece of it," he once told a reporter. "The reality of punk rock isn't about idolizing someone. It's about pushing each other to evolve." He came to see politics the same way and spent years telling operatives that they should talk to voters like a music promoter might sell records. Online or in person, he said, it was about meeting people where they are. It was cultural: "You buy music when your friends say it's cool music." By 2009, after leading external online outreach for Barack Obama's first presidential bid, he looked around Washington and didn't see anyone doing it right.
"So I started my own thing," as he put it in a recent email to employees.
Notably, current and former staffers who take issue with the company's workplace don't question that Goodstein means well. At many points in the company's history, they said, he used Revolution Messaging as a force for good inside the progressive movement.
By 2009, after leading external online outreach for Barack Obama's first presidential bid, he looked around Washington and didn't see anyone doing it right.
In 2015, after the left-leaning PR firm FitzGibbon Media shut down over allegations of sexual assault against its founder, Goodstein reached out to the firm's employees to offer help and encourage them to come to Revolution. A company official also pointed to a number of decisions made by the firm in service of their employees: They've turned down business from prospective clients like Eliot Spitzer. They've fired clients who have been disrespectful to employees, or come under fire for accusations of misconduct. In one instance, they successfully demanded the dismissal of a consultant who told a Revolution Messaging staffer that she had a "sexy voice." In another, after an employee told the story of her rape during her time on a congressional campaign, the firm publicly defended her and offered legal support.
More recently, a tech employee came to Goodstein in late 2017, a few months after she started at the firm, with concerns about an account where she regularly dealt with "abusive" language and feedback from the client. In an interview with the staffer, provided by Revolution Messaging officials last week, the tech employee said that the CEO had a personal relationship with the client, but did not hesitate to cancel the contract.
"He was phenomenal in how he treated it. He didn't ask me for documentation. He didn't ask me to prove myself. He completely trusted my word," said the employee, who works remotely but estimated that she interacts with Goodstein several times a week. "He really stood up for me in a way that was different from anywhere I've worked."
"We are not perfect, but when we have had missteps, we have always quickly corrected them."
In a statement provided by Revolution Messaging officials, Goodstein allowed that he has created problems as a manager, but said that he has represented his employees well. "I am confident that I have treated our employees fairly and stood up for our staff whenever they were mistreated," he said. "But it's clear I have not always communicated well and that's something I take seriously and am working hard to improve upon."
Keegan Goudiss, the partner who works most closely alongside Goodstein, also defended the company's history of standing by its employees: "We are not perfect, but when we have had missteps, we have always quickly corrected them. When our staff has been mistreated, whether by clients or staff, we have taken swift and decisive action."
Outside the firm, some Democratic operatives also found Goodstein to be brusque and difficult.
On Nov. 15, 2015, before a Democratic debate in Iowa, Goodstein had a heated exchange with a Sanders adviser after the adviser told him there was no space for Revolution employees in the campaign's rapid response room. "Scott basically threatened to kill me last night for not letting the six additional staffers he brought to Des Moines in the main work room at the debate. I tried to de-escalate but he was raging," the adviser wrote later that night to Sanders campaign manager Jeff Weaver in an email that was forwarded to multiple campaign aides. (Asked about the incident, one of the firm's partners, Keegan Goudiss, said the Sanders consultant made a rude comment to a female Revolution staffer. "This was not the first time Scott's gone to the mat to defend the firm's female employees," he said in a statement provided by the firm. "I remember the night well and I only wish I had been the one to stand up to that consultant.")
In 2017, Goodstein asked for a pitch meeting with EMILY's List, the party's largest organization for pro-choice female candidates. The meeting effectively ended any chance of a relationship between the two groups: Goodstein, recalled Jess O'Connell, the organization's executive director at the time, was "shockingly hostile, condescending, and tried to bully us into working together," she said. "Obviously, that's not a winning strategy for doing business with EMILY's List." (A Revolution Messaging official contended that the hostility went both ways in the meeting. "We thought folks would bury the hatchet for the good of the party after 2016. Evidently not," the official said.)
The self-described "punk spirit" behind the firm — focused originally on its text message program, before moving into email fundraising, ads, and engagement campaigns — made for a fast-paced and scrappy company that didn't take itself too seriously. It also meant Goodstein's "own thing" remained just that. As CEO and majority shareholder, he not only worked directly in the weeds on client work, but he had final say over decisions at the company, relinquishing little of that control, even as the company grew, according to current and former staffers.
"Scott worked very hard to be Revolution Messaging," one said, "and everybody there knew that."
Practically overnight, Revolution Messaging achieved a certain kind of fame as the firm behind Bernie. New business poured in.
When Sanders announced his presidential bid in the spring of 2015, it propelled Revolution Messaging into an even larger arena within progressive politics. Over the next year, the firm helped Sanders raise more than two hundred million dollars almost exclusively from small donations. Fluent in communicating the Bernie voice on Facebook and in email, Revolution staffers emphasized issues-based messaging — often with short deadlines — resulting in cash pouring in from voters often motivated by Sanders' refusal to fundraise the way that many Democrats do.
Practically overnight, Revolution Messaging achieved a certain kind of fame as the firm behind Bernie. New business poured in. And so a company that had once been two dozen staffers in a small, cramped office on Rhode Island Avenue, suddenly employed almost 80.
Even before the Sanders campaign in 2016, employees said, the company was expanding but not always putting basic structure in place to accommodate its size and business. Years into its existence, it still felt like a "start-up," multiple staffers said.
One former senior employee, brought on before 2016, recalled trying to "establish some processes," the person said, "just to make it more of a longstanding institution."
"It became very clear there was no interest in doing that — in growing up."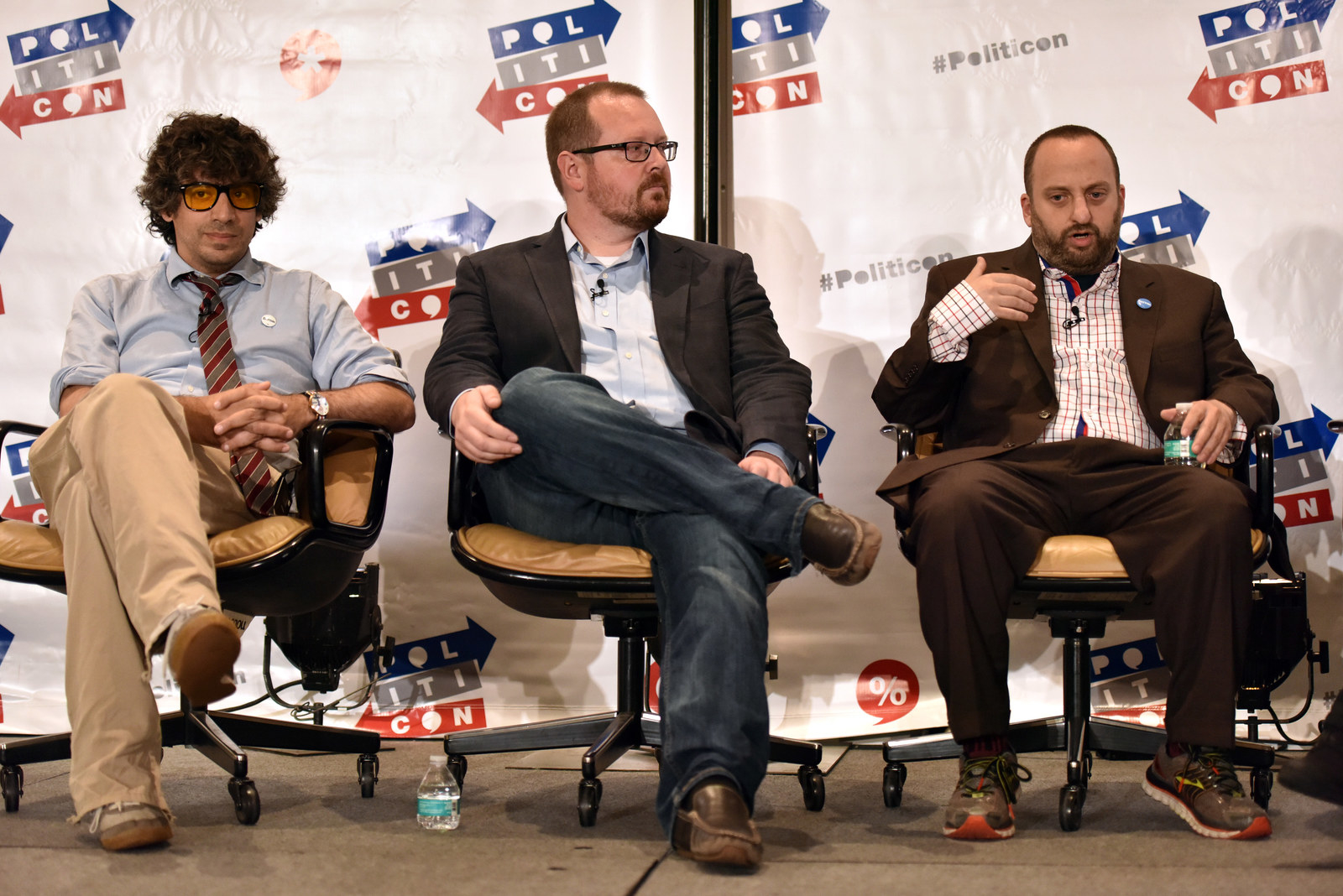 In December 2017, a female employee at Revolution Messaging decided to file an official complaint against Goodstein.
She had spent much of that year working directly with the CEO on an account. By the end of 2017, according to the employee's 26-page complaint, she was so stressed by her interactions with Goodstein that she developed severe headaches and neck pain. She gained weight. She started clenching her jaw so hard and so often that she left tiny cracks in her teeth. If she didn't stop, her dentist said, she would eventually need to have them replaced.
"I spend extended periods of time reading and re-reading, writing and re-writing communication because I'm so worried about misunderstanding and/or of my tone or meaning being taken the wrong way. Communicating with Scott is very stressful," the woman wrote.
"I spend extended periods of time reading and re-reading, writing and re-writing communication because I'm so worried about misunderstanding and/or of my tone or meaning being taken the wrong way."
As described in the complaint, Revolution Messaging had become a company where "adversarial" and "disrespectful" communication was not only "tolerated and accepted, but nearly normal"; where the CEO's trial-by-fire, high-octane managerial style, unchecked by the firm's other partners, made daily interactions a source of anxiety and unease; where life inside the building did not reflect its own mission statement. The culture at Revolution Messaging, according to the complainant, was "not only impossible to succeed in professionally but incredibly difficult to function in."
The complaint was later expanded to include the gender-based discrimination claim.
At that point, the firm's attorneys contracted an outside firm, Helios, to handle the claim. Helios initiated a formal internal investigation that included interviews with a number of then-current employees — including a two-hour interview with the female employee on Jan. 29, according to a line-by-line Helios summary of the conversation.
The document reflects many of the same concerns raised by 11 other current and former female staffers in interviews over the last month: Goodstein could be as difficult with men as with women, these employees said. The difference — subtle but, in their view, significant — was the feeling that he would hold mistakes or perceived mistakes against women, but not men. In their interactions, these female employees said, it was as if "the baseline" was always that "we had done something wrong," as one former staffer put it.
"Most men are able to shrug it off and it doesn't seem to have as big an impact on their growth at [Revolution Messaging] or their relationship with Goodstein as it does for women," the complainant told Helios, according to the interview notes. "While men are rewarded for speaking up by ultimately getting their way, women are perceived as difficult or trying to cause problems. They're typically shut down rather than heard."
Goodstein "perceives and reacts negatively to women who disagree or question," the employee told the investigator, citing her own experience managing the 2017 account.
Early on in that project, she said, she and Goodstein had a lengthy and tense exchange that spanned Slack, email, and phone. For months afterward, the woman said in her written complaint, the interaction "permanently damaged our working relationship," she wrote, pointing to months' worth of Slack messages, emails, and other exchanges with the company's partners. At one point, she told Helios, Goodstein approached her and "insisted that she had a 'problem' with him." By the fall of that year, the woman said, Goodstein suggested to her that she no longer wanted to work on the account: "If its [sic] time to move you off and on to something else that is fine," he told her over Slack, according to transcripts of the exchange provided in the complaint.
At Revolution Messaging, formal written complaints were rare.
The company has a strict no-retaliation policy, but current and former employees said they were still afraid to come forward with concerns about management, for fear of the CEO's reaction and their own professional standing. Still, by the time the woman filed her complaint, concerns about Goodstein were building inside the company. During the Helios investigation, according to notes from interviews with multiple employees who participated in the inquiry, investigators were informed of two other complaints made in late 2017 about Goodstein's management style more broadly, regardless of gender.
The complainant's gender discrimination complaint against Goodstein, however, was a first.
The Helios inquiry, described by the company as a neutral "independent third-party" review, concluded in March after investigators reviewed pay records and hundreds of pages of documents. The findings, according to an employment law attorney who handles HR matters for the company, were split: The allegations of management and communication issues were "partially substantiated," but the gender-based discrimination claim against Goodstein was found to be "unsubstantiated."
The lawyer said that the investigation found there were problems with Goodstein's management and communication, but that those issues existed for employees regardless of gender. Company officials also noted that the woman who filed the complaint received a number of promotions and pay increases during her time at the firm.
"The only HR complaints against Goodstein in the firm's 10-year history were made by people who left shortly thereafter to start a competing firm together," said Joseph Sandler, the firm's outside general counsel. (One of the complaints, Sandler said, came from staffer who believed that Goodstein shouldn't have had a "role" in client management. That complaint, he said, was ruled "invalid.")
For some employees, like the tech staffer whom Goodstein defended from a nasty client, the complaints about the firm didn't ring true. "A lot of the issues that other people publicly came out with against the company, to me, were very much like, 'Well, I mean, this place is great,'" the tech employee said. "'What are you guys talking about? This place is sunshine.'"
"During my time working at Revolution Messaging, I felt like my intelligence wasn't respected by Scott," she wrote.
But for enough female employees who had direct contact with Goodstein in Washington, according to the interviews with 11 women, concerns about his managerial style extended beyond the complainant in the Helios case. "Women are only able to interface with him if they do it in a joking and non-threatening way," one former female staffer said. "The onus was on women to find a way to interact with Scott versus Scott conducting himself in a professional way that wasn't intimidating or frightening."
Another former employee expressed her concerns in a written letter to the company, dated January 2018. "During my time working at Revolution Messaging, I felt like my intelligence wasn't respected by Scott," she wrote in the letter, detailing a number of instances dating back to 2016 in which Goodstein questioned her work or inserted himself into one of her accounts, making changes without comment or explanation. "There was a level of collaboration that existed between other employees at Revolution Messaging that did not exist with Scott."
For the 11 women interviewed for this story, the work environment under Goodstein contributed to the feeling that women could not advance at the company — even one that prided itself on its status as a majority-female firm. One former female employee said that she was brought on as a senior vice president in 2014, but felt she never had a clearly defined role. She said she felt her job was to appear in certain pitch meetings so that a woman would be present. "Ultimately became pretty clear that my real job was to be a senior female," she said. "Other than that it was sort of unclear what my actual job was."
Current and former employees described a company that had a way of making tacit, almost reflexive accommodations for its own problems. And in an office where departments functioned like independent "silos," as multiple staffers put it, life inside Revolution Messaging could vary from employee to employee.
On the campaigns team, Tim Tagaris, a former partner who left the company in January, made an effort to "shield" his team from Goodstein, three of his former staffers said. On emails with the CEO, according to one of the employees, Tagaris would always make sure to loop himself in on every exchange to "insert himself between us and Scott." (Tagaris did not respond to requests for comment.)
For those who reported directly to Goudiss, the partner now serving as interim CEO as the company searches for a full-time replacement, the experience could be different: He played "good cop" to Goodstein's "bad cop," as three former employees put it. When staffers voiced concerns about Goodstein, Goudiss would often reply by saying, Scott is just like that with everybody. In one instance, he suggested to one employee that she take up yoga to help relieve the stress — a remark that the female employee relayed to a colleague at the time in a text message, according to a screenshot reviewed by BuzzFeed News. (A Revolution official denied that Goudiss ever recommended yoga to a staffer.)
The complainant ended up leaving Revolution Messaging before the conclusion of the Helios investigation. Her complaint, she wrote in the 26-page document that launched the inquiry, was her attempt to force the company into a kind of "official intervention."
"This isn't personal and I'm not trying to harm Scott or the company," she told the investigator. "I'm just trying to fix things."
By February, tensions inside Revolution Messaging were creeping out into the open.
The gender-discrimination complaint was still open. Helios, the outside firm leading the inquiry, was holding interviews with a select group of staff and management. Word got around to current and former employees. Some volunteered to sit for an interview. Meanwhile, clients were already starting to part ways with the firm. (Former Atlanta mayoral candidate Vincent Fort's top strategist, Jeff DiSantis, said he felt that the firm simply didn't have the capacity to take on their race. A spokesperson for Texas gubernatorial candidate Andrew White, Desi Canela, said their campaign fired Revolution Messaging after realizing they could do "better" work in-house, for far less money.)
By Feb. 9, two senior members of the email fundraising team, Tim Tagaris and Mike Nellis, had exited the firm, along with a good chunk of business. Inside the building, the news set off speculation about their reasons for leaving — and questions about what it meant for the firm's brand and bottom line to lose a fundraising account like Bernie Sanders.
That same day, just after 5 p.m., employees received an email from Goodstein.
"FYI," the subject line read, "Potential News Story."
The firm had learned that a reporter was working on a story about the firm — "on the grounds of not treating some of our employees or former employees fairly," Goodstein wrote, promising to keep employees updated when management learned more.
The story, a HuffPost article published two weeks later, detailed a 2015 incident in which one of the company's partners, later identified by the firm in a tweet as Walker Hamilton, assaulted a female employee at the company holiday party. (Hamilton was fired on the spot, but not long after the incident, the woman also left the company. Some employees, HuffPost reported, believed that her exit had been an act of retaliation.)
The letter, signed by 42 unnamed employees, asked for more information and accountability.
"We know who we are and what we stand for as a firm," Goodstein wrote on Feb. 9. "We are not perfect and can always improve. But we will always strive to do great work for progressive causes while having a workplace where all of our employees feel satisfied and treated fairly."
Over the next two days, staffers drafted an anonymous response to management.
The letter, signed by 42 unnamed employees, asked for more information and accountability, including concrete next steps, on not just the article — but "underlying issues" surrounding the firm's culture, work environment, and treatment of women and people of color. The staffers were so concerned about Goodstein's reaction, one of them noted, that they went to an Apple Store in Georgetown to send the letter through an anonymous account on ProtonMail, the Switzerland-based encrypted email service.
Goodstein's initial response, they wrote, had been "inadequate and vague."
Like the complaint in the Helios case, the letter encouraged management to view their feedback and concern as an opportunity to address long-standing problems for the sake of the company. "We believe that we can come through this challenge," they wrote.
Within hours, Goodstein circulated their letter in an all-staff email and outlined his response in a series of "nexts steps" to ameliorate the concerns: a nightly conference call to update employees on what the story would entail; mandatory training for all staff "with special trainings for managers" on racial and gender discrimination, as well as sexual harassment; and the retention of a diversity consulting firm "within days" to conduct a review of the company's practices.
Over the next two weeks, as employees braced for the HuffPost story, Goodstein held lengthy all-staff phone calls every night to solicit feedback. He sent "talking points" and outlined "action items" for the firm. His emails to staff could be defensive about the company and questions about its values — "it is hurtful that we would ever be perceived as doing anything against these ideals," he wrote in one all-staff email — but they also seemed to promise the kind of internal reckoning that staffers had been hoping for.
"You have all given me a gift," Goodstein told the firm.
"This story can be the moment that we all recognize in the coming years as perhaps THE defining moment for Revolution."
What happened instead, current and former employees said, was one of the most fraught periods in the history of the firm.
In March, shortly after the release of the HuffPost article, the staff formed a union, becoming the first digital firm to do so. But employees also chafed at what many felt was a lack of progress inside the firm. Senior leaders had promised changes, but the feeling of unease and paranoia inside the firm only grew as more and more staffers left, they said.
Employees formed a diversity and inclusion task force, organizing newsletters and events for the company such as a sexual harassment guest talk and a "homemade Lebanese hummus event," according to a Revolution Messaging official. The diversity task force quickly began vetting a number of outside firms to lead the review of Revolution Messaging, but it wasn't until June that the firm hired a company. (Back in February, Goodstein initially promised to retain a consulting firm "within days.")
Shortly after the HuffPost article ran, Revolution Messaging posted an Instagram photo in honor of International Women's Day featuring every female employee at the firm, a grid with headshots of 49 women. In the weeks since, as more and more staffers have left the company, former employees said, Revolution Messaging alums have circulated various versions of the post — one featuring Xs through the pictures of the departed employees, another showing the images dissolving in the style of the superheroes from Avengers: Infinity War.

As the spring dragged on, remaining employees were heartened by the announcement of a new benefits package for employees, set to take effect on June 1. Staffers were told the new benefits would include a health care plan with 100% coverage, a new $150 tech stipend, an unlimited paid time-off plan, and and a continued education fund of up to $1,000 a year per employee. Weeks later, employees learned that the new health care plan would include a $5,000 deductible — an announcement that caused confusion and anger among staff members. By the end of May, a group of employees led an effective sit-in at the firm's Washington headquarters, crowding the office of the company's CFO to ask questions about the health care plan. Two partners, Arun Chaudhary and Keegan Goudiss, were present. Employees voiced concerns about the benefits plan, saying that the firm's clients would not support it. They also told management that staffers were leaving every week. They should expect that that number was only going to grow, staffers told Chaudhary and Goudiss that day, according to a person present.
Officials at Revolution Messaging said that, within hours of the meeting, Goodstein apologized for the miscommunication and corrected the issue. Employees now have unlimited vacation, an established medical savings plan, and a new company stipend for continued-education, according to a statement from Goudiss.
The company is also "making progress towards collective bargaining," he said.
For current and former staffers, though, the future of Revolution Messaging looks uncertain. The partners haven't articulated a clear plan for the future, or the contours of Goodstein's new role, they said. And while departments like the tech team continue to grow, the campaigns and PR teams have been all but cleared out.
"Everything is in transition," one departed employee said. "A multitude of people have demanded answers and transparency and processes — and we've gotten nothing."
"It's draining." ●