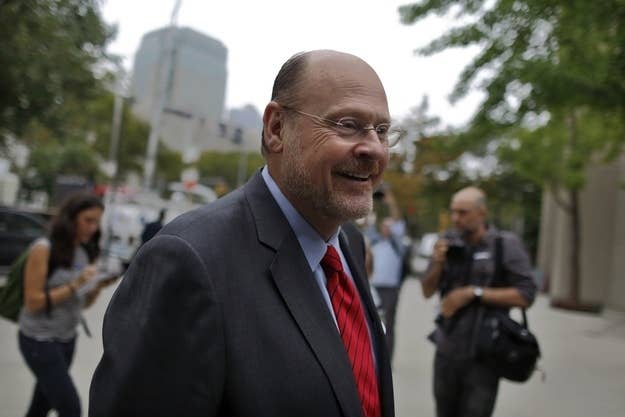 Joe Lhota, the GOP's candidate for mayor of New York, says he's not the kind of Republican you read about in Washington.
In an interview with BuzzFeed Tuesday afternoon, Lhota cast himself as a pro-choice, pro-same-sex marriage, pro-decriminalization alternative to the members of his own party leading what he described as a "radical" government shutdown — a war over the Affordable Care Act that, Lhota says, "loses the forest for the trees."
"You do not hold up the operations of a government by having and letting these extremists run the house," he said, lamenting a lost sense of "camaraderie" between members. "What they're doing in Washington is — use any word — unconscionable. It's nowhere near a reflection of what this country is all about."
"We've gotten to a point where compromise is a bad word," Lhota said, echoing a statement he released Monday that condemned the shutdown as a "disgrace" that holds "the American people hostage."
The fight over President Obama's Affordable Care Act "loses the forest for the trees," Lhota said, suggesting the health care law might fail on its own. "Even the administration doesn't know how to implement the Affordable Care Act — it's falling apart on its own weight. They just have to look a little further and see what's happening here."
"We will constantly be changing our health care in this country," Lhota added. "We always have, and we always will. This Affordable Care Act is not the last time we'll be touching it. But they're focusing on bringing down the way in which our constitution operates. It makes no sense. It's radical, and it's not helping."
Asked whether he supports Obamacare, the health care reform law at the center of the budget fight in Washington, Lhota said he wasn't "familiar enough" with the details of the law to speak to it at length. "Parts of it yes. Parts of it no," he said. "It needs to evolve."
Lhota, the former deputy mayor under Rudy Guiliani and a onetime chairman of the Metropolitan Transportation Authority, is trailing his Democratic opponent, Bill de Blasio, by wide margins in the polls.
Seizing on a recent New York Times interview with Lhota, in which the candidate identified Barry Goldwater as one of his political idols, de Blasio has sought to cast his opponent as a tea party extremist. On Monday, the frontrunner's campaign sent reporters a list, "Top 10 Facts About Joe Lhota's Icon, Extreme Conservative Barry Goldwater," that highlighted the former senator's opposition to the 1964 Civil Rights Act. On Tuesday, the campaign released a memo detailing Lhota's appearance at a Staten Island tea party meeting during the primary.
Lhota said Tuesday there were things about Goldwater's positions he disagrees with. What he did like about Goldwater, he said, was "his ability to be blunt, his ability to tell you what he thought." Lhota added that he admired Goldwater's frank use of the term "pro-abortion" in the 1960s. "He wasn't 'pro-choice.' He was 'pro-abortion.' That's fascinating."
Lhota supports abortion rights, believes same-sex couples should be able to marry, and advocates for the legalization of marijuana. (The last time he's smoked weed? "I'm counting backwards to college," Lhota said after a pause. He can't remember how he smoked it — "I haven't the foggiest idea" — but he did "get the munchies," he said. "I can guarantee that.")
He also voiced concern over the challenge of transgender discrimination. "We need to focus on it," he said. "If someone believes that they are different than the way they were born and they would like to then move the two together, then they should have the right to do it."
"We need to not discriminate against them," he said, citing what he called the "one part of the Bible" he references "day in and day out": the verse that reads, "Treat others the same way you want them to treat you."
"That means you treat all people — regardless of their color, their race, their gender, their beliefs, their anything — any different than you'd treat yourself," Lhota added. "To me, it's always been my guiding principle."