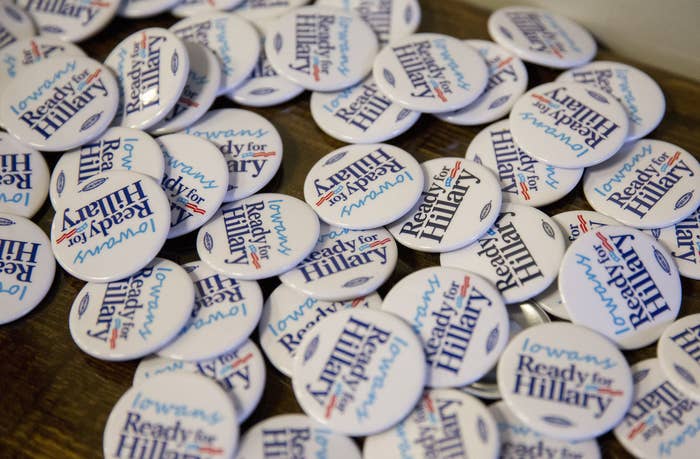 DES MOINES — By Saturday afternoon, Craig Smith was tired. His jacket was off, sleeves rolled up. He hadn't slept much on Friday night. After a string of flight delays out of Washington and canceled connections from multiple airports, he finally napped during the snowy midnight drive from Chicago to Des Moines.
Not many hours later, the 55-year-old Arkansas native sat at the head of a table before a dozen Iowa Democrats in a brewery downtown. He was trying explain, to the fifth group that day, that "Ready for Hillary" is not Hillary Clinton's campaign.
"We're not setting up offices," said Smith, a senior adviser with the pro-Clinton PAC. "We're not hiring staff. We're not doing polling. We're not buying TV ads. We're not making policy pronouncements. We're not endorsing candidates."
"That's not what we are," Smith said. It was a common message Saturday, as he mostly explained, again and again, what the group is and is not.
After the meetings, the exhausted team declared the day a success. Attendees had been excited; had pinned "Iowans Ready for Hillary" buttons to their lapels; had smiled wide watching video clips from Clinton speeches; had even, at one point, broke into spontaneous applause and cheering at her mention.
"If we build it, she will come," said one of the event's organizers, Bonnie Campbell, a former Iowa attorney general and Clinton administration appointee.
But despite a sense of excitement for Hillary Clinton's could-be campaign, the meetings revealed a tension between what an early primary state like Iowa wants and what a group like Ready for Hillary can actually offer.
The PAC was founded last January to help convince Clinton to run for president a second time. On the day of the group's first birthday, Smith and three other Ready for Hillary operatives met with more than a hundred Iowans — activists and union leaders, former Obama staffers and former Clinton staffers — in the critical caucus state where Clinton managed a disappointing third-place finish last time around.
Jerry Crawford, an Iowa fundraiser with deep ties to the Clintons, helped organize the meetings, along with a powerful duo: Jackie Norris and Teresa Vilmain, the Iowa state directors to the Obama and Clinton campaigns, respectively. "Our goal," said Crawford, sitting near Smith, "is to build the most exhaustive grassroots-up organization in the history of the Iowa caucuses."
The day took the shape of a fact-finding mission for the group that has focused largely so far on building a list of people who say they want Clinton to run. After explaining Ready for Hillary at the start of each meeting, Smith solicited advice.
"You guys have to tell us how to do this. You've got to tell us what works for you," Smith said. "You tell me. How do we go from here?"
For many Democrats in the room, there was no clear answer to Smith's question. While Ready for Hillary members said they intend to lay early Iowa groundwork for a potential campaign, the group seemed prepared only to set up tables at state events, hand out bumper stickers, and collect more names for a list they presume Clinton's eventual campaign will purchase. The locals who attended the meetings had another suggestion: If Ready for Hillary wants to build support, it should help Iowa Democrats win races this year.
"We got a little something ahead of us first," said Ken Sager, the president of the Iowa Federation of Labor. During the first meeting of the day with other union officials, Sager said his mind was on the year ahead, not 2016. This fall, Iowa has a governor's race, an open U.S. Senate seat, and two congressional races. And Democrats are hanging onto their majority in the state Senate by one seat.
During another meeting with elected officials and candidates, state Sen. Jack Hatch, Iowa's likely Democratic gubernatorial nominee, also asked the group to get involved in the midterms. "We want you to play in the 2014 elections," Hatch said. "What we need is money and volunteers and cooperation."
It's common practice for presidential hopefuls to invest either money or manpower in other Iowa campaigns one election cycle out from the race. John Edwards did it in 2006. John Kerry did it in 2002.
Peggy Huppert, a prominent Democrat in the state, remembers a staffer for former Sen. Evan Bayh, who considered running for president, staying in an extra room in her basement during the midterm elections in 2006.
"Other candidates did that, too. You give money — cash — from your leadership PAC, or you send paid staff," said Huppert, who did not attend Saturday's meetings. "It was to build favor, and it works. When you're thinking about running but you haven't announced yet, that's the most effective thing to do."
Smith indicated that Ready for Hillary would not send staffers or give money to other campaigns — though Crawford, separately, said in an interview that "some financial assistance" from the PAC in 2014 would be a possibility. "I would guess so," said Crawford. "I haven't had that discussion with them yet."
Ready for Hillary officials have also said they will not engage with other candidates unless Clinton herself has endorsed them first.
Smith, who visited New Hampshire for a similar gathering two weeks ago, acknowledged in an interview that midterm elections are something the group has "to figure out." He suggested that Priorities USA Action, another super PAC supporting Clinton, might be able to provide financial assistance. "I don't know if that's something Priorities is interested in," he said.
Earlier this year, Ready for Hillary placed a voluntary cap of $25,000 on donations so that Priorities USA could focus without competition on large-dollar contributions. The two groups, along with a research-focused project by American Bridge and a polling effort by EMILY's List, have emerged as a network of outside organizations already coordinating in support of Clinton.
"Next time we meet," Smith said of that larger web of PACs, "I gotta say, 'Look, we've got to figure this out.' Everywhere I go, they ask this question."
The midterms tug at a larger potential problem for Ready for Hillary: Now that the PAC, which has presented itself to voters as a sort of draft campaign for Clinton, is engaging on the ground with Democrats in primary states, there is an expectation that the group will "be the player on her behalf," Smith said. "Certain obligations flow from that. We have to figure out how to deal with it."
"And I got nothing for you," Smith said, laughing.
Another frustration emerged during meetings. In spending time and resources on a candidate who isn't even in the race yet, some said, Ready for Hillary stages a "total inversion" of the traditional primary, as state Rep. Jo Oldson put it.
Iowa, Oldson said, likes its candidates to beg voters — not the other way around. "This is just a different twist on how Iowans view getting into presidential campaigns," she said. "It's Iowa asking her to run, rather than the candidate asking Iowa to elect her."
Already, the Clintons aren't Iowa favorites. In the 1992 presidential primary, Bill Clinton skipped the state because he had no chance against the hometown candidate, Iowa's U.S. Senator, Tom Harkin. Four years later, as an incumbent, Clinton didn't come back. And in 2008, Hillary Clinton ran what some operatives who worked in the state describe as a half-pregnant campaign.
She worked rope lines instead of mingling directly with voters; she rarely took questions at campaign events; she didn't spend enough time in the state. Democrats here still bring up the 2007 campaign memo that suggested Clinton pass over Iowa altogether. Her old Iowa campaign headquarters, its windows darkened and insides empty, stands in an abandoned business park just a few miles west of the brewery where Ready for Hillary assembled on Saturday.
Huppert, who at the time ran Caucus for Priorities, a nonprofit that advocated for redirecting Pentagon spending to social programs, recalled that every other Democrat but Clinton aggressively courted the group's endorsement. "It's really hard to campaign in Iowa above the fray," she said. "The fray is the campaign."
In the Ready for Hillary meetings, Oldson said there is still a concern inside the state that, should she run in 2016, Clinton might "blow right by" Iowa again.
"Right or wrong, that's the perception," Oldson said.
Janet Petersen, a state senator who supported Obama over Clinton, said she'd heard similar comments from Democrats. "What you're asking in terms of creating lists is not what Iowans want," Petersen said, sitting next to Oldson. "You guys want a list. Iowans want a sense of engagement and conversation and dialogue like they got on the Obama campaign."
Smith responded to Peterson. "You mean engagement with the candidate — which is the one thing we can't produce," he said.
"And that's what I'm saying," said Petersen. "Do you want them to organize around a PAC or around a candidate?"
Smith later acknowledged this problem, too. "Candidates usually ask of Iowa, and we're trying to set a structure that flips that," he said in an interview toward the end of the daylong confab. "That's a challenge here."
And what could he do about it? Smith answered by relating "an old Arab saying" that he said he heard when he was young and never forgot.
The story went like this: An elephant is walking through the desert and sees a sparrow lying on its back with his legs in the air. The elephant asks, "What are you doing?" The sparrow says, "I heard the sky was going to fall, and I'm going to try to hold it up." The elephant looks down in disbelief. "You're a sparrow. Those two little legs? You're not gonna be able to hold up the sky!"
And the little sparrow says, "Look, you do what you can."
Smith finished the story, laughed, slapped his knee, and said, "All I can do is what I can," before heading back to the table for the next meeting.