"Ready For Hillary" PAC Huddles In New York For Strategy Session
The pro-Hillary Clinton group's first major confab. Donors and big-name operatives descend on the Parker Meridien for panels like "What It Will Take to Win in 2016" and "Ready for the Right Wing."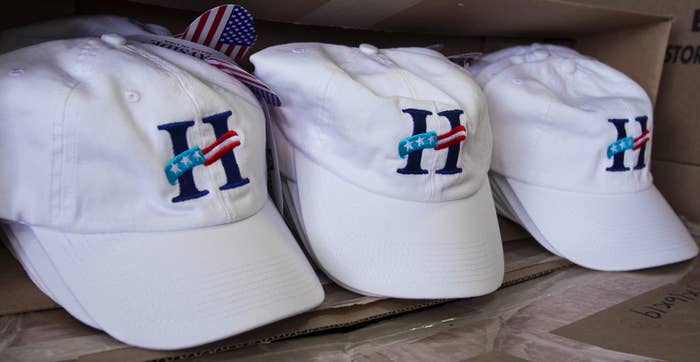 A group of more than 100 donors, fundraisers, and political operatives will huddle in New York City today for a dawn-to-dusk "strategy session" aimed toward one possible, unannounced presidential candidate: Hillary Clinton.
"Ready for Hillary," a political action committee founded at the start of this year in support of a Clinton campaign in 2016, will host a series of nine consecutive strategy meetings and panels all day Tuesday for its first national finance council meeting, according to a copy of the agenda obtained by BuzzFeed.
The meeting, set in Midtown's Parker Meridien hotel, is the group's first major strategic meeting. Since its founding in January, Ready for Hillary has focused more on establishing a presence on social media and building an email list of supporters, which they now figure at one million in total.
The PAC's line-up for Tuesday, billed as a "strategy session," features a list of heavy-hitting speakers.
Geoffrey Garin, a pollster who stepped in as chief strategist during the final two months of Clinton's 2008 campaign and served four years later as an advisor to Priorities USA, the leading super PAC supporting President Obama, will host a panel titled, "What America Will Look Like in 2016."
Mitch Stewart, the strategist who ran Obama's field operation last year, will lead another session called, "Building the Coalition." Stewart's firm, 270 Strategies, announced in July that they would partner with Ready for Hillary.
David Brock, the founder of Media Matters and American Bridge, and Ronald Feldman, Bill Clinton's National Endowment for the Arts Council appointee, will speak at "Ready for the Right Wing," a panel geared toward preparing for a fresh round of political attacks against Clinton in three years time.
Ready for Hillary will open the meeting at 9:30 a.m. with two political unknowns: Taj Magruder and Haley Adams, two supporters who signed on earlier this year with the group. Magruder and Adams's lead-off talk, billed under the headline, "Why We're Here," signals the PAC's continuing focus on building out a base of grassroots support and small-dollar donors.
The two closing panels — "What It Will Take to Win in 2016" and "Why I am Ready for Hillary" — feature Jessica Vanden Berg, the chief of staff to Rep. Tulsi Gabbard; Craig T. Smith, Bill Clinton's White House political director, now a senior advisor with the PAC; Amber Mostyn, a leading Democratic donor; and Jennifer Granholm, the former governor of Michigan who signed on with Ready for Hillary in May.