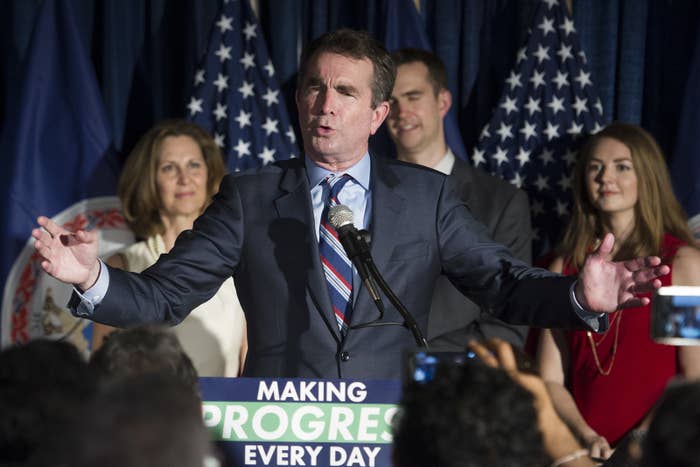 Virginia Lt. Gov. Ralph Northam won the Democratic gubernatorial primary here on Tuesday evening, defeating an opponent cast as the populist progressive choice in one of the first closely watched statewide campaigns since President Donald Trump took office.

The AP called the race for Northam over Tom Perriello, with Northam leading 57-43 percent. Northam, 57, a former U.S. army physician and Virginia state senator, defeated Perriello, defying several recent polls that promised a tight contest

The results also marked an initial victory for the current governor, Terry McAuliffe, who has been one of Northam's most active supporters on the campaign trail in recent weeks. McAuliffe is barred by state law from seeking a second consecutive term, but the election of Northam would be a mark of affirmation of his record.
On a 90-degree night here outside Washington, about 200 Northam supporters waited for polls to close on the patio of a bar called Highline RXR. The lieutenant governor is expected to attend the event with some of his biggest state backers, backdropped in the bar by a makeshift display of Virginia and American flags.
Together, Northam and Perriello agreed to hold a "unity"-themed rally the morning after the race, regardless of Tuesday's results. The event, set for George Mason University, will be attended by McAuliffe and Democratic Party chair Tom Perez.

The Democratic primary, one of just two gubernatorial races this year, was quickly examined in national press coverage as an early indicator for the party's political climate and future ideological leanings after an unexpected defeat last fall and the long and fraught primary between Hillary Clinton and Sen. Bernie Sanders.

Northam received endorsements early on from nearly every top Democrat in the state, including McAuliffe and U.S. Sens. Mark Warner and Tim Kaine. His challenger, the 42-year-old Perriello, a former one-term congressman, jumped in the race in January, positioning himself as a young upstart, better aligned with the energy and activism that propelled Sanders in 2016 and helped launch the protest movement working to oppose the president and reverse Democratic electoral deficits.
Perriello embraced a new political terrain for Democratic candidates, one governed by opposition to Trump, grassroots, and small-dollar donor. But even as he attracted national interest, securing endorsements from Sanders and Sen. Elizabeth Warren, his campaign didn't draw the same swell of attention that transformed Jon Ossoff, a little-known candidate running in a little-known special congressional election in Georgia's 6th District, into an urgent shared cause for grassroots Democrats.

The campaign, managed by Sanders' national field director in 2016, Julia Barnes, hinged on plans to bring in tens of thousands of new voters to the polls — a significant challenge in an off-year, when turnout levels are historically low.
Virginia's last competitive gubernatorial primary, held in 2009, drew about 320,000 Democrats. (One million showed up in the presidential primary one year earlier.)
Some two hours after polls closed, turnout reports showed a significantly higher count than 2009, crossed the 480,000 mark. Despite the higher participation Perriello had hoped for, he still fell short to Northam.
Perriello, who poured money into a large staff, also let Northam outspent him on TV, 3-to-1 in some marks, according to a Democrat familiar with the ad spending.
On policy, both candidates offered progressive platforms, and both had imperfect progressive credentials. Northam admitted to voting twice for George W. Bush. Perriello struggled to explain his positions on gun control and reproductive rights from his time as a candidate in Virginia's rural 5th district: In 2010 he received an "A" rating in 2010 from the National Rifle Association. In 2009, he voted for an amendment to the Affordable Care Act to limit federal abortion funding.