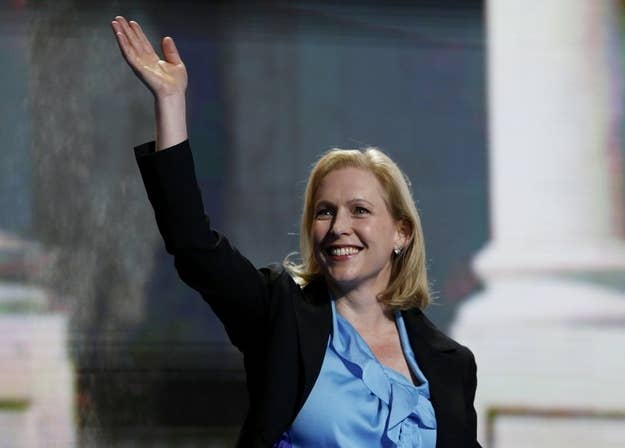 With just five weeks until her own re-election, Sen. Kirsten Gillibrand is in New York City today to fundraise — for other Democratic women.
The money raised today at Gillibrand's $800-per-plate lunch will be split evenly among four female senate candidates — Nevada's Shelley Berkely, North Dakota's Heidi Heitkamp, Wisconsin's Tammy Baldwin, and Hawaii's Mazie Hirono. Gillibrand's campaign expects to raise $250,000 at the event, hosted at a law firm in midtown Manhattan, her spokesman, Glen Caplin, said.
The most recent polling for Gillibrand's own race has her leading opponent Wendy Long by wide margins — 64 to 27 percent, says a September Quinnipiac poll — and so the New York senator has sufficient leeway to throw her time and resources behind other campaigns, an unusual luxury for a politician and a traditional path for New York figures to a measure of national power.
Gillibrand's most recent campaign emails, too, have been devoted to other candidates. Last Friday, Gillibrand asked her supporters to give to Missouri Senator Claire McCaskill: "We have to help her fight back." It was Gillibrand's second campaign email on behalf of McCaskill, who is struggling to maintain her lead against challenger Todd Akin.
After Akin made his comments about "legitimate rape" this summer, Gillibrand's McCaskill emails sought to recast that Senate race as an issue for women voters outside Missouri.
"I take remarks like Akin's very personally," read her Sept. 28 email. "So I'm going to do everything I can to make sure he's defeated."
On Sept. 15, Gillibrand wrote to her supporters about New York House candidate Grace Meng, who if elected will be the first Asian-American elected to Congress from New York.
Through her emails alone, Gillibrand has raised over $500,000 this year for Democratic House and Senate candidates, an aide said.
She has also sided with female candidates in tough primaries.
One email in July, headed "Tulsi," came as Tulsi Gabbard, running to represent Hawaii in the House, fought to close a double-digit polling gap and win her primary.
"She was a longshot in that race," said Gillibrand spokesman Caplin.
Gillibrand's fundraising has stoked speculation that she'll seek to head the Democratic Senatorial Campaign Committee in 2014. Caplin says the Senator has "no plans" to make that move.