Publisher: Hillary Clinton Won't Collect Data From Book Site
"It belongs to us. It is absolutely unambiguous."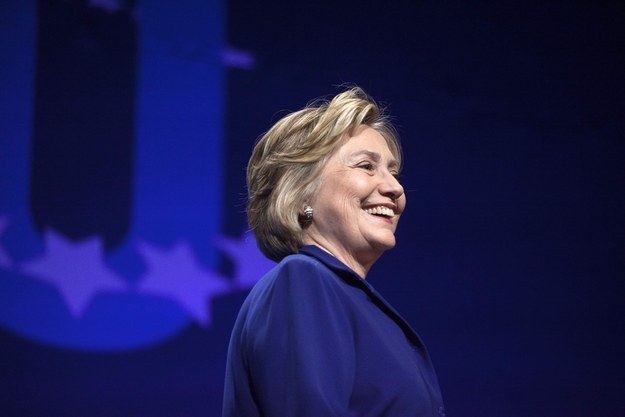 Simon & Schuster said Monday that Hillary Clinton would "unequivocally" not have access to personal data the publishing house is collecting through the promotional website for her upcoming memoir, Hard Choices.
The website, hillaryclintonmemoir.com, asks visitors to submit email addresses or "sign in" to the site through Twitter or Facebook. Simon & Schuster, Clinton's publisher, set up the website earlier this year through a third-party provider, NationBuilder. The company occasionally builds sites for artists and authors, but specializes in political movements and campaigns.
Politico suggested on Monday that the book and book tour would provide Clinton with the opportunity to collect "priceless retail consumer data" ahead of a presidential bid, though it was not specified what kind of data.
The information collected through the site will not be shared with Clinton or her office, according to Cary Goldstein, Simon & Schuster's executive director of publicity. "It belongs to us," he said. "It is absolutely unambiguous."
"The guidelines are printed clearly on our website. This information is collected by the publisher so that the readers of Simon & Schuster books who are interested in subjects like foreign policy and politics can be put on our mailing list."
In the lead-up to publication, Simon & Schuster used the website as the main portal for the book. Last month, the site offered readers a chance to access an exclusive excerpt — the Author's Note — if they provided an email address.
The names will "unequivocally not be shared with the author," Goldstein said.
Clinton's memoir, her second, is scheduled for publication on Tuesday.
Her publisher said late last month that retailers have already ordered through the book's first printing — a total of 1 million copies. Clinton will jump from city to city this summer to promote the book, a retrospective of her four years as secretary of state. Her last memoir, Living History, sold approximately 4 million copies, according to a new editor's note by Jon Karp, Simon & Schuster president.
Her extensive publicity tour, which will include national television interviews, begins on Tuesday morning with a book signing at Barnes & Noble in Manhattan.