Progressives Emerge As Brian Schweitzer's Unlikely Ally
Just hours after Sen. Max Baucus's retirement announcement, a progressive group comes out for a pro-gun, pro-Keystone candidate. PCCC calls Schweitzer a "bold progressive populist."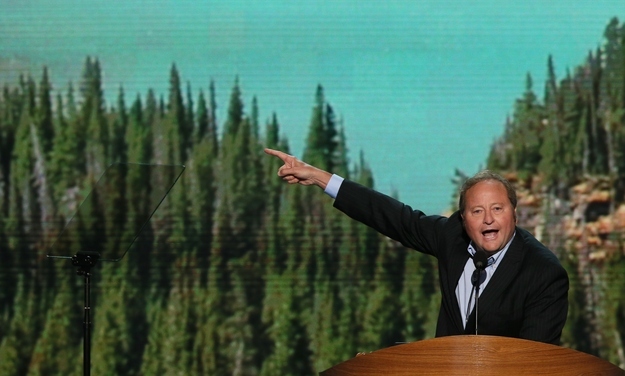 Less 24 hours after Sen. Max Baucus's surprise retirement announcement, his potential sucessor, former Montana governor Brian Schweitzer, already has support from an unlikely corner of the Democratic Party: Progressives.
A liberal political action committee, the Progressive Change Campaign Committee, launched a "Draft Brian Schweitzer for Senate" campaign just hours after Baucus announced he would step down at the end of his sixth term in early 2015. The group has already raised more than $18,700, spokesman Matt Wall told BuzzFeed, with a pitch that asks progressives to replace the "Senator from K Street" with Schweitzer, whom they call a "bold progressive populist."
Schweitzer may lean left in red-state Montana — he supports, for example, a single-payer health care system — but his center-right positions on a host of other issues make him an unlikely pick for a national progressive advocacy group.
The former governor is a strong advocate of the Keystone XL pipeline — to which progressives and environmentalists are vehemently opposed — and he is a pro-gun lawmaker in good fettle with the National Rifle Association: In 2008, the powerful gun lobby sealed Schweitzer's "A" rating with a reelection endorsement.
(Schweitzer did tell the National Journal in February that he supports background checks, but he has not said whether or not he would have supported the bill to expand background checks, which failed in the Senate last Wednesday despite the bipartisan sponsorship from Sens. Joe Manchin and Pat Toomey.)
Asked why Schweitzer would be popular with a progressive group, Wall said, "It's the fact that he was a populist governor, he's been a supporter of single-care health care, he opposed Citizens United, and has a record of standing up to big corporations for the little guy."
Adam Green, PCCC co-founder, highlighted the contrast between Schweitzer and Baucus.
"Unlike Max Baucus, who cares mostly about his special-interest donors, Brian Schweitzer actually cares what the people of Montana think. We are confident that when he sees polls showing that 79 percent of Montanans support common-sense background checks, he would do the right thing," Green said.
PCCC has been critical of Baucus in the past; just last week the group announced a $100,000 ad campaign against the senior Senator for his vote against the bill to expand background checks, which failed in the Senate last Wednesday despite the bipartisan sponsorship from Sens. Joe Manchin and Pat Toomey.
Other progressive groups have yet to weigh in on Schweitzer's possible campaign; CREDO told BuzzFeed they didn't have anything planned for the race, and MoveOn.org said they would wait to hear from their members before moving forward.
"We're obviously watching this Senate race as it develops and will follow our standard process, which means that MoveOn members in Montana will determine the path forward — including whether to make an endorsement — once the field is set," said Ilya Sheyman, the campaign director of MoveOn Political Action.
But even within the first five hours of its campaign, PCCC saw a strong showing of support for the former governor, raising $10,000 from its one million members, 3,300 of whom live in Montana.
As of Wednesday morning, the group had raised $18,787 from 1,321 donors. A total of 13,500 people signed "Draft Brian Schweitzer" petition, according to Wall.
"We had an overwhelming response from our members," Wall said, adding that an 3,600 more people have pledged a combined total of $145,300, should Schweitzer decide to run for the open seat next year.
Schweitzer, who has said he will consider running for the veteran Senator's seat, was governor for two terms, serving from 2005 to 2013, and was well-liked during his time in the State House; a 2011 poll showed Schweitzer had the best approval rating among statewide officeholders, while Baucus had the worst.
Correction: PCCC's Montana membership is 3,300. An earlier version of this article misstated the number.