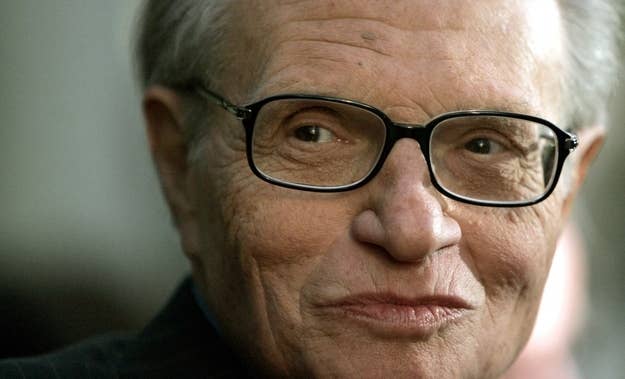 A prominent group of American journalists and public figures appear to have gone on the payroll pro-Russian opposition leader in the hard-fought and strategic presidential election in former Soviet republic of Georgia.
Former CNN host Larry King, Council of Foreign Relations President Emeritus Leslie Gelb, and retired Congressman Lee Hamilton have joined the advisory board of a private Georgian television station founded by billionaire Bidzina Ivanishvili, the leading challenger for the presidency in the October election. The station is now formally owned by Ivanishvili's wife.
Central to Ivanishvili's platform is a stronger relationshp with Russia, where the tycoon made about one third of his $6.4 billion fortune. Russia's President, Vladimir Putin, has sought to reassert the country's influence over the former Soviet countries Russians refer to as the "near abroad." But the candidate has denied ties to Russia — which invaded Georgia in 2008 — and recently sold off his Russian assets to prove his independence.
He's challenging President Mikheil Saakashvili , an intensely pro-American figure with close allies in the Republican Party, who is blamed by some in Georgia and here for needlessly taking Russia's bait and provoking the 2008 war. Saakashvili has also been criticized for alleged human rights abuses and for using the national television station for his political purposes; he has often dismissed criticism from all sides as a Russian ploy.
Ivanishvili's television station, TV9, assembled the paid board last week in order to help "promote media freedom in Georgia," according to Marc Ginsberg, former U.S. ambassador to Morocco and senior vice president of global pubic relations and lobbying firm APCO Worldwide. TV9 is an APCO client, and Ginsberg will oversee the board as Executive Secretary, he says.
The members of the ad board will be "nominally compensated for their term of one year based on similar advisory board compensation for start-ups in the U.S.," said Ginsberg. Along with King, Hamilton, and Gelb members include a French journalist and the cheif of a Georgian think tank.
Ginsberg said he had not registered formally as a foreign agent for the contract because he's representing a private company, not a foreign government.
The television station, a live news channel, casts itself a champion of press freedom. TV 9 funds a "Campaign for a Free Press" in Georgia and maintains a "harassment log" on its website detailing violations by Georgia's current government against working journalists. In a "Reporters Without Borders" ranking of press freedom in 179 countries, the Republic of Georgia falls somewhere in the middle—slated 105th, behind Ecaudor and North Cyprus.
The station denies taking sides in the upcoming Oct. 1 parliamentary election, despite its close ties to a leading candidate. TV9's website points out that Ivanishvili provides financial backing for the station, but does not own it (his wife, Eka Khvedelidze, does).
Ivanishvili and his station came under fire in June after some 300,0000 satelitte television dishes were distributed across the country by the opposition leader's brother; the dishes were later confiscated by authorities for suspected vote-buying, according to Reuters.
"No Advisory Board member will be involving him [or] herself in any political activities," said Ginsberg, who added that members were recommended based alone on their "level of interest in media freedom in Georgia."
A spokesperson for Larry King told BuzzFeed that the former "Larry King Live" host joined the advisory board because he was asked to by Ginsberg and by Lee Hamilton, who represented Indiana in Congress for 34 years and was Vice Chairman of the 9/11 Comission. "He thinks [Hamilton] is one of Congress's most respected members ever," said the spokesperson.
When King joined the board he "didn't even know who the founder was," said the King representative. "He believes in freedom of speech and independent journalism and he's happy to join this independent network that does not take stands."
Gelb referred an inquiry on the subject to APCO's Ginsberg, while Hamilton declined to comment on his role.
The advisory board has not yet held a meeting in person, only an introductory conference call, according to Ginsberg.
Update: An earlier version of this article stated incorrectly that Hamilton referred an inquiry to Ambassador Ginsberg, and Gelb declined to comment. It was Hamilton who declined to comment and Gelb who deferred to Ginsberg.