Pro-Gun Groups Predict Opponents Will Use Boston Attack Against Them
After a shoot-out Thursday night between police and the suspected Boston Marathon bombers, pro-gun groups see a political football. "'Never let a crisis go to waste' is their mantra," says Brown.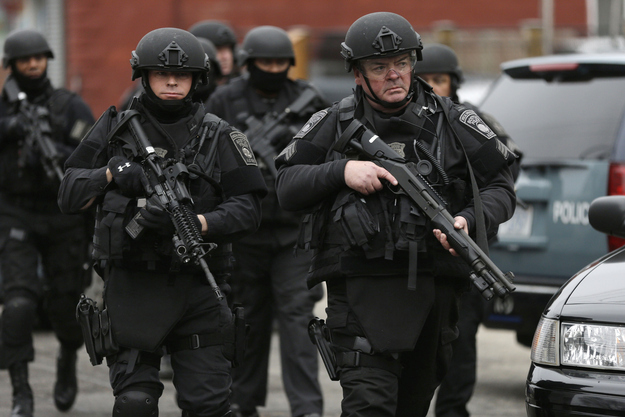 As authorities chased down the suspected Boston Marathon bomber Friday, Second Amendment advocates said they were already bracing for political opponents to use the incident against them in the ongoing debate in Washington over gun control.
The two men allegedly behind the explosions that killed three and injured dozens at the marathon finish line Monday afternoon — brothers Dzhokhar A. Tsarnaev, 19, and Tamerlan Tsarnaev, 26 — were found to be armed after a gunfight with police late Thursday night that killed Tamerlan. Law enforcement believes that his brother, who escaped and is on the run from authorities, is "armed and dangerous." It's still unclear what kind of guns and how many the alleged bombers had.
Just days after celebrating the defeat in the Senate of a bipartisan bill that would have expanded background checks for gun purchasers, pro-gun groups said that the gunfight development in Boston could precipitate a renewed push from the left for firearm legislation.
"'Never let a crisis go to waste' is their mantra," said Dudley Brown, executive vice president of the National Association for Gun Rights, when asked about how the Boston shoot-out might affect the gun control debate in Washington.
A wide array of Second Amendement groups cited Sandy Hook Elementary, where a mass shooting that killed 20 first-graders incited the campaign for gun control legislation late last year, and charged that the parents of the children murdered were exploited by the gun control community to sway public opinion.
"We understand what this is. People will try to utilize horrific tragedies in order to achieve political gain," said Michael Hammond, the legislative counsel for Gun Owners of America, a group that calls itself the "only no-comprise pro-gun lobby in Washington."
"It's disgusting, contemptible, and loathsome," said Hammond. "I'm not going to be able to stop them. The only thing I can do is make sure it doesn't work."
Hammond went even further, saddling the blame for the marathon attack in part on Mayor Tom Menino for championing gun control through his group, Mayors Against Illegal Guns, which he co-chairs with New York City mayor Michael Bloomberg.
"Mayor Tom Menino has been showboating around the country trying to take away guns from people in Wyoming and New Hampshire and Montana. Maybe Tom Menino might have spent a little more time in Boston trying to keep his people safe," Hammond said.
Dave Workman, a spokesman for the Second Amendment Foundation, said the Tsarnaevs' guns could become particularly relevant in Washington if law enforcement eventually discovers that the brothers somehow obtained them illegally.
"The anti-gun lobby will jump out of the woodwork on this if they can track where these guys got their guns," said Workman. "Of course they're going to exploit that, especially after the stinging defeat on Wednesday. They're looking out for something else now so they can say, 'See we told you so.'"
Brandon Combs, managing director of the pro-gun group Firearms Policy Coalition, added, "It would not shock me if those who refuse to acknowledge the fundamental nature of Second Amendment rights would try to leverage a tragedy for their political gain."
But several gun control advocates contacted Friday morning by BuzzFeed declined to comment, saying only that it was too early to start talking politics.
"No possible way I can comment on a situation we know NOTHING about," emailed Jen Bluestein, a spokeswoman for the Gabby Giffords-headed gun control group, Americans For Responsible Solutions. "We don't know where they got the guns."
Dave Chipman, a senior advisor for Bloomberg's gun group who worked for 25 years as a special agent with the Bureau of Alcohol, Tobacco, Firearms, and Explosives, said it wasn't too early to make the point that better gun record-keeping regulation might have helped law enforcement officials track the suspects through their firearms.
"That's why we have been fighting hard on the gun issue. It's about the importance of law enforcement to have the ability to quickly trace the firearms," said Chipman.
The largest and most influential gun lobby, the National Rifle Association, did not respond to a request for comment.