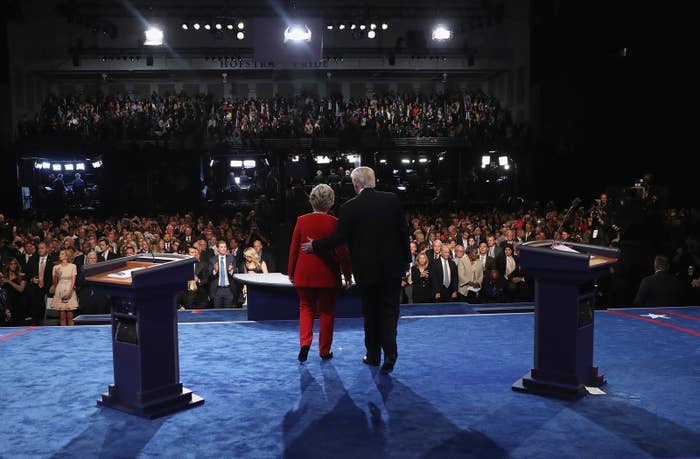 CHICAGO — They are "vulnerable." They identify with his "simplistic and simple language." With his "racist and misogynistic comments." His "sheer populism." Many have "a very low level of civic understanding," didn't take a civics class, and can't identify their own representative in Congress.

This was the picture of Donald Trump supporters that emerged at points on Thursday from four notable members of the Republican Party who laid out their case for Hillary Clinton and tried to explain why so many GOP voters haven't found his candidacy as repellent as they have.
The answer, as these Clinton surrogates articulated it toward the end of a 30-minute conference call organized by her campaign, highlighted the same chasm between working-class voters and the Republican Party elite that led Trump to lash out in this week's presidential debate against what he described as the "political hacks" in Washington.
One of the Clinton supporters on the call, former Republican Congresswoman Claudine Schneider from Rhode Island, argued that Trump has aimed his pitch at uninformed and uneducated voters, citing conversations she's had with taxi cab drivers and people on planes who could not name their representative from Congress.

"My frustration is that there is a very low level of civic understanding," said Schneider, who is originally from Pennsylvania and served in Congress from 1981 to 1991. "I routinely, whether I'm talking to cab drivers or somebody next to me on the airplane, I'll say, 'Well, who's your congressman?' I would say nine out of 10 people don't know."
"To me, the most vulnerable Republicans seem to me to be the ones who are supporting Trump. And those that know better, that understand the process and how to get things done, are the ones" supporting Clinton, she said, describing Trump's base as people who "have not voted before" and identify with "his bullying and racist and misogynistic comments."
Another Republican official on the call, George W. Bush's commerce secretary, Carlos Gutierrez, described Trump supporters as drawn in by the candidate's "simplistic and simple language."
"That is exactly what a populist does," Gutierrez said. "And populism unfortunately works in someone who has a little bit of TV experience and is able to talk a good talk. But it is sheer populism."
Schneider and Gutierrez were joined on the campaign call Mike Donley, the former secretary of the Air Force, and Jim Cicconi, former deputy chief of staff to George H. W. Bush. The four new surrogates, introduced by campaign chairman John Podesta, are part of Clinton's "Together For America" initiative to court Republican and Independent voters turned off by the historically unpopular nominee.
Forty prominent non-Democrats have signed on since the effort launched this summer, lending Clinton support from a range of state and local officials, national security figures, and staffers from both Bush administrations. (The campaign announced new additions to the list on Thursday.)
Clinton, too, has shied away from traditional partisan and ideological messaging this year, working instead to cast the choice between her candidacy and Trump's instead as one of values — inclusion and bipartisanship against exclusion and division, respectively. In this week's debate, she barely mentioned the Republican Party, and did not criticize it.
Still, Clinton hasn't seen particularly strong Republican support. Polls continue to show a relatively close race, with some sharp splits along gender and college-education lines.
Earlier this month, the Democratic nominee quickly apologized for telling supporters at a New York fundraiser that "half" of Trump voters were "deplorables," a remark that cast millions of Republicans as "racist, sexist, homophobic, Islamophobic — you name it." Clinton characterized the other half of Trump backers as down-and-out Americans who were simply "desperate for change."
When a reporter asked the campaign's surrogates why "everyday Republican voters" hadn't backed away from Trump, hints of a similar view of Trump's base came through on the call.
Gutierrez offered anecdotal evidence that among the Republicans he knows, including "a lot of Republican friends," very few are planning to vote for the "repugnant" Trump.
Schneider later chimed in, describing the people who support Trump as those who hear him say he will create jobs, but don't "understand or have the information [to understand] that it takes more than just speaking those words — it takes a plan."
When it comes to "educating the public" on matters like the "role of the president" and the "difference between the parties," the former congresswoman argued, many of the country's communities fall short of a basic standard.
"I'm very sad to say that it's up to the media now unfortunately, because most people have not taken civics classes," she said.
Cicconi, the former George H.W. Bush official, contended that the first presidential debate was a pivotal moment in the effort to win over Republicans and Independents. "If you look behind the curtain on it, I think what you see is that a sizeable percentage of Republicans are very unhappy with the nomination of Donald Trump, and I think a lot of them are still wrestling with this," he said, referencing members of the House and Senate who say they cannot vote for their nominee — even if they aren't supporting Clinton.
On Thursday, asked aboard her plane here about the GOP voters still backing Trump in large numbers, Clinton said she's been "thrilled at the amount of Republican voter support I've gotten."
When she moved to name examples, Clinton cited "thought leaders with a lot of experience" — national security professionals, business executives, elected officials, "people who understand what the next president is going to be facing," she said — but not everyday voters.