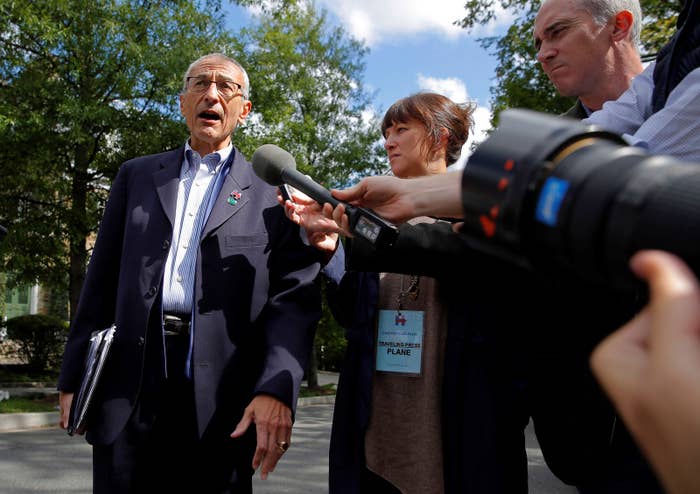 WHITE PLAINS, N.Y. — Hillary Clinton's campaign chairman implicated Donald Trump on Tuesday in the release of thousands of his hacked emails, saying the Republican nominee's campaign may have had "advance warning" about the recent cyberattack.

On a flight here aboard Clinton's campaign plane, John Podesta spoke to reporters for the first time since the website WikiLeaks began publishing thousands of his personal emails, including messages that could potentially damage the Democratic nominee.
Podesta said the FBI and law enforcement authorities are investigating the "criminal hack" of his email as part of an ongoing inquiry into attacks by Russian intelligence on other organizations, including the Democratic National Committee this summer.
US officials have linked some hacks that have been posted on WikiLeaks, the website DC Leaks, and a website run by a hacker named Gufficer 2.0, to a wider effort by Russia "intended to interfere with the US election process."
On Tuesday night, the Clinton campaign chairman pointed to comments made earlier this year by Roger Stone, a longtime member of Trump's orbit and a former adviser to the campaign.
"A couple of months ago, Roger Stone confirmed that he was in touch with Julian Assange," Podesta said, referencing the WikiLeaks founder, who has said he will not comment on sources.
"Around the same time, Stone pointed his finger at me," Podesta added, "and said that I could expect some treatment that would expose me and ultimately sent out a tweet that said it would be my time in the barrel."

"So I think it's a reasonable assumption to — or at least a reasonable conclusion — that Mr. Stone had advanced warning and the Trump campaign had advanced warning about what Assange was going to do."
On Wednesday, WikiLeaks tweeted that the organization "has had no contact" with Stone.
Stone did not immediately respond to a request for comment.
On Twitter in recent weeks, Stone had predicted that WikiLeaks would "educate the American people soon #LockHerUp."

Clinton aides have drawn connections between Russia and the Trump campaign before, arguing that it would be in the best interest of the Kremlin to sway the race in the Republican nominee's favor. But Podesta's comments Tuesday night marked the campaign's sharpest and most direct suggestion about Trump's possible connection.
"There's at least a reasonable belief that Mr. Assange may have passed this information onto Mr. Stone," Podesta said, calling it "circumstantial evidence."
And what would explain the link? "You could start by looking at the positions that Mr. Trump has taken during the course of this campaign — ones that are more consistent with Russian foreign policy than with U.S. foreign policy," Podesta said, citing Trump's comments about weakening the country's ties to NATO and his "apparent love affair, or bromance as I've called it, with Vladimir Putin."
Podesta and other campaign officials have refused to authenticate the thousands of emails that have been released by WikiLeaks in spurts since Friday. The cache of private messages has revealed the inner workings of a highly private campaign, from strategists discussing message and strategy to excerpts of Clinton's closed-door paid speeches.
Assange has indicated he will release thousands more of Podesta's personal emails before the election.
Asked for his personal reaction to the exposure, Podesta admitted that the situation has been uncomfortable. "Any individual on this plane, if you think you'd like all the content of your email for 10 years dumped into public, think about how that feels. It doesn't feel great."
"But I'm kind of zen about it at this stage," he added.