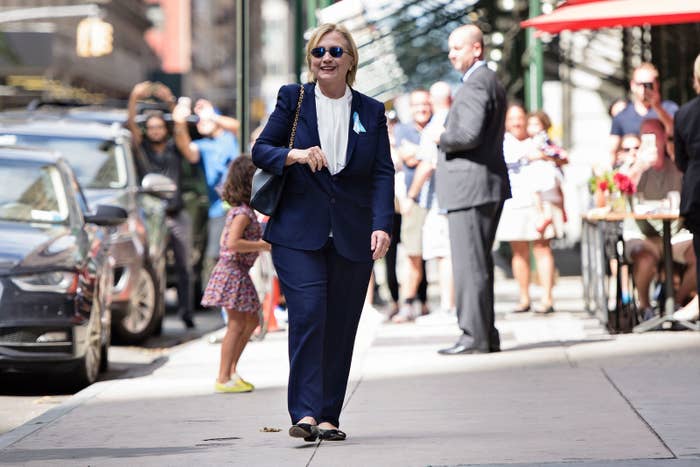 WHITE PLAINS, N.Y. — Once, twice, three times, and then four, reporters pressed Hillary Clinton's running mate on the same simple question: When did he know?
"Yeah, I don't want to talk about her and my conversations," he said, "except to just say that I reached out to her as soon as the incident happened on Sunday."
So you didn't know on Friday?
"I'm not going to get into the content..."
Senator, are you telling us that you didn't know?
"I reached out to her yesterday in New York. All right? Thank you," Tim Kaine said, leaving unanswered whether he'd been told about Clinton's pneumonia on Friday, at the time of the diagnosis, or on Sunday, after a widely seen video showed the candidate struggle to walk as she left New York's annual 9/11 memorial ceremony.
Who got the news, and when, suddenly became a question of political importance on Monday, put to figures across Clinton's orbit, from her vice presidential nominee in his press conference, to her campaign manager in an equally persistent exchange on MSNBC. (During that interview, Robby Mook declined to say much more than Kaine, changing the subject to Donald Trump when host Kate Snow asked, "Did the staff not know that she had pneumonia on Friday — am I right in reading that?")
Most of the campaign found out, like the public, on Sunday. A staff-wide email presented the same doctor's statement given to reporters, as first reported by the New York Times. The sender was campaign vice chair Huma Abedin, Clinton's closest and most protective aide, one of the few to know the diagnosis on Friday. Whether the news would have been shared with the public, or even within the campaign, were it not for the video, was a more obvious question to many.
"Never. Never ever, ever, ever," one longtime Clinton ally answered Monday.
The reason has little to do with pneumonia or the candidate's health.
To understand it, according to interviews and conversations with people inside and outside the campaign this week, is to understand something about Clinton in this particular moment — some 50 days from maybe parting ways with more privacy in the around-the-clock "protective" media bubble of the White House, and some 25 years into a career in public life that friends and former aides describe as more "insulated" than ever within a tight inner-circle, sometimes leaving all but a few people on the campaign with limited information about their own candidate.
The dynamic played out in public view on Sunday.
Clinton's press corps, and many of her own aides, remained largely in the dark from 9:30 a.m., when reporters noticed her early departure from Ground Zero, to 5:15 p.m., when they finally received the doctor's statement. For 90 minutes at the height of the incident, press staffers went radio silent, unable to provide information.
Clinton aides have since said communication should've been better. ("We take responsibility for that," Mook said.) But on Monday, a pointed tweet from David Axelrod, President Obama's former top strategist, outlined a larger issue at play: "an unhealthy penchant for privacy that repeatedly creates unnecessary problems."

What Axelrod describes as a "penchant for privacy" has also become a function of the way the Clinton operation works, friends and former aides said, describing a candidate who has kept notably close company through the campaign, creating a narrow funnel of information and access around a few members of the staff.
Day-to-day insights about Clinton, however mundane, often elude much of the campaign: This summer, during her first trip of the general election, a bus tour with Kaine, reporters asked for details about the scene on the candidate's bus. The request proved difficult to fill — most of the staff was traveling separately as usual.
(The "color" they eventually shared about Clinton and Kaine's ride together indicated as much: "They were joined by their families, who enjoyed spending time together and further getting to know each other," the guidance read.)
Clinton has resisted a large retinue of traveling staff, one person close to the campaign said, preferring to keep the group to a few key figures — Abedin and trip director Connolly Keigher, as well as press secretary Nick Merrill, a photographer, and a videographer, joined occasionally by senior aides from headquarters.
Outside U.S. Secret Service, her traveling party is smaller than Kaine's.
The tight cadre of aides can often act as a "cocoon" on the trail, as one adviser put it, attuned to managing even the physical space around the candidate. At a recent rally, a friend observed their effort to prevent what they called "pile-up" backstage, politely sweeping away people who hung back too long or hovered too close.
Among the traveling staff, only Abedin regularly rides with Clinton in the motorcade, a space seen as the candidate's place to decompress between campaign events.
"That's Huma's power," said the longtime Clinton ally.

No other member of the campaign deals with Clinton more frequently or closely than Abedin, including chairman John Podesta and Mook, the campaign manager. Outside the Brooklyn offices, Cheryl Mills, a longtime confidante and dear friend, plays a similar advisory role. But on matters large and small inside the campaign, decisions often end with the 40-year-old former body woman and deputy chief of staff.
For many outside the tightly knit circle, Clinton has remained a distant figure for much of the 17-month campaign. Even some of her central staffers have yet to develop much of a personal relationship with her, unlike in her 2008 race.
Her last campaign, bursting with leaks and rogue actors, had none of the discipline or organization of this operation, but still, former aides noted this week, Clinton was more accessible in that race to a "wider circle" of staffers, as one person put it.
Some were quick to link the insularity revealed Sunday to some of Clinton's failings and missteps as a candidate, including her comment last Friday at a New York fundraiser, her first such event open to reporters, that "half" of Trump's supporters were some mix of racist, sexist, homophobic, xenophobic, and Islamophobic, and belonged in what she memorably described as the "basket of deplorables."
"Are you so detached that the first time you open up a fundraiser you're talking to a bunch of rich people and call millions of Americans 'deplorable'?" one longtime Clinton adviser said, describing the "insulated" campaign as a "big problem."
The campaign still doesn't facilitate a truly "protective pool," demonstrated Sunday when Clinton departed the 9/11 ceremony without alerting reporters. (Trump has also declined to set up a protective pool and is only just now starting to facilitate daily travel for reporters, something Clinton's campaign has done for months.)
Clinton has resisted taking that final step, one she would have to face in the White House, telling aides she wants to be able to take a walk or run an errand without having to assemble the press.
It's the same wish Clinton voiced again and again as first lady.
In transcripts of her interviews from the 1990s, autonomy and privacy are subjects she addresses with frustration, longing, and despair. After a year in the White House, she described Washington as a place that could "capture" a public figure, opening up their lives to whatever "some 25-year-old reporter behind a computer could spit out in his lexicon of questions," as she put it in a 1994 interview.
Two decades later, as Clinton sees it, there's almost nothing about her life that's stayed private.
It's a view she hardly wavered on after Sunday's events, even balking slightly when CNN's Anderson Cooper asked in an interview about her "penchant for privacy."
"I think it's fair to say, Anderson, that people know more about me than almost anyone in public life. They've got 40 years of my tax returns, tens of thousands of emails, a detailed medical letter report, all kinds of personal details. And you know, it's just so — it's so strange that with all of that information out there..."

Clinton trailed off, leaving the thought unfinished.