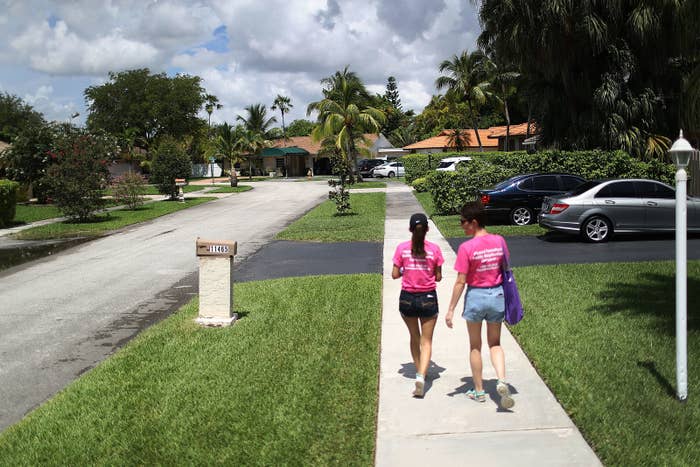 Planned Parenthood wants to put the next health care fight in the hands of its volunteers.
Over the next 12 months, the 100-year-old women's health and abortion rights group will build a corps of 600 volunteer-led community organizing teams across the country, each one located near a Planned Parenthood health center, officials said this week.
The new organizing project, seeded with an initial $500,000, begins in September with four regional "bootcamps," where 1,000 hand-picked volunteers will undergo intensive training, return home with new organizing tools, and form the basis of an effort that Planned Parenthood officials believe is "unlike any other than we've ever made."
That's how Planned Parenthood's national organizing director Kelley Robinson described the decision to invest in a nationwide network led entirely by volunteers, focused on building "intersectional" local campaigns to "protect and promote" women's health. (The $500,000 will be a joint investment made by the Planned Parenthood Federation of America and its linked political arm, Planned Parenthood Action Fund.)
For the volunteer leaders that Planned Parenthood trains next month, that could mean building local campaigns around legislation in Washington, or sexual-assault awareness on campuses, or ballot initiatives in the state. The idea more broadly, said Nilofar Ganjaie, a lead Planned Parenthood field organizer based in Seattle, is "to actually put this the hands of activists" and "scale up in a way that we haven't been able to do."
Looking ahead after the Republican health care defeat, officials see that kind of self-organizing network as the key to more "long-term power" — and the next step in a recommitment to grassroots organizing at Planned Parenthood first set off by last year's election.
The organization spent millions to support Hillary Clinton's campaign, including a $30 million push targeting millennial voters in the final stretch to Election Day. When they lost, said Robinson, "the strategy for our organization was called into question."
"It was time for us to start going back to our block and tackle, meaning it was time to go back to the basics — the things that we've always done well to survive in the last 100 years," she said. "We started thinking about our grassroots first."
Over the next nine months, as Republicans worked to repeal the Affordable Care Act, and cut or redirect federal funding for Planned Parenthood, the organization developed new organizing tools and added 226,000 volunteers and 1 million total supporters.
In the lead-up to last month's vote, they held 2,400 marches, meet-ups, phone banks, and rallies, and collected 1 million petition signatures, according to the group. They made 200,000 phone calls to members of Congress, followed by calls to people who live in the same state to tell them to call their members of Congress (including 20,299 to tell Nevadans to call Sen. Dean Heller). They drafted 90,000 supporters to a "Defenders" program, with tools for "real-world actions" and an "Emergency Guide" to the latest "urgent action to focus on."
Planned Parenthood, the nation's single largest abortion provider, has been at the center of flare-ups in Congress over abortion, health care, and federal funding since Republicans took control of the House of Representatives seven years ago.
Their work during the health care debate this year, said Robinson, reaffirmed the "grassroots-first" mentality set in November, but left the group seeking more long-term organizing.
"Now we're ready to turn to a different phase," she said.
The training work itself won't exactly be a departure for Planned Parenthood. The group has trained thousands of "patient advocates" to deploy personal testimony in support of the Affordable Care Act and Planned Parenthood clinics, and hosted "Power of Pink" trainings for supporters. The "curriculum" they plan to use next month will be an updated version of one used they've used before, though never at a program of this scale.
"We've always had local organizers, activists, supporters, but not 1 million new supporters who are ready to come out and do the organizing work," said Kersha Deibel, the group's director of constituency organizing.
The 600 volunteer leaders, able to collaborate with local Planned Parenthood staff, will be autonomous, said Ganjaie, the Seattle-based field organizer, who has been helping plan the bootcamp trainings and identify top-tier volunteers to attend.
At each of the four gatherings, planned for Seattle, Phoenix, Charlotte, and Oklahoma City, around 250 hand-picked volunteers will undergo three days of trainings, covering digital programs, protests, congressional town halls, and the more basic work of building volunteer structures. Planned Parenthood will equip volunteers with online tools like phone banks and webinars, an official said, as well as "lots of pink materials, including shirts" — uniform of the "pink army" known to appear at rallies and protests.
As it stands, 600 of the 1,000 expected attendees will be chosen as volunteer leaders.
"We're looking to pick out volunteer leaders who have naturally demonstrated leadership, folks who are already organizing on their own time," said Ganjaie.
And after that, she said, they go home and "continue organizing."