Plaintiffs In Discrimination Case Call On Eliot Spitzer To "Make Right What His Father Messed Up"
As the Spitzer name returns to headlines and the case returns to trial, the plaintiffs turn their attention to the New York City comptroller candidate. "This has nothing to do with Eliot," says a spokeswoman.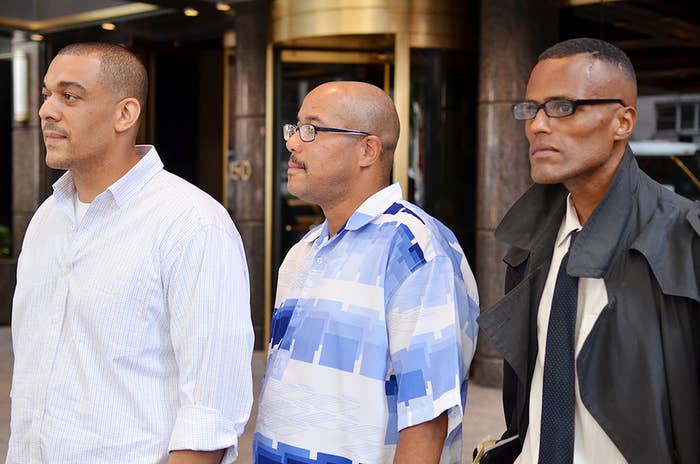 As former governor Eliot Spitzer makes an increasingly likely return to public office, three plaintiffs in a longstanding racial discrimination case against his father, Bernard Spitzer, are calling on the New York City comptroller candidate to "make right what his father messed up" as they return to trial this fall.
In 1999, four African-Americans who worked for one of Bernard Spitzer's luxury apartment buildings as doormen and porters alleged they had been fired for the color of their skin.
Trevor Morris, Anthony Haydenn, Akim Rodriguez, and Leonard Boyce, who has since passed away, claimed they had been asked to vacate the lobby whenever Bernard Spitzer was on his way in or out of the 34-story apartment building, located at 150 East 57th Street. Haydenn, at the time, said he was asked to clean the toilets with a toothbrush, a task not assigned to the lighter-skinned doormen.
Bernard Spitzer, who owns a portfolio of properties in Manhattan and Washington, D.C., denied engaging in discrimination, explaining he hadn't known about the plaintiffs' discharge until the suit.
"I don't see the blackness or whiteness or pinkness or yellowness of a doorman," the elder Spitzer said during his testimony in 2008, when the dispute finally saw trial in the State Supreme Court in the Bronx. "I have a mind that focuses on the fact that he is a doorman and functions as a doorman."
A six-person jury ruled in favor of the plaintiffs, awarding them a total of $1.3 million in damages, lost wages, and emotional distress. But in 2011, after an appeal from Bernard Spitzer and his lawyers, an appellate court said a new trial was needed due to inadmissible hearsay from Haydenn's testimony that had been allowed into evidence.
The trial has already been delayed five times since the appeal, according to court documents, but a new trial date is now set for Nov. 27 of this year.
Bernard Spitzer's real estate fortune has been central to his son's public life: Eliot Spitzer has lived in his father's buildings, and the family wealth helped elect him state attorney general and funded a last-minute petition blitz that put him in the race for comptroller.
At the time of the discrimination charge, Eliot Spitzer was not involved in the management of Spitzer Enterprises, the family real estate business, or of the apartment building in question; he had just been elected attorney general. But he has since taken on an "extremely active" role in managing the portfolio, according to a report in Capital New York, as his father, now 89, suffers from Parkinson's disease. A New Yorker review of his tax returns showed Spitzer's income as a landlord has increased from $1.4 million in 2006 to $2.56 million in 2012.
Spitzer family spokeswoman Lisa Linden said Eliot is still involved in the real estate business, even as he campaigns against Manhattan Borough President Scott Stringer for the Democratic nomination in the comptroller's race. But Linden said Spitzer does not, and would not, have any involvement in the ongoing trial.
Even so, the three surviving plaintiffs have zeroed in on the defendant's son as the Spitzer name has returned to headlines amid the comptroller's race. Two weeks ago, Haydenn approached the Stringer campaign's spokeswoman, who referred him to reporters. In an interview facilitated by the campaign, with BuzzFeed and the historic black paper The Amsterdam News, the plaintiffs seemed as interested in appealing to Eliot for help as they did in tying him to the alleged sins of his father.
"He has to make right what his father messed up," said Haydenn, who was the first of the four men to get fired because of a confrontation with the superintendent he placed at "two weeks before Christmas."
"Being that he inherited the real estate company, we just want him to make it right," Haydenn, 48, added. "And he has the authority to do that. It seems as though these people would spend $10 million fighting you before they see you get $1 million that you won justifiably. That's just a great form of hypocrisy."
Morris, 41, said Eliot Spitzer shouldn't "be punished for what his father did, but he should take responsibility since he is in charge of his father's business now."
"He should step up to the plate and do what's right," said Morris. "With that being said, he comes from privilege. The fact that he was already in office, and lost his office, and now he's running again, shows the arrogance of this man, just like his father. They're one in the same."
Morris said he has cringed watching Spitzer's television ads for the comptroller's race. He pointed to one in particular that boasts, "Didn't matter what your politics were, where you lived, or what color you happened to be," the narrator says. "If someone was taking advantage of you, that someone heard from him. Loudly."
Rodriguez, 46, said he has no interest in settling out of court; he hopes the case sees full trial again. "We want justice. We were wrongly fired. I think they need to do right by us," Rodriguez said. "We're not looking for money. But we did our job, and I don't know why we're still not working there."
Haydenn, Morris, and Rodriguez claim Bernard Spitzer had an unjust advantage in his 2011 appeal because one of the appellate court judges listed on the opinion, Justice Karla Moskowitz, was appointed in 2007 by his son, then still governor. "It was an unfair court of appeals from the get-go," Haydenn said. "If it's going to be re-tried, we just want a fair shake. That's all."
Morris said he is confident they can win their case again, even without the piece of evidence excluded as hearsay. "The fact that we lost in the appellate court over a fragment of the case, a segment, just a little part of what somebody's statement was — it's kind of crazy," he said. "We already won, and I figure we're gonna win again."
Asked what made their case strong, Haydenn alleged that after the four men were fired the building hired only light-skinned men. "He didn't look at us as people, but as material to be moved around and discarded," he said of Bernard.
Eliot Spitzer, who resigned from the governorship in 2008 in the wake of a prostitution scandal, has denied any connection to the case.
Linden, the spokeswoman for the Spitzer family, said the following in a statement to BuzzFeed: "The initial verdict was an atrocious injustice against Bernard Spitzer, which the court appropriately reversed. There is absolutely no evidence supporting the allegations of discrimination made in the complaint. This has nothing to do with Eliot, and any attempt to smear him or his dad is both desperate and despicable."