OFA Tells Keystone Activists They Won't Play Ball
Despite cries from the left, Obama's grassroots arm says they won't get involved in the pipeline debate. "OFA is not going to change its mission," says an official.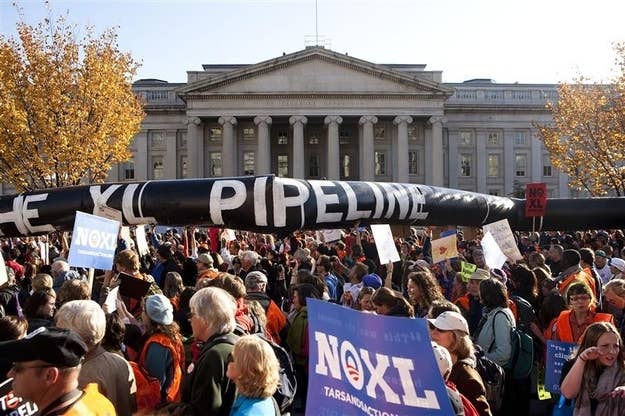 President Obama's grassroots operation has a message for environmentalists upset with their refusal to get involved with Keystone XL pipeline: Go someplace else.
"The people who want to work on that issue, they should go work with 350.org and the organizations that are doing great work [on Keystone]," a senior official with Organizing for Action told BuzzFeed.
"We've been explicit about that," the official added. "You can't go into an organization and say, 'Well, I want to work on something else,' when the organization says, 'No, we're not set up to do that.'"
Despite launching a national climate change campaign, OFA has come under fire from progressives because it has refused to become involved in the fight over the pipeline, which would transport oil from Canada to the Gulf Coast for refinement. Instead, their new effort will target members of Congress who deny the science behind global warming.
Although OFA has made clear it won't weigh in on the controversial project until Obama's administration does, activists complain that's not good enough.
With several actions this week — a 500-person anti-Keystone rally outside the president's Manhattan fundraiser Monday, and a call for advocates to storm OFA planning sessions with questions about the pipeline — the progressive community hopes to push OFA to not only start talking Keystone, but to pressure the White House to reject it.
Eddie Scher, a spokesman for the Sierra Club, said it was only a matter of time before activists push OFA to more directly address the issue. "They're gonna have to deal with it. We're all gonna have to deal with this one," said Scher. "This is the front line right now in this fight, and you can't ignore it. You have to grapple with it, and there's no subtle way out of it."
But OFA officials maintain they've been clear about their position from day one, and to ask the group to go against the president on Keystone would be to turn their mission statement on its head. The outcry from the left on the pipeline amounts to an attempt to "drum up conflict," said the OFA official.
Founded after the 2012 election, OFA was billed as Obama's grassroots arm — an organizing juggernaut that could rally Democrats and help push through legislation on issues like immigration and gun control.
But there are limits to what the group can do: Its mission statement explicitly ties it to Obama ands requires OFA to support the president "in achieving enactment of the national agenda Americans voted for on Election Day 2012."
And that means OFA won't be getting involved in the Keystone dispute until the administration announces its decision, which may not come until next year.
"Our mission is to advance the president's agenda. So how do you go out there and advance the president's agenda, when he hasn't made a decision yet," said the OFA official. "If there's an action that needs to be taken [after the decision], we'll look at that. This is an issue now because a set of activists groups are trying to push us to do something we said we'd never do."
"It is what it is — we understand the tension, but there are other avenues to do this," the official added. "OFA is not going to change its mission."
OFA spokeswoman Katie Hogan said the group would stick to Obama-backed policies. "OFA was founded to support the president's agenda, an agenda a majority of the American people voted for in 2012," Hogan said in a statement. "It has been made clear since our first day as an organization that we support the President's plans from comprehensive immigration reform, to reducing gun violence to climate change, including the completion of the State Department review."
That said, OFA hasn't been completely silent on Keystone. In a fundraising pitch to supporters, for instance, OFA slammed Republicans for trying to "circumvent the State Department's process evaluating the Keystone XL oil pipeline."
OFA's climate campaign manager, Ivan Frishberg, told BuzzFeed that the group often discusses the pipeline in meetings with its members. "To say we're not talking about it is a little ironic," he said. "Because we talk about it all the time when people ask, and we talked about it in our very first email."
But activists vehemently opposed to the pipeline aren't taking no for an answer, even if they sympathize with OFA's awkward position.
Belinda Rodriguez, a member of the climate change advocacy group 350.org, spoke at an OFA climate breakout session at the group's conference in March, where she said members and officials "talked Keystone a lot."
"It's a tricky issue," Rodriguez told BuzzFeed before the rally Monday outside Obama's fundraiser. "I noticed there was some caution around the Keystone thing. They weren't sure how they wanted to approach it. But it's obviously something they care about, and they have no illusions about the fact that it's a terrible project that's going to have terrible impacts."
Daniel Kessler, also with 350.org, said OFA knows that Keystone is the "central" issue for the environmental community, but agreed their hands are essentially tied.
"In some way, you have to dance with the person you picked to dance," Kessler said. "I know anecdotally that when Ivan is doing meetings, he'll say, 'Don't ask me the Keystone question. I'm here to talk about the president's agenda and the climate denier program.' But he knows that every time he does a public meeting, people ask him about Keystone."
Others are less forgiving. CREDO Mobile, which has a membership of three million, asked its supporters to attend an OFA-hosted climate meeting Wednesday to "make sure stopping Keystone XL is part of the conversation." Becky Bond, CREDO's political director, told BuzzFeed that the Obama group has been "silent on Keystone," and has made a conscious effort to "not talk about it."
But OFA leaders say they're happy to have discussions about the pipeline.
"I don't know that many people showed up," said the official of CREDO's action. "I think the handful that did had very thoughtful conversations about it."
"They're trying to drum up conflict. You can do that on email and blogs and list-serves, but when you're actually sitting down and talking to people, it's different," said the OFA source. "People look for conflict in particular places, but I don't think that's true at the grassroots level."