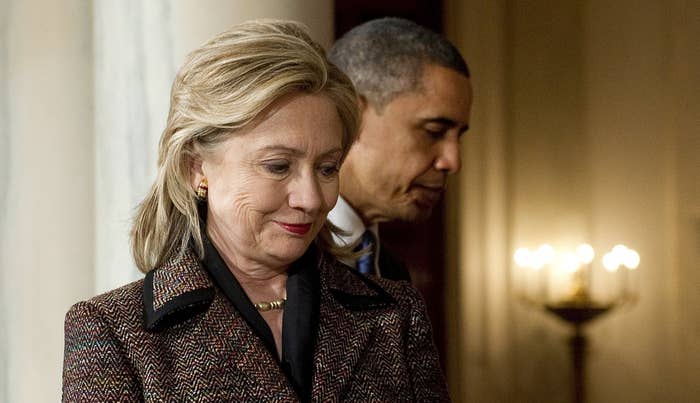 In 2008, to many in her own party, Hillary Clinton was "more of the same"; she was a walking reminder of the "failed politics of the past," of the "same old Washington politics"; she was untrustworthy, she was divisive, she was maybe even racist; she was, according to Barack Obama's campaign advisor Samantha Power, a "monster" with no qualms about "stooping to anything"; and for a few days of fever-pitch cable news segments, after Clinton fumbled a reference to Bobby Kennedy's mid-campaign assassination 40 years earlier, she was even a conspirator, hopeful her opponent might meet the RFK fate and clear the way for her victory in the hard-fought Democratic primary.
Four years later, the onetime opponents have worked side by side as president and secretary of state, but a crucial question has lingered: Was the vitriol that Obama supporters hurled at Clinton in 2008 a simple case of high-octane campaign rhetoric, or did it reflect enduring Democratic misgivings that could follow her to the next presidential race?
Interviews with a range of Democrats in both camps suggest all is forgiven.
"The comments I get a third of the time, at least, are apologies," said a Democratic operative who supported Clinton in 2008. "They say, 'I'm sorry, I believed the stereotypes, I believed the attacks.'"
"Not a week goes by when someone hears about my affiliation with Hillary Clinton that they don't say, 'I've really come around on her. I supported Barack Obama in 2008, and I'd vote for her today,'" the operative added. "Not a week goes by where people don't say that."
Both campaigns went negative in part from the beginning; in Iowa, during the first caucus of the primary season, Clinton balked at Obama's slogan, arguing that "'change' is just a word," and Obama cast Clinton's campaign as calculating and "poll-driven."
But the attacks against the former First Lady had a way of sticking.
As early as January, Bill Clinton got his wife into hot water for a remark he made about the Obama "fairy tale," which former Clinton advisor Donna Brazile famously evoked as racist; and as race became an increasingly pivotal issue on the trail, the suggestion hung like a specter over Clinton's campaign until the end. Later in the primary, a March 2008 survey by Gallup found Clinton was rated last behind Obama and Republican nominee John McCain as a candidate who is "honest and trustworthy," who shares the "values" of Americans, and whom voters "would be proud to have as president." By the near-end of the campaign, some weeks after Samantha Power made the "monster" comment that would end her involvement with the Obama campaign, Bill Clinton was out on the stump in West Virginia saying he didn't "give a rip about all this name-calling."
But Bonnie Campbell, a former Iowa attorney general who served as a Clinton surrogate during the primary, said there isn't a "shred of contempt of any sort" in the crucial caucus state between Democrats who were split four years ago between the two candidates. The attacks directed against Clinton, said Campbell, were "purely strategic for the moment."
"No thoughtful person would believe now or then that either Clinton is racist," said Campbell, who is now a political consultant at the Iowa-based firm Link Strategies. "At the time, people felt very strongly. Iowans know the significance of the role we play, and we give it 100%, but when it's over, it's over."
Obama's Iowa state director in 2008, Jackie Norris, agreed that the state is "infamous for its bitter political battles — you pivot and you move on, and that's just how it works," she said, but joked that she and friends from the Clinton campaign "maybe don't talk so much anymore, sure."
Asked if she regretted any of the Obama campaign's attacks against Clinton during the primary, Norris said, "I'm not sure it does anybody any good to go back and say what you would take back and what you would change. You just have to look forward."
Norris, though, did argue that if Clinton runs in 2016, she may need to contend again with characterizations of her candidacy as old-guard. (In a single television ad, the Obama campaign hit Clinton on the issue twice, arguing that she offered "more of the same old negative politics" and "the same old Washington politics that won't fix our problems.")
"I do think there is still a case to be made for the next generation," said Norris, who went on to serve as First Lady Michelle Obama's chief of staff.
But for that critique to work again, said Kyle Kondik of the University of Virginia's Center for Politics, a formidable and serious young candidate would need to emerge in the Democratic field.
"There was a lot of anger by a lot of Democrats, particularly among younger voters who were really put off by the Clintons, and we saw that in the old-versus-new divide," said Kondik, noting that Clinton's wide margin of victory in the right-leaning West Virginia, where she nabbed 67% of the vote, was proof positive that Clinton resonated more with the old than young. "But for it to happen now would depend on whether there's a messenger in the field who could make that argument, and I don't see that person on the scene right now."
"It does seem like the attack lines from 2008 wouldn't be all that operative" this time around, Kondik added.
Mark Daley, who served as Clinton's Iowa communications director before moving on to other states, said that the two camps were able to reconcile and work together after Obama became the clear nominee. "Once she was removed from the equation, we were all able to unite behind one candidate," he said, but added that some Democrats may feel a current "buyer's remorse" with the president that would only help Clinton in 2016.
Clinton's four years as secretary of state, added Campbell, allowed more Democratic voters to "really get to know her."
"The primary may have seemed bitter, but I've been through other caucus battles that were every bit as bitter — only these two individuals rose above that and forged a partnership," Campbell said. "Now that all that is gone, I know many Obama supporters who are fervently hoping that Hillary Clinton runs for president."
Early Obama voters, Norris agreed, won't be obdurate in getting behind Clinton's candidacy if she decides to run.
"I'm sure there are some old feelings that aren't going to go away," said Norris, "but the political landscape has shifted so much that I just don't see it as an insurmountable issue."