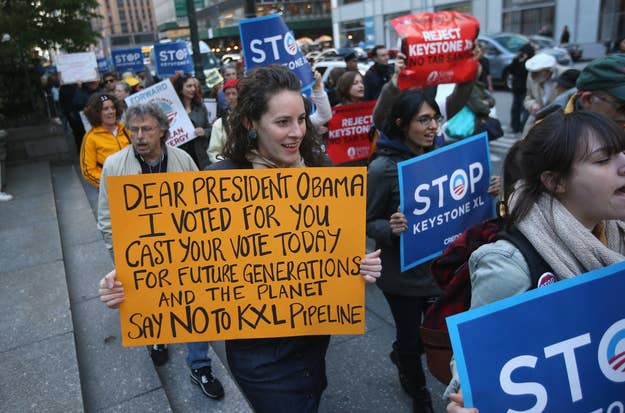 President Obama's organizing operation is warning its volunteers that they may be the target of progressive protests and urging its membership to stress their "mission of changing the conversation on climate!" in any confrontations with environmentalists.
Organizing for Action — Obama's outside grassroots organizing group designed to put Republicans' feet to the fire on behalf of the administration — has found itself on the receiving end of late for its refusal to take a position on the Keystone XL pipeline.
In a statement to BuzzFeed Thursday, spokeswoman Katie Hogan said OFA would wait for the State Department to complete its review of the pipeline. "It has been made clear since our first day as an organization that we support the President's plans from comprehensive immigration reform, to reducing gun violence to climate change, including the completion of the State Department review," Hogan's statement read.
OFA circulated a set of talking points to its members for use in dealing with unruly activists. The document, obtained by BuzzFeed, includes information on the science behind climate change and the president's environmental positions, and ends with a section titled "Keystone Talking Points."
An official confirmed the fact sheet was OFA's, and said they "supply regular material to supporters who want information on any issue."
The talking points come with a warning: "Volunteers from Credo Action or other organizations may attend your planning session and want to demand that we work on the Keystone XL pipeline."
Earlier this week, CREDO Mobile called on its 3 million members to attend OFA planning sessions "to make sure stopping Keystone XL is part of the conversation."
"We understand that there are groups and individuals who would like to work to influence the President and the State Department on a variety of environmental decisions, but OFA's plan is to do great organizing on building clean energy locally, turning up the heat on Congress and helping individuals and communities switch to clean energy," the document reads. "They are more than welcome to work with those groups, but we encourage all volunteers to be part of our work and the mission of changing the conversation on climate!"
OFA asks its members to point to the State Department review process when asked about the pipeline.
"Organizing for Action's mission is to support President Obama's agenda. The Keystone XL pipeline is still under review, and OFA supports and respects the process as it is currently underway," the talking points say.
Daniel Kessler, media campaigner with the anti-Keystone group, 350.org, said the document points to a "real anxiety within OFA — and maybe at the White House — that their supporters want a rejection and that in some way they need to be held in check."
"The thing about grassroots organizing is that you have to listen to the grassroots, and they want Keystone rejected," Kessler said.
This article has been updated.