Obama Alumni Target Chris Christie
Obama campaign veterans sign on with New Jersey Democrat Barbara Buono, the governor's likely challenger. "Barbara personifies a lot of [Obama's] insurgent qualities," says Del Cecato.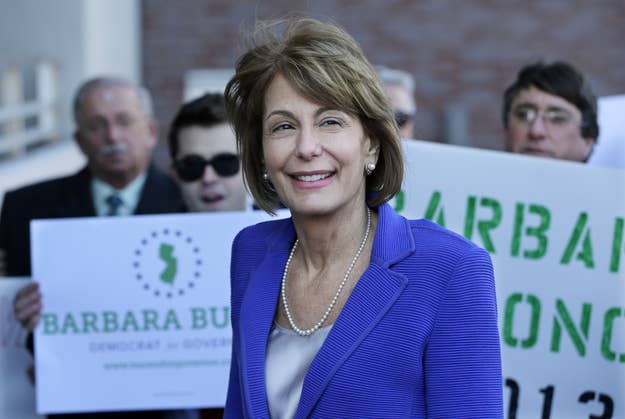 New Jersey gubernatorial candidate Barbara Buono — who has, since December, been the only challenger to declare against incumbent Republican Governor Chris Christie — now not only has a clear field and the backing of the state party apparatus, but a campaign staffed with former officials from the president's reelection operation, Obama for America.
As many as five former OFA officials have signed up for Buono's campaign: David Turner, who worked in Ohio for the president, started Friday as the state Senator's communications director; and John Del Cecato, the ad man behind Obama's infamous "America the Beautiful" spot, is leading Buono's account with AKPD Message & Media, the Chicago-based consulting firm founded by David Axelrod, the president's senior campaign adviser.
Other former OFA staffers working for Buono include D.C.-based pollster Diane Feldman and campaign senior advisor Aaron Pickrell, who is now working in the same capacity on the N.J. governor's race.
Del Cecato said it was Buono's commitment to operate "outside politics as usual" — she lost her state Senate majority leadership last year after breaking with Senate President Steve Sweeney on a pension package — that drew AKPD and other Obama staffers to her campaign.
"Those are a lot of the same qualities that Barack Obama introduced in 2008 as a presidential candidate," Del Cecato told BuzzFeed. "Barbara personifies a lot of the insurgent qualities that the Obama campaign engendered in its early stages. She is not willing to accept the status quo and will take on political fights that aren't always popular."
(It's a quality AKPD drew out in Buono's first web video — her campaign announced — which they produced back in December. "I'm not gonna run a conventional campaign, and I wont be anointed by the political bosses," Buono says in the video.)
David Turner also singled out Buono's willingness to operate outside the party when needed. "During out first meeting," said Turner, "it was immediately apparent that Senator Buono was not afraid to stand up for the working and middle class no matter the political consequences."
Del Cecato and his partner Larry Grisolano met with Buono as early as December of 2011, when the state Senator was beginning to mull a run and speculation still ran hot that Newark Mayor Cory Booker would be the frontrunner to take on Christie this fall.
"There was an authenticity there, and a belief that she can make a difference," said Del Cecato, of the initial meeting. "It was tangible to us because she knew she was facing an uphill fight. She said, 'I know it's difficult to raise money and that there are people who are better known, and I'm gonna have to content with that.'"
While other New Jersey Democrats were waiting this winter waiting to see if Booker would get in the race, Buono made her plans irrespective of the Newark Mayor. But had Booker decided to run against Christie, it's likely that AKPD may have had to reevaluate — Booker has support from the White House and was a leading surrogate for President Obama's 2012 effort.