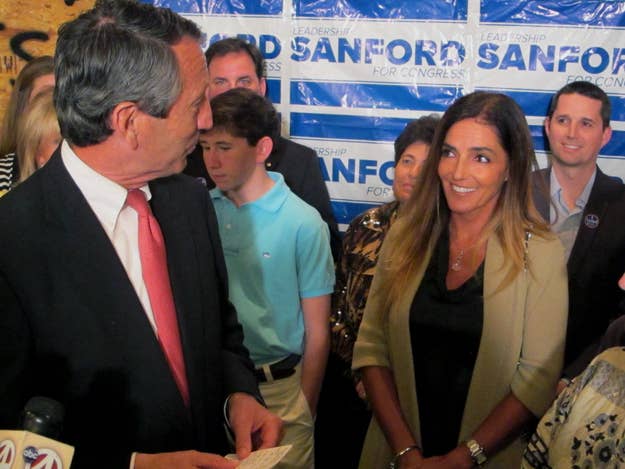 It cost Nelson Rockefeller the Republican presidential nomination in 1964, but divorce is now almost as common in political life as it is in America more broadly — an everyday and largely unmentioned feature of many public figures' private lives.
Former Governor Mark Sanford's ascent in this year's South Carolina special Congressional race this week isn't just evidence of the increasingly short half-life of sex scandal fallout — the former governor vanished for five days during his second term, presumably "hiking the Appalachian trail," to visit his mistress in Argentina; Sanford's swift return to politics also heralds the extent to which voters don't seem to care much whether there's a nuclear family on the ticket.
And indeed, a large club of state and federal lawmakers are doing just fine in their careers and campaigns, despite divorces, separations, and family arrangements you wouldn't call traditional.
Vermont Gov. Peter Shumlin and his wife finalized their divorce last month after four years of public separation. Asked if marital status matters less than ever to voters in his state and elsewhere, Shumlin said, "I haven't really thought about it that much."
"I've never had anyone even ask me about it, which is an evolution, I think," Shumlin told BuzzFeed in an interview Monday afternoon, where he didn't shy away from the topic. (His pet cats, he explained, "are with my ex.")
"I can tell you that Governor Cuomo, myself, and now Governor Hickenlooper in Colorado have not found it to be even an issue," Shumlin said.
Shumlin is one of four divorced governors. The others are Illinois Gov. Pat Quinn and New York Gov. Andrew Cuomo, who lives with his girlfriend, Food Network star Sandra Lee, after an ugly, public 2003 separation and 2005 divorce from ex-wife Kerry Kennedy. Last summer, Colorado Gov. John Hickenlooper joined the group when he announced that he and his wife had made the "mutual and amicable" decision to separate. The other 46 governors are currently married.
And in Congress, the sampling of unwed lawmakers is even more widespread. A review of news reports and Roll Call's member database shows that in the House of Representatives, 28 members are divorced, 12 are widowed, and 26 have never been married; and in the Senate, three are divorced, one is separated, and five are unmarried. Across both chambers, just under 15% of lawmakers — 75 in total — are without a spouse.
Outside of Washington, D.C., some of the country's most influential names in politics remain unmarried — New York City mayor Michael Bloomberg, who lives with his longtime girlfriend, has been divorced for 20 years — and Newark Mayor Cory Booker, a 43-year-old Democratic Party darling and a likely candidate for Senate in 2014, has never been married, though he does date.
Political strategists cite a shift in American public opinion on divorce as it becomes more widespread and as "institutions like the church have less authority over their members," said Hank Sheinkopf, a Democratic strategist who worked on Cuomo's gubernatorial campaign in 2010. "If you look at the history of divorce in American politics, Nelson Rockefeller's divorce from his wife, Mary, made it impossible for him to be president in the '60s. It was just not possible."
Sheinkopf, though, said that during Cuomo's bid for governor three years ago, his divorce — and his live-in relationship with Lee — never had an adverse effect on the campaign, or even came up in campaign meetings.
"It wasn't raised or ever discussed," said Sheinkopf. "I remember one story in the tabloids about it. I was asked to comment and said, it will have absolutely no impact on anything — and I was correct."
Doug Muzzio, a political science professor at New York's Baruch College, said "Sandra Lee's lasagna recipe probably had more of an impact" on the gubernatorial race than Cuomo's marital history.
Cuomo may put the limits of voters' tolerance to the test if he runs in three years for the presidency, an office for which Americans have typically chosen someone they admire.
"Running nationally while living in sin could be a problem," Muzzio said.
Myra Gutin, a professor at Rider University who studies First Ladies, argued that a divorced or single candidate wouldn't be able play in presidential politics with a full deck — a spouse, Gutin said, acts an essential "clue to character" for the man or woman running for office.
"We're certainly more accepting of people who are divorced, but it's clear that people still look for a spouse on the campaign trail," Gutin said. "We like to know that our candidates come from families that are going to support them."
Gutin pointed to former Governor Howard Dean's 2004 primary campaign, in which his wife, a doctor busy with patients in Vermont, barely played a public role; The New York Times that year called her the "invisible" political spouse. "There was a huge hue and cry during the primary when Howard Dean's wife was not with him," Gutin recalled. "There were people who thought this meant she didn't support his candidacy. Some of it was silly, but I think we look to the spouses first and foremost to see whether there is family support."
In the case of the South Carolina Congressional race, though, Sanford isn't hurting from his divorce or the scandal from which it was born. His fiancée, the Argentine woman with whom he had a torrid affair four years ago, made a surprise appearance at a rally for Sanford's victory Tuesday in the runoff for the GOP nomination — a signal that she'll increase her role on the campaign trail in the next five weeks before voters go to the polls on May 7.
If Sanford wins, said South Carolina Republican strategist Taft Matney, it won't be because of his personal life.
"He's certainly going to have a problem connecting to female voters as he approaches the special general election — anybody who says otherwise isn't reading the tea leaves," said Matney. "But economic policy is what is really driving this race. Voters aren't looking at what someone has done, or who they're married to — the focus is on fiscal ideology."