New Jersey Democrats Remain Divided On Governor's Race
The state's county chairs won't align behind a candidate until February. "I personally expected that Cory Booker was going to be a candidate."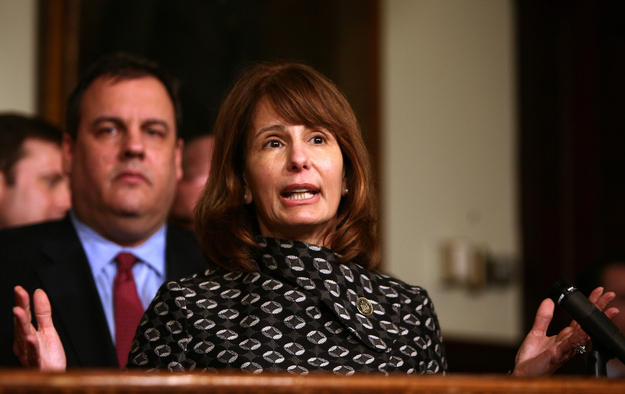 Election Day is nine months away and New Jersey Democrats have yet to coalesce around a single gubernatorial candidate.
State Senator Barbara Buono, the only declared candidate, says she is "confident" that county chairs — the state power brokers who determine which candidate gets the party line on the primary ballots — will align behind her campaign.
Buono already has the support of three counties — Middlesex, Somerset, and Monmouth — and was backed Wednesday by the bipartisan Women's Political Caucus of New Jersey.
"I'm really energized," Buono told BuzzFeed. "With that support comes momentum, and with momentum comes enhanced fundraising — so it's all coming together."
"I'm talking to chairs many times a day," Buono said.
But John Wisniewski, Chairman of the New Jersey Democratic Party, said the county chairs will give other possible candidates — particularly former governor Dick Codey and state Senate President Steve Sweeney — until the end of the month to get in the race.
On a conference call with county chairs Wednesday morning, Wisniewski encouraged the chairmen to "avoid a fractious primary and avoid wasting millions of dollars on a nominee," he said.
"Everybody expressed hope that we would have a candidate, or clear idea of who the candidates are, by the 31st," said Wisniewski. "Every county chair with some minor exceptions believes that giving unannounced candidates another couple weeks to do their due diligence is not harmful to the party."
But Democrats already lag behind in what will no doubt be a bitter race against incumbent Chris Christie, who is still riding high on approval ratings that haven't slipped below 70 percent since Hurricane Sandy devastated the New Jersey coast in October.
A Fairleigh Dickinson University poll shows bleak head-to-heads against Christie no matter who the Democratic candidate — Buono polls at 21 percent against Christie; Codey polls at 26 percent; and Sweeney at 19 percent.
But South Jersey power player George Norcross told PolitickerNJ that in order to beat Christie, the party "ought to rally around [Buono] and move forward." Norcross added that Codey — who told WCBS 880 that he'd decide in two weeks — doesn't have "the guts" to take on Christie.
Buono wasted no time in declaring her candidacy. The progressive state Senator said as early as March that she was "seriously considering" a gubernatorial bid, and she officially declared her candidacy on Dec. 11. It was a week that had much of the state in a holding pattern, waiting for Newark Mayor Cory Booker to announce whether he would run for governor or for Senate in 2014.
Booker, who ultimately decided to run for Senate, has said he made a personal phone call to Sweeney last month to encourage him to get in the governor's race.
"I personally expected that Cory Booker was going to be a candidate," said Wisniewski. "He never said, 'John, I'm a candidate for governor,' but he did and said many things that would lead one to presume he'd be a candidate."
"A lot of people didn't make a serious evaluation of whether they were going to run because they expected someone else was going to run," said Wisniewski. "That's why we're now in the position of finding out who our candidate is in January."
Buono was careful to note that she didn't make her decision to run "based on any other candidate," she said. "I did it because middle class families have been forgotten by this governor and by his policies."
With the support of three county chairs and a head-start on fundraising — her campaign has just north of $250,000 in contributions — Buono's chances of becoming the Democratic nominee are on the rise.
"It doesn't clinch it for her, and it's not a time where you could say it's over, but it certainly puts her in the forefront," said Wisniewski. "If Buono wound up becoming our candidate for governor we'd be very well served."
But because the race was so delayed by Booker's possible run, said Wisniewski, the county chairs will give Codey and Sweeney the rest of the month to make up their minds.
"They expected someone else to run, so it's unfair for us to tell them to pick up the pace," said Wisniewski. "In fairness to them, they should be given an opportunity to have this process unfold."