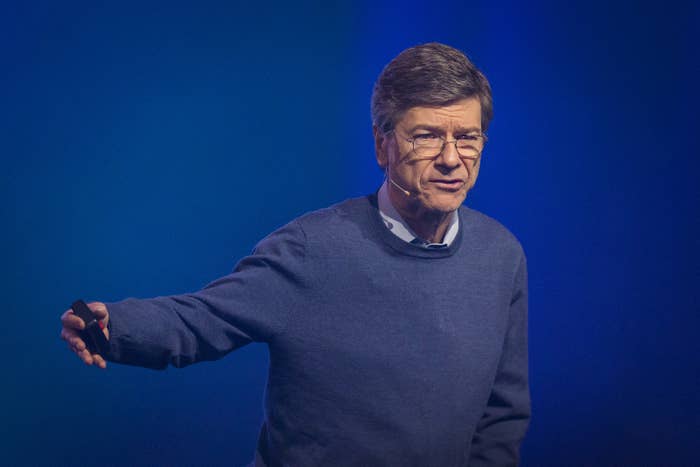 A leading development economist, a former Democratic state senator from New York, and a young entrepreneur and scion of the Pritzker family are converging to form a national network of state legislators committed to a package of far-sweeping goals for 2030.

The organization, a nonprofit set to launch Monday under the name Future Now, is described by one of its cofounders as an antidote to a moment where fraught partisan battles shape political debate, where lawmakers often resist the center, and special interests steer policy outcomes.
The group's first investment, totaling $160,000, will support 10 candidates in the Virginia House of Delegates races — all Democrats who have pledged to work toward "America's Goals for 2030." Ahead of races across the country next year, Future Now will also seek Republican candidates willing to commit to the goals, a list of seven benchmarks on infrastructure, energy, education, and health care — though many of the proposals outlined align with policies and programs that liberals and progressives favor.
The goals were formed in large part by Jeffrey Sachs, a professor at Columbia University who studies economic development, poverty, and health and environmental policy. Early this spring, he partnered with a former student, Adam Pritzker, the CEO of Assembled Brands and the grandson of the Hyatt hotel creator, on ideas to implement the goals; a number of Pritzker family members have been active in Democratic politics, especially in recent years. Together, Sachs and Pritzker approached Daniel Squadron, a state senator representing parts of Manhattan and Brooklyn, and in August, in a decision he described as "one of the hardest things I have ever done," Squadron stepped down from his seat to work full-time on the new venture.
"I'm really the observer in this group, watching the conversation play out between a state senator and a development economist," the 33-year-old Pritzker said during an interview with the three cofounders this week.
"One thinks about this very large over-arching framework, and the other thinks about the day-to-day blocking and tackling and tactical implementation of policy, of getting things done at a local level or in a district. To hear the push and pull between them, I think that's when we all knew that there was something here."
The framework for Future Now recalls some elements of past projects that have attempted a similar goal-oriented approach and sputtered out. No Labels, a bipartisan project formed in 2010 as an answer to Washington gridlock, promised to wield influence ahead of last year's presidential election with a list of four overarching goals branded as a "National Strategic Agenda," unveiled in 2015. The election they envisioned, with major candidates signing onto No Labels goals for the federal budget and Social Security, was far from the one that played out on the left and right, where Bernie Sanders rose as an ideological progressive icon and Donald Trump as the messenger for a growing anti-establishment sentiment.
Future Now's co-creators see the group as distinct in its approach, and its definition of each goal. "There's no single path to implementation," said Squadron, the 37-year-old former New York state senator. "There's no single policy that is required. We have a 50-state idea and there might be 50 different paths to these outcomes."
"That focus really on values and outcomes over a period of time is an important addition to the conversation," Squadron said.
The goals were designed by Sachs, 62, as a "holistic," overlapping "package deal," he said, meant to be measurable from state to state and against other countries.

Each goal outlines a number of specific benchmarks, many of which reflect policies unlikely to see support from Republicans for fiscal reasons.
The list moves from "Good Jobs" ("paid family, vacation, and sick leave for 100% of jobs"), to "Affordable Quality Health Care" ("universal, affordable health coverage with a cap on out-of-pocket expenses").

The other categories include "Investing in Children" ("a 100% completion of quality K–12 education"), "Empowering People Over Special Interests" ("limit corporate special interest spending in politics"), "Equal Opportunity for All" ("equal pay for equal work regardless of gender or race"), "Sustainable Infrastructure, Resilience, and Innovation" ("100% of roads, bridges, railways, airports, seaports, levees in good repair"), and "Clean Air, Water, and Energy" ("new energy investments in clean, safe energy").
Other goals range from "personal control for everyone over their private online data" to "freedom from ethnic and racial profiling for everyone."
Sachs cast the list as more a set of values than policy prescriptions.
"There are a set of set values, and there are a set of shared ways to measure whether we've gotten there. It's how we get there that everything has broken down," he said.
"My own view, working on these issues for decades, is they're gonna find out if you really want to do this, there isn't as much as a gap as you really think. Even if at the beginning people sign on because they think there really are different approaches — more market approaches from Republicans, more government-oriented from Democrats — if we're really gonna get the job done, my strong sense is it's going to have to be a convergence over time."
The candidates who commit to the Future Now agenda will "have access to a donor pool focused on setting and achieving goals," said Pritzker, who is helping fund the project and described the group at multiple points as a sort of donor network.

The cofounders declined to name other donors supporting Future Now, and to detail any plans for future investments, but said they will voluntarily disclose a list of contributors on a regular basis. The organization is structured as a 501c4, an entity able accept unlimited funds and is not required to make its donors public.
The 10 Democrats the group will support in Virginia are candidates committed to moving toward the Future Now goals, and willing to be measured against those goals. Sachs said they will partner with a think tank dedicated to measurement strategy and make data collection and analysis a large component of the project.

The Virginia House of Delegates candidates, each slated to receive a portion of the $160,000 ranging from $9,000 to $20,000, include Elizabeth Guzman, Karrie Delaney, Donte Tanner, Hala Ayala, David Reid, Schuyler Van Valkenburg, Jennifer Carroll Foy, Kathy Tran, Cheryl Turpin, and Chris Hurst.