New Emails Appear To Contradict Hillary Clinton Timeline
Clinton aides have said she began using her personal email in March 2009. State Department officials say they now have an email thread with messages from that account by Jan. 28, 2009 — leaving an open question about what else is out there. State has no plans to ask for more records.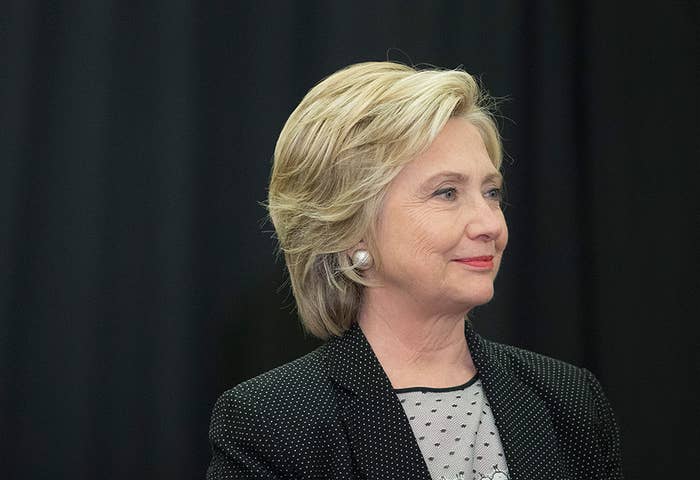 A previously undisclosed email chain, provided this week to the State Department, presents an apparent contradiction to Hillary Clinton's account of when she began using a personal email address as secretary of state — and raises questions about whether other records could be missing from the ones she already provided.
Since March, when the personal account came to light, Clinton and her aides have outlined the same sequence of events surrounding her email setup: At the start of 2009, when she became secretary of state, Clinton continued to email for about two months from the same AT&T BlackBerry address she used in her previous role as U.S. senator. Then, on March 18, 2009, she started using the personal address, hdr22@clintonemail.com, which she maintained until the end of her term.
The cache of email records that Clinton sent the State Department late last year, totaling 55,000 pages, begin on March 18, 2009, with the emails from the hdr22@clintonemail.com address. (Clinton, her aides have said, no longer has access to two months of messages from the AT&T BlackBerry account.)
But this week, as first reported by the Associated Press on Friday, State Department officials were provided copies of an email chain showing that Clinton used her hdr22@clintonemail.com account as early as Jan. 28, 2009.
The thread includes messages between Clinton and David Petraeus, then commander of U.S. Central Command. The back-and-forth begins on Jan. 10, 2009, and ends on Feb. 1, 2009 — about a week into Clinton's tenure as secretary of state.
As described by a State official, the chain includes fewer than 10 emails total between Clinton and Petraeus. The emails from Clinton begin on the AT&T BlackBerry account and, the official said, "about halfway through the chain," starting on Jan. 28, the correspondence switches to the hdr22@clintonemail.com.
The early use of hdr22@clintonemail.com runs counter to prior statements by Clinton aides, as well as the "Q&A" document they drafted for reporters in March.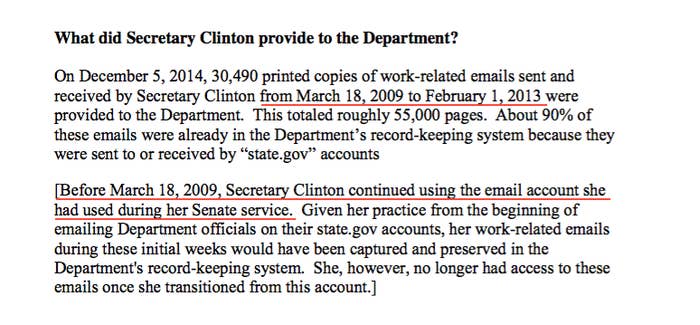 On Friday, campaign spokesman Brian Fallon maintained on Twitter that Clinton didn't begin using the hdr22@clintonemail.com until March of 2009. In a tweet to a reporter from the Associated Press, Fallon wrote, "We always said the emails given to State dated back only to March [']09. That was when she started using clintonemail.com."

On Sunday, a Clinton official confirmed that the former secretary of state began using her personal email account in January 2009, two months earlier than previously stated. The official said that the account, hdr22@clintonemail.com, was not transferred to the private server operated in Clinton's home, however, until March 2009. The official said that Clinton has no records before the transfer.
(Although Clinton has said she didn't begin using hdr22@clintonemail.com until March 18, 2009, reviews of the online registry information for "clintonemail.com" indicate that the domain was registered as early as Jan. 13, 2009.)

Clinton has said repeatedly this year that she has turned over all her work-related email to the State Department. In a sworn statement in August, she wrote that she had "directed that all my emails on clintonemail.com in my custody that were or are potentially federal records be provided to the Department of State, and on information and belief, this has been done."
According to John Kirby, a State Department spokesman, copies of the email chain were provided in "the last several days" by its inspector general and separately by the Department of Defense. A State official declined to comment on what led the Defense Department or State inspector general to discover the records.
The State Department has no plans, an official said, to submit an additional records request to Clinton — or to inquire as to whether additional records exist from the hdr22@clintonemail.com account dating prior to March 18, 2009. The State official said the agency remains focused on executing Clinton's request to review and publish the 55,000 pages of correspondence she turned over late last year.
The posture from the State Department is consistent with their response to the discovery in June, amid the House Select Committee's Benghazi investigation, that Clinton had failed to hand over 15 emails or portions of emails that she received from Sidney Blumenthal, a close friend and occasional adviser.
Kirby, the State spokesman, told reporters at the time that the department did not intend to open an inquiry into the 15 missing emails.
"Is there going to be any sort of investigation into the disparity at this point," one reporter asked in a State Department briefing on June 26.
"For the 15?" Kirby asked.
"Yeah."
"I know of no such investigation," he said, adding, "certainly not by the State Department, no."
Update
This story has been updated to reflect the Clinton campaign addressing the previously undisclosed emails.