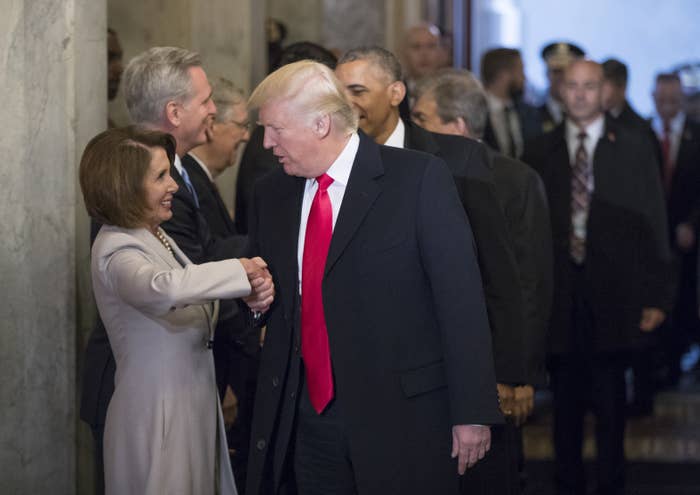 Democratic House Minority Leader Nancy Pelosi signaled openness Tuesday to working with President Trump on parts of his policy agenda, marking a break with activists and progressives hoping for top-to-bottom opposition from the party.
During a CNN town hall broadcast live from Washington on Tuesday night, Pelosi suggested Democrats might be able to cooperate with Trump on two initiatives in particular: infrastructure investment and legislation aimed at child care costs.
"If we can build infrastructure — our roads, our bridges, our broadband, our water systems, etc., high speed rail, mass transit — let's find a way to do that together. We can find ways to work family-and-work balance, as he said in the campaign was a priority, let's do that," Pelosi said.
The veteran California congresswoman recalled working with the last Republican president, George W. Bush, on various initiatives such as HIV/AIDS and poverty even as she vociferously opposed him on the Iraq war and Social Security policy.
"We respect that he's the president," she said. "We want to work together."
During his campaign, in one of a handful of policy announcements, Trump identified child care as families' "single largest expense" and an area where "very little policy work has been done." He proposed tax deductions for child care costs, diverging from the tax credit-style plans proposed by Democrats and some Republicans.
In a phone call with Trump after the election, Pelosi discussed the issue with the president, the New York Times reported. (Trump, according to the Times, handed the phone to his daughter Ivanka Trump, who may champion the issue herself.)
Trump also came into office promising a massive infrastructure bill. The other top-ranking Democrat in Congress, Senate Minority Leader Chuck Schumer of New York, has also identified the effort as an opportunity to collaborate, saying that Democrats should look to collaborate when their "values" align with Trump's.

"We're not going to oppose things just because Trump's name is on it," Schumer told the TODAY show in an interview on the morning of the inauguration.

Following Trump's first week in office — a tumultuous seven days that brought a sweep of executive orders including a controversial ban on refugees and immigrants from seven Muslim-majority countries — those who make up the Democratic Party's base have demanded a far less conciliatory approach.
Pelosi's televised event began shortly after Trump revealed Judge Neil Gorsuch as his nominee for the Supreme Court. The announcement set off a debate among Democrats over whether the party should attempt to block Gorsuch, as Republicans did with former president Barack Obama's nominee, Judge Merrick Garland.

Earlier on Tuesday evening, protesters assembled near Schumer's home in Brooklyn to demand a firm line against the president's appointees and legislative agenda.
The prominent Democratic operative David Brock described the new divide in the party as between those who want to "oppose everything" and those willing to pick battles — replacing Democrats' "ideological factionalism of the past," as he put it.

Throughout the CNN town hall, Pelosi was largely critical of Trump, denouncing his refugee and travel ban, his proposed wall across the southern U.S. border, and his rhetoric. "Our president is reckless, and his administration is incompetent," she said.
She also described his Supreme Court decision as a "hostile appointment" who would oppose a progressive agenda and pose a threat, she said, to women's rights and LGBT rights in particular. "If you breathe air, drink water, eat food, take medicine, or in any other way interact with the courts, this is a very bad decision," said Pelosi.
Addressing the question of whether Democrats should work with Trump more broadly, however, Pelosi said, "Where we can engage, we certainly will. We have that responsibility to the American people, to find our common ground."
Still, forecasting the next big fight ahead, she added: "Where we will draw the line is if he wants to repeal the Affordable Care Act."