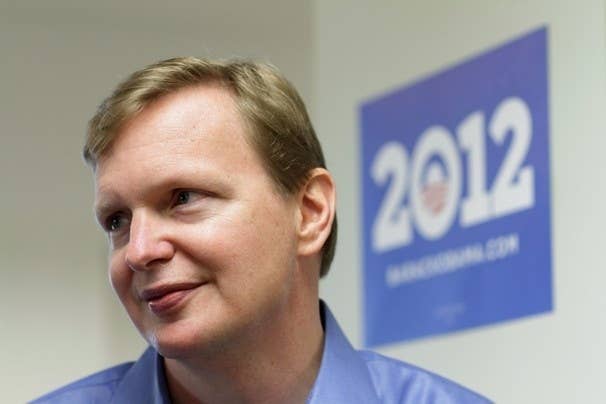 Barack Obama's campaign manager, Jim Messina, said Friday that the president's reelection was won "on the micro stuff."
"Politics too much is about analogies and not about whether or not things work," Messina told BuzzFeed. "You have to test every single thing, to challenge every assumption, and to make sure that everything we do is provable."
"That's why I love numbers," he said. "Because you know good or bad whether what you're doing is working."
Messina spoke to BuzzFeed Friday after sharing a panel stage with Romney aide Brian Jones at a conference for the International Association of Political Consultants at the Hilton New York. There, Messina and Jones evoked a contrast between one campaign that had the advantage on macro-messaging, and another that invested millions in analytics and metrics.
"We had to win this on the micro stuff," Messina said.
Jones, by contrast, said the Romney campaign had been characterized by a basic mistake about the electorate itself.
"Neil Newhouse, our pollster, had always said, 'Guys, if we can win independents in Ohio, we can win this race.' But we won independents by seven, and we lost," Jones said. "We thought the game would be one thing, and it ended up being another."
Obama for America made what Messina called an "unparalleled" $100 million investment in technology. The reelect, said Messina, would be different than 2008 — a time when the iPhone was in its first iteration, when Facebook was one-tenth of its current size, and when the Obama campaign sent just one tweet on all of Election Day ("We thought it was a stupid technology that would never go anywhere," said Messina).
Under Messina — the metrics-obsessed brain behind the operation — the campaign once defined by ideals and hope and change, became all about the data.
"We were going to demand data on everything, we were going to measure everything," he said during the panel. "We were going to put an analytics team inside of us to study us the entire time to make sure we were being smart about things."
Every night, Obama's analytics team would run the campaign 66,000 times on a computer simulation. "And every morning," said Messina, "we would come in and spend our money based on those simulations."
Their models ultimately predicted Florida results within 0.2%, and Ohio within 0.4%. The only state they got wrong, noted Messina, was Colorado, "where we got one more point than we thought we would."
The Obama campaign was able to do that, he said, because it turned away from mainstream polling from shops like Gallup, which he called "wrong the entire election" — specifically, in their prediction that fewer minorities and young people would turn out to vote.
"We spent a whole bunch of time figuring out that American polling is broken," said Messina. "We never did a national poll. We only did local and state polls."
Jones, for his part, offered a glimpse at what went wrong with "Orca," the failed Election Day turnout tracking system, pitched by the GOP as "the Republican Party's newest, unprecedented and most technologically advanced plan to win the 2012 presidential election"; Jones said the project was essentially a version of what "every campaign" has done in years past.
"There were a couple of glitches throughout the day, but it largely worked as intended," said Jones. "But ultimately it didn't really matter."
The software, meant to offer quantitative voter turnout data over the course of Election Day, proved dysfunctional and ultimately crashed by 4 p.m.
(Messina said the Obama campaign tried the same thing in 2008: "Ours crashed too." They named the project Houdini, but this year called it Gordon. "I said, 'Why is this thing called Gordon?' They said, 'Don't you know Gordon is the name of the person who killed Houdini?'")
Jones argued that despite the Orca crash — and clear wins by President Obama on issues like health care and the middle class — Romney "won on the vision for the future, on being a strong leader, on the deficit," he said.
"Ultimately, though, it just didn't matter," Jones added. "These guys just ran an incredibly proficient and strong and well-organized campaign. We had a little bit of the edge on the macro-messaging, but it just didn't matter."
Correction: OFA ran the campaign on a computer simulation 66,000 times each night, not 666,000.