Meet "Hillary": The Clinton Campaign Kicks Off Small
No more Madam Secretary. In Iowa, a lot of thought goes into the smallest of details to project her new platform — "champion" for everyday people.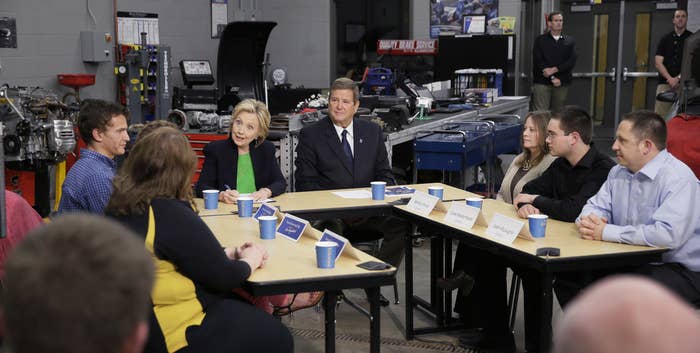 MONTICELLO, Iowa — For the purposes of the presidential campaign that began in earnest here on Tuesday with a small roundtable discussion, billed as a conversation "with everyday Iowans," there is no Madam Secretary. There is no senator, no first lady. There is no Mrs. Clinton. Her only title is "Hillary."
In campaign press releases and her website — and on a call with senior officials on Monday to prepare for this trip to Iowa, the first of her presidential campaign — the candidate is referred to most often by first name only.
Former secretaries of state, according to protocol, don't technically retain their titles when they retire. They become "Mr." or "Mrs." — or in Clinton's case, "senator," the title she went by during her first run for president in 2008. A campaign aide explained the new shift in simple terms: Most Americans know her as Hillary.
But the decision to cast Clinton, whose two decades in national politics have lent her the stature of a celebrity and stateswoman, as simply "Hillary" is part of a conscious, strategic effort to give this campaign a more accessible, low-key, and voter-focused feeling than her last — with an emphasis on the early-voting state where her campaign faltered seven years ago.
"I'm here in Iowa to begin a conversation," Clinton said. "And to hear from people about what's on your minds — what the challenges that you see are."
The setup on Tuesday was simple and small in scale: At Kirkwood Community College, in an automotive tech lab that could have doubled as a body shop, three tables were arranged in the shape of an open rectangle. Two sedans, a black Toyota and silver Ford, sat on either side, with a pink workman's rag draped over each open hood. About 15 students and teachers made up the audience.
Still, behind a yellow rope, a horde of reporters and a line of television cameras waited. Outside, when Clinton's black boxy GMC van rolled into the entrance past a pair of silos, reporters started to chase it, running down the campus lawn.
Fifteen minutes later, after a brief tour of Kirkwood's advanced manufacturing lab, she arrived. The cameras flashed wildly. Clinton walked straight to the hands of the seven roundtable participants, a mix of students and administrators.
"First, I want to thank you for having me here," she said. "And a few of my friends."
Despite the scene at the small community college, the hour-long roundtable remained, essentially, a genuine give-and-take between eight people. Clinton led the conversation, mostly posing questions to the participants.
In brief introductory remarks, Clinton also outlined four pillars of her campaign: to build the "economy of tomorrow, not yesterday"; to strengthen "families and communities"; to fix "our dysfunctional political system"; and to protect the country "from the threats that we see and the ones on the horizon," she said.
The specifics were less defined, with a handful of exceptions.
Clinton said she supported President Obama's free community college proposal, and voiced support for the education standards known as Common Core.
Expanding on her third point, Clinton said she would support a constitutional amendment to "get unaccountable money out of [politics] once and for all."
Later on Tuesday afternoon, at an unscheduled stop in Mount Vernon, reporters from the Washington Post asked Clinton about campaign finance reform in relation to Priorities USA, the high-dollar super PAC supporting her candidacy.
Clinton, according to the Post, shrugged her shoulders and said, "I don't know."
Clinton announced her campaign on Sunday with a video that projected, with every stylistic detail, that she will not be running with her old "in it to win it" mantra.
The video focused largely on the stories of voters, some of whom were from Iowa, and little else by way of details about Clinton's platform. The candidate herself did not appear on screen until about a minute and a half — another detail meant to signal that, as one senior campaign official told reporters on Monday, the campaign "isn't about her" and "isn't about us."
"You're going to see Hillary interact in much smaller settings than people might expect," the campaign aide said. "This is about Iowans. Everyday Iowans. Their hopes, their dreams, and what they want in the future."
After the launch on Sunday, Clinton headed to Iowa. But instead of chartering a private plane — as she frequently does when traveling — she and two aides, along with Secret Service, drove more than 1,000 miles from Chappaqua, New York, in the Clintons' armored GMC Suburban.
Clinton is scheduled to host another roundtable on Wednesday just outside Des Moines. She and her aides plan to fly commercial back home, one said.
Clinton is expected to continue her travel, possibly to New Hampshire, next week.
It is not clear how much more specific Clinton will be, at this early stage in the campaign, about her policy plans — or her message to middle-class voters. On Tuesday, Clinton tied the small-ball approach to the rationale for her candidacy, hanging her campaign on the idea that everyday people "need a champion."
"Believe me, I know that it's not going to be easy," Clinton said. "But I just felt like I couldn't walk away from what I see as the challenges we face."
One of the roundtable participants, Jason McLaughlin, said he didn't have a sense of Clinton's platform. "I don't yet. I'm going to hopefully find out," said McLaughlin, a 40-year-old registered independent who is the principal of nearby Central City High School and supported Obama over Clinton in 2008.
But McLaughlin did noticed a shift in Clinton's style.
"She changed her campaign," he said, noting the road trip, "rather than the 'Hill-A-Copter'" — a chartered aircraft she flew around the state in 2008.
The president of Kirkwood Community College, Mike Starcevich — also on the roundtable — praised Clinton afterward for "purposefully started small." But he also said it was clear "she's still trying to build what she's trying to sell."
On her way out of the event, Clinton told reporters she had a "great drive across the country."
Asked again to explain why she was running for president, Clinton repeated her lines from before: Americans needed a champion.
"I'll be rolling out very specific policies over the weeks and months ahead," she said, heading out the door.
"More to come, everybody!"