Mayoral Candidates Take A Backseat To Anthony Weiner "Mini-Circus"
The comeback kid sucks the air out of the room at an education forum for Democratic candidates. A "distraction," says candidate Sal Albanese.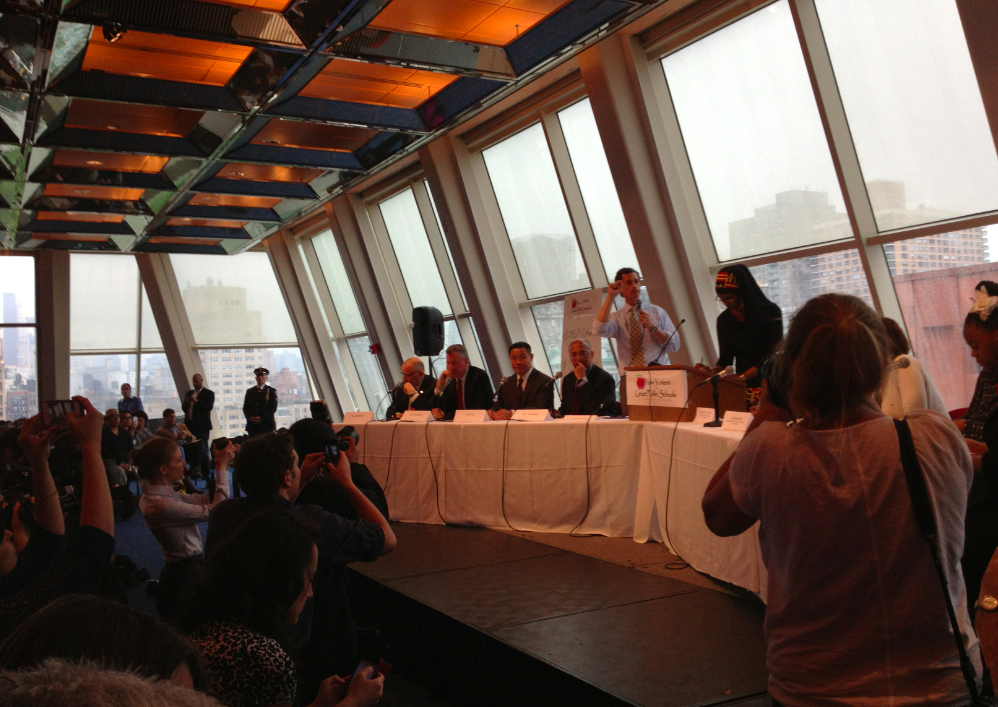 Former congressman Anthony Weiner attended his first mayoral debate late Tuesday afternoon alongside other candidates for mayor of New York City, and managed at nearly every turn to play the leading role at the event, much to the displeasure of some of his colleagues on stage.
"It's a distraction actually, unfortunately," said one candidate, former city council member, Sal Albanese, when the event was over. "It becomes more of a mini-circus because of his escapades. He's very good at theatrics. I served with Tony on the City Council, so I'm not unaccustomed to his political antics — I've seen him in action."
Weiner, who resigned from Congress two summers ago for sending inappropriate tweets to women, appeared at the education forum, hosted by New Yorkers for Great Public Schools, with four Democratic rivals — city comptroller, John Liu; former board of education head, Bill Thompson; city public advocate, Bill de Blasio; and Albanese.
(The leading candidate in the race, City Council Speaker Christine Quinn, did not attend, even after NYGPS rescheduled two times to accomodate her campaign, according to the event moderator, Zakiyah Ansari.)
The event was Weiner's first forum since announcing his bid for mayor late last Tuesday.
Even before the debate began, the former congressman was the focus of the event. As a bevy of television news reporters swarmed his seat at the debate table, Weiner pointed to Albanese, three seats down, and said, "Have you met Sal Albanese?"
Although the candidates were given equal speaking time by Ansari, Weiner was the dominant presence during the debate. While the other candidates sat while questioned — as they have during other forums this year — Weiner made a point of standing.
"I don't know if his legs were tired and he wanted to stretch them or what," Thompson told a group of reporters on his way out, adding that Weiner's seat at the debate, right next to the podium, could have blocked his view of half the room. "I thought that was what it was more about. He was trying to be seen on the other side of the room because his head was right up against the podium."
The former congressman jested with the moderator over answer time, cracked jokes, and used his "instant rebuttal" — an option given to each candidate during the last round of the debate — on himself, to the amusement of the audience. Thompson, meanwhile, could be seen smirking on stage, while Albanese tried to play along.
"Great to see my colleague, Mr. Weiner, back in action," he said at one point.
"Thank you," Weiner said.
Liu, though, said Weiner's appearance at the forum didn't change the dynamic among the candidates whatsoever.
"Didn't make any difference," he said.