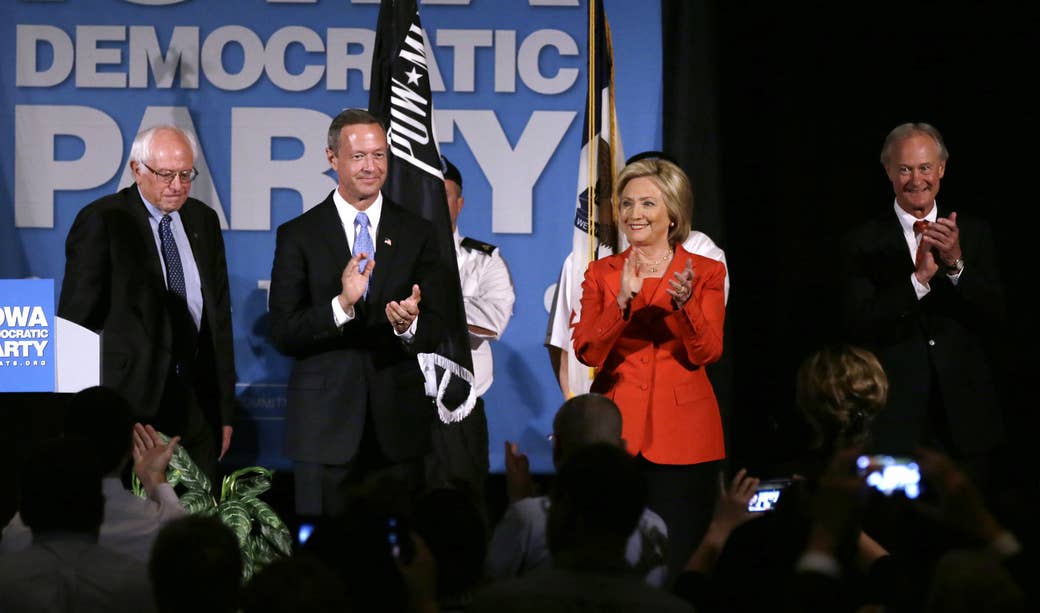 The southwest corner of 1st Avenue and 3rd Street was Martin O'Malley territory.
This — for much of the hot and humid Friday afternoon in Cedar Rapids, Iowa — was not in dispute. A few dozen O'Malley people, each wearing an O'Malley t-shirt, stood chanting near a line of cars, each taped with an O'Malley sign. "O-Mall-ee! O-Mall-ee!"
Then came the Hillary Clinton people — twice as many, with more signs and louder cheers — an army of "H" arrows. They moved in on the corner, singing the refrain from "Land of 1000 Dances": Naaa, na-na-na-naaa, na-na-na-naaa, na-na-naaa-na-na-NA.
But even as the Hillary group took over, engulfing the smaller contingent almost entirely, the O'Malley fans stayed put until the main event: a state party dinner. Across the street was the convention center where, for the first time, from the same stage, O'Malley would face Hillary Clinton and Bernie Sanders — the competition he's been trying to overtake with as much persistence and as little success as his t-shirted cheer-squad.
The great sign wars of 1st Avenue kicked off a weekend that, in effect, served as the start of the Democratic contest — and put on display the distinctions in approach between the three candidates as the first caucuses and primaries draw closer. Inside the convention hall, Clinton and Sanders each fell into what is, by now, their own familiar rhythms.
He made his call for a "political revolution" to close the gap between rich and poor — and she for a unified front against the other party. Clinton, who leads the field in fundraising and among early voters in key states like Iowa, didn't acknowledge her primary opponents. "I'm already having a great debate with Republicans," Clinton told the crowd. The next day, she skipped the annual progressive conference, Netroots Nation, held this year in Phoenix, to headline a state party dinner in Arkansas — the Republican-leaning state where her campaign could hope to compete next year in the general election.
At every point this weekend — as Clinton and Sanders held to their carefully hewn strategies — O'Malley telegraphed, with trademark persistence, that no matter how bad the polls look, he is the candidate who simply won't go away: who will work harder and mingle longer, who will shake more hands, answer more questions, propose more policy, be the most progressive and most aggressive — the candidate who will always engage.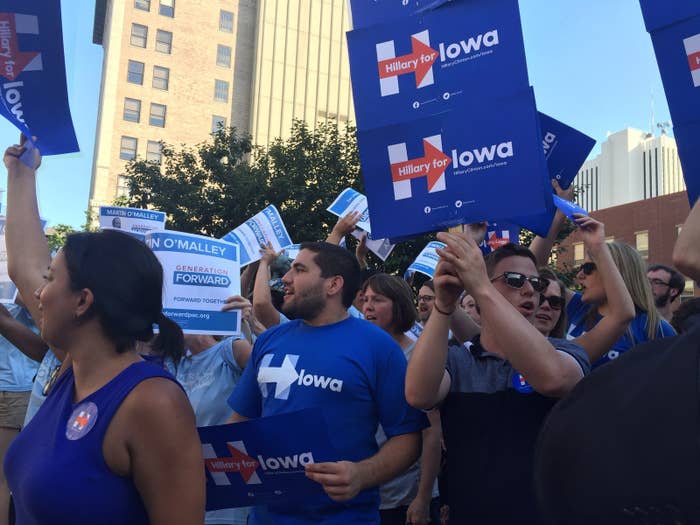 He has, now 50 days into his campaign, taken almost every opportunity.
While Clinton draws headlines about her "strained relations" with the press, O'Malley's staff rarely turns a reporter away. (On Friday night, his super PAC invited members of the media to an afterparty with the sign-carrying field organizers. "It's open-press and we promise no rope-lines," an official said in an email, adding a smiling emoticon. The Clinton cheer-squad, meanwhile, said they weren't allowed to talk to reporters.)
And while other Democrats in the race, including Sanders, don't often go after Clinton, O'Malley makes a habit of it — indirectly, at least. (In his Iowa speech, he stressed his support for a $15 minimum wage, days after Clinton declined to endorse it, and suggested she was slow to oppose "bad trade deals" like the Trans-Pacific Partnership.)
But there was no greater show of the O'Malley method than inside the Phoenix Convention Center on Saturday morning — when activists aligned with Black Lives Matter, a social justice group, upended a presidential forum at Netroots Nation.
O'Malley and Sanders spoke separately. The protesters asked each candidate to address questions about violence against blacks involving law enforcement. Both "responded poorly" at the time, as the co-founder of Black Lives Matter, Patrisse Cullors, put it later.
But after the forum — a jarring event that drew attention in and far outside the Netroots gathering — Sanders canceled his afternoon line-up of small meetings, including one with Black Lives Matters backers, according to participants. O'Malley, as his aides were quick to note, added events and sought to apologize for his reaction to the protest.
O'Malley was only through about two questions from Jose Antonio Vargas — a journalist and activist who moderated the forum — before the activists started up their chorus: "What side are you on, my people," they yelled through the hall. "What side are you on?"
At first, O'Malley tapped his knee along with the chant. But the protesters continued on, bringing the event to a stand-still. O'Malley leaned back and sighed. Vargas didn't know what to do. When one of the activists mounted the stage, he handed her the microphone.
O'Malley stood off to the side, waiting.
Cullors, the Black Lives Matter co-founder, joined her colleague on stage. "We don't like shutting shit down." But we have to, she told the crowd. "We are in a stage of emergency."
Given the chance to respond, O'Malley fumbled.
When he promised to roll out a "criminal justice reform package," an activist shouted back, "Don't generalize that shit." And when he mentioned his push as governor of Maryland to repeal the state death penalty — telling the protesters that "black lives matter, white lives matter, all lives matter" — the group boomed back in anger. "We already know white lives matter," one man yelled. "We don't want to hear that shit!"
Then Vargas cut the event off. "Oh, man," O'Malley said. "We just started." He walked off, quietly chanting along with the crowd. "Black. Lives. Matter… Black. Lives. Matter."
Sanders was waiting backstage — and apparently ready to deliver his same call for "political revolution," a stump speech that is almost exclusively centered on the economy and has drawn crowds of thousands from the progressive and labor communities.
As he took his seat next to Vargas, there were regular cheers from the crowd — "we love you, Bernie!" — but the activists still dominated, chanting over the candidate. "Whoa, whoa," Sanders said. "Let me talk about what I want to talk about for a moment."
"Say her name, say her name, say her name," the group yelled back, referring to Sandra Bland, a black woman found dead of an apparent suicide in a Texas jail cell.
"Should I continue or leave?" Sanders asked Vargas. "It's okay with me."
Sanders tried shouting his speech over the protesters. "Of course black lives matter," he finally told them. Sanders looked to the moderator. "What are we doing here?"
"Hold on one second, sir," said Vargas.
Sanders stared back. "OK. Are you in charge?"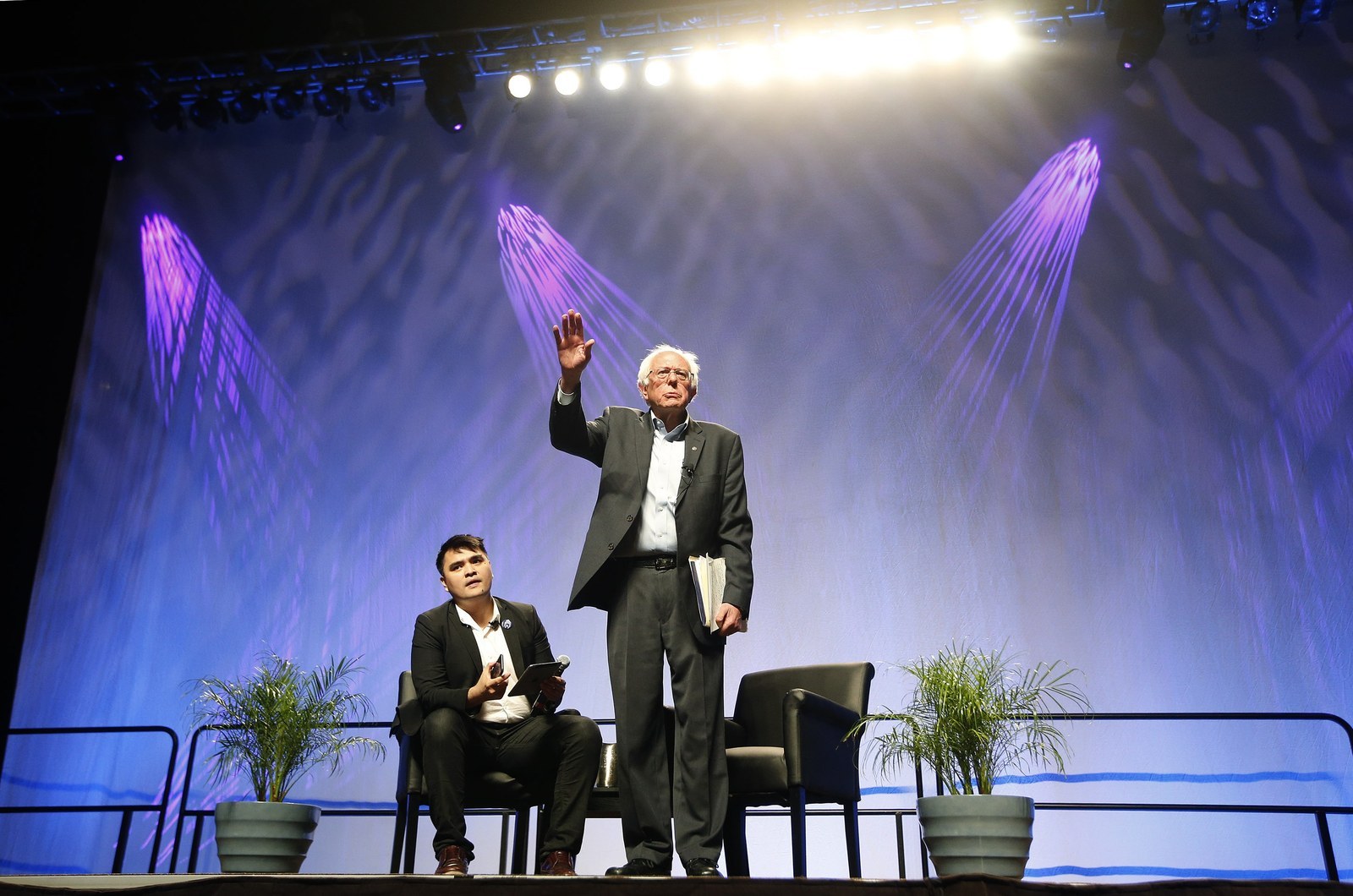 After the forum, O'Malley was out in the crowd. He hurried to tell a reporter that his response to the protest — white lives matter, all lives matter — had been a "mistake." Then he ran around the conference center: He did an interview, held a roundtable, stopped by a forum, held another forum. And by 1:45 p.m., he was in his second interview of the afternoon — this one with the media outlet, This Week in Blackness.

"That was a mistake on my part," O'Malley said. "I did not mean to be insensitive in any way or communicate that I did not understand the tremendous passion, commitment, and feeling and depth of feeling that all of us should be attaching to this issue."
Around the same time, Sanders was scheduled to meet with a small group of activists supporting Black Lives Matters. The senator has been focused with great intensity on the message driving his campaign — income inequality — and the idea behind the meeting was to "get Sanders on track with the conversation about issues around racial justice," according to Elon James White, who is the founder of This Week in Blackness and was invited to attend the gathering. "His campaign was completely oblivious to the Black Lives Matter campaign and what's been happening around the movement."
When White arrived for the meeting, Sanders wasn't there. It was just a few staffers. White was told, he said later, that Sanders had cancelled all meetings for the afternoon.
"It was absolutely foolish," he said. "O'Malley is on my stage giving an interview and Sanders is nowhere." (White called the meeting a "complete waste of my time.") Cullors, the Black Lives Matter co-founder, was also informed that Sanders had canceled his meetings. She said she still had yet to see "authentic engagement" from any candidate.
Later, Sanders angered members of the Arizona Democratic Party, when he canceled 40 minutes after his scheduled speaking slot, according to Alexis Tameron, the chair of the party. The reason given to Tameron: "logistical issues," she said. "That was it."
A Sanders spokesperson did not respond to a question about his schedule.
He finally reappeared in the early evening — at a small gathering hosted by the Latino Victory Project. But when he was asked about Black Lives Matter, Sanders turned the question back on the crowd. "How do we best deal with racism in America?" At his rally later that night — toward the end of his "political revolution" speech — Sanders referenced the protests again. "When a police officer breaks the law, that officer must be held accountable." And the next day, his campaign tweeted, "#BlackLivesMatter."
But the incident at Netroots hasn't done much else to disrupt the race yet. The candidates are still in their same lanes. On Saturday, Sanders drew his largest crowd yet at Netroots — 11,000 people — and Clinton spent her evening in Little Rock talking about the latest offense from Donald Trump, the "party of the past," and their dangerous politics.
O'Malley was still working: He pushed out his interview with This Week In Blackness, wrote about the protests on Twitter, and generally promoted to the world an incident that, flattering or not, at least showed he was "committed to continuing the conversation."
Even on Saturday evening, as Sanders was getting ready to take the stage in Phoenix, and as Clinton made her way to the Little Rock arena, O'Malley wore on — walking the halls of Netroots, answering more questions, taking more pictures, meeting more people.