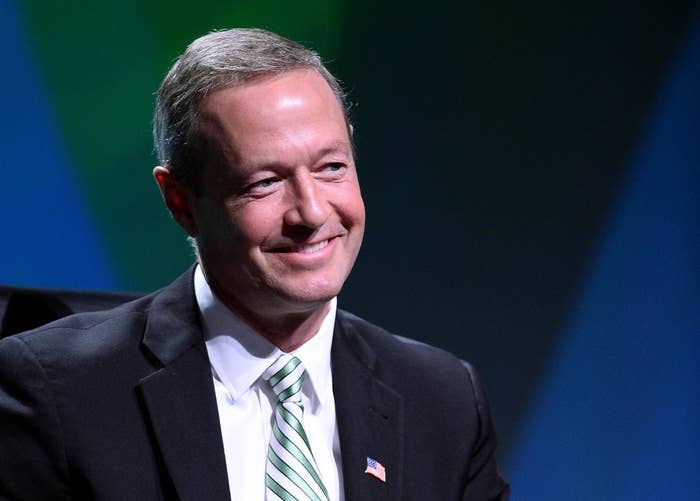 When Martin O'Malley showed up at an Irish Bar in Paterson, N.J. on a hot and humid August afternoon to campaign for Cory Booker, he came alone.
The sign on the door of Duffy's Tavern promised a joint appearance — a welcome to "Mayor Cory Booker with special guest, Maryland's own Governor O'Malley" — but the mayor was back in Newark prepping for a primary debate. A reporter asked O'Malley, who had already come halfway up the New Jersey Turnpike that morning from another Booker event in Trenton, why he was "standing in" without the candidate for whom he'd slogged up from Maryland.
"Because that's what a good surrogate does," O'Malley said.
And he would know. Few elected Democrats will have logged more time and travel this year than O'Malley on behalf of other candidates. As his last term eases to a close, and as he weighs a possible White House bid in 2016, the Maryland governor is making a push to become known as a good soldier for his party — a role that has already won him loyalty and exposed him to presidential swing states where his name could be on the ballot in two years.
This year, he hosted fundraisers for candidates in competitive races across the country: Terry McAuliffe of Virginia, Jeanne Shaheen of New Hampshire, Mary Landrieu of Louisiana, Anthony Brown of Maryland. Later this fall, he'll campaign for gubernatorial candidates in Florida and Ohio and New Jersey. And by the end of the year, he'll have headlined Democratic Party events in three key primary states: South Carolina, Texas, and — the big one — New Hampshire, where he'll speak at the state's annual Jefferson-Jackson Dinner in November.
O'Malley says he doesn't know yet whether he wants to run for president. He told reporters in August he's still thinking about it. But if he does — and the chances are good if Hillary Clinton, who leads by 50-point margins in early primary polling, opts out of the race — this surrogate work could help O'Malley establish a national platform and network of support in advance of his candidacy.
"He's putting the work in to try to build his name out in the country. Let's face it: I don't think a lot of people really know him that well," said Kyle Kondik of the Center for Politics at the University of Virginia. "He's getting his name out there and building alliances that hopefully he can cash in on later."
In New Jersey last month, the benefits for O'Malley were evident. When Booker finally did meet up with his surrogate at a small campaign rally later that night, he told the crowd at length about O'Malley's record in Baltimore, where he served as mayor for seven years. "He was a model mayor, is a model governor, and, frankly, in my opinion, he is one of the great leaders of the United States of America," said Booker, before asking for one more round of applause "for my friend, and my role model, Governor O'Malley."
Lis Smith, a spokesman for the governor, said O'Malley is driven by a sense of obligation she suggested more party figures ought to have. "Gov. O'Malley will continue to actively campaign this fall and next year for Democrats who share his brand of results-oriented leadership," Smith said. "There's too much at stake in statehouses across the country for Democrats like him to sit on their hands."
Prominent Republicans have hurried to show their support for just about every candidate on the map — Gov. Chris Christie, Sen. Rand Paul, and now Gov. Rick Perry are all backing Steve Lonegan, Booker's right-wing opponent in New Jersey — but Democrats have been slower to wave the flag.
O'Malley was one of the only out-of-state lawmakers to endorse Booker before the primary. Three other senate hopefuls, including two sitting congressmen, were in the race, but O'Malley said last month he saw no reason to wait because, as he put it, "I believe Cory's the best choice." The Maryland governor will also be one of the only leading Democrats to campaign for Barbara Buono, the state senator running against Christie in New Jersey's gubernatorial election. O'Malley will travel to the Garden State on Oct. 18 to stump for her, according to his staff. (When Obama visited New Jersey in May, Buono barely got a handshake.)
That O'Malley has spent time at all as a surrogate this year sets him apart already from other big-name Democrats. Clinton, since leaving the State Department in February, has refrained from commenting on most political matters and has engaged significantly with just one candidate this year: her longtime close friend, McAuliffe, who is running for governor of Virginia.
And Andrew Cuomo, said Kondik, is "the opposite" of O'Malley in the degree to which he interacts with the national party apparatus.
Since taking office in Albany two years ago, the New York governor hasn't spent a single night outside the state. Last year, at the Democratic National Convention, Cuomo slipped into Charlotte for a quick speech to the New York delegation before leaving that same day. Even when President Obama makes a visit to the state, Cuomo makes his presence scarce.
"Cuomo has made this very deliberate effort to be very New York-focused, and I would say the opposite is true of O'Malley," Kondik added, citing O'Malley's four straight years on the leadership of the Democratic Governors Association, the organization that recruits and fundraises for Democratic gubernatorial candidates.
O'Malley aides, pointing to the DGA and the 2008 presidential race, held that his recent swing through the states is part of a long history of surrogate work that has nothing to do with speculation about the far-away presidential race.
"The cliché is that he's running around the country for all these Democrats because he's ambitious," said a Maryland operative close to O'Malley. "But it really is aligned with what he's been doing for years."
During the 2008 primary, O'Malley came out early and often for Clinton, making multiple trips to New Hampshire to stump for the candidate. "If I can, I will help her, wherever I can, whenever I can, mindful of the job I have to do back home," he told the Washington Post during one early trip.
O'Malley took the same approach four years later, becoming one of the Obama campaign's top messengers. Over the course of the election, O'Malley made more than 45 surrogate appearances on network and cable news broadcasts, according to a count by his office.
He did have one slip-up — in September, he told CBS News's Face the Nation that "no" Americans were not better off in 2012 than 2008 — but even still, Stephanie Cutter, Obama's deputy campaign manager, said O'Malley was considered one of their "most reliable surrogates."
"He drove message, helped organize on the ground and drew crowds," Cutter said. "And he wasn't just out there by himself. He was instrumental in organizing other governors. You couldn't ask for much better."
"Part of this is he's been a surrogate in the past," said Kondik. "And he must not hate it, because he's done a lot of it."