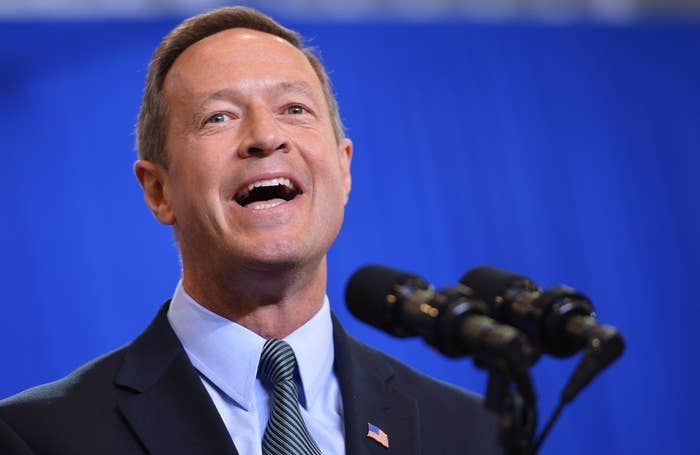 MANCHESTER, N.H. — Maryland Gov. Martin O'Malley has played presidential politics in New Hampshire before. He was here in the Granite State, home to the country's first primary race, just last year as a surrogate for President Obama and Gov. Maggie Hassan. He was here six years ago, stumping twice for Hillary Clinton. And he was here at the start of his career, in 1984, crisscrossing the state and sleeping on floors as a young operative on the Gary Hart campaign.
On Saturday night, at the New Hampshire Democratic Party's annual dinner, a table of old Hart hands looked on as their friend — the college kid on the campaign who made himself a city councilman, then a mayor, then a governor — came back to the state again. But this time, and for the first time, O'Malley was in New Hampshire to talk about himself.
In his keynote speech at the Jefferson-Jackson Dinner, a fundraiser and frequently a venue for national Democratic talent, O'Malley made an aggressive and at times impassioned case for executive leadership, framing his approach as mayor of Baltimore, and the "Believe" campaign he launched there more than 10 years ago, as a strategy that should be applied at the national level.
"The people of Baltimore rallied," he said to a crowd of 1,000 in Manchester's Radisson Expo Center. "Belief is important. Belief drives action. Now, like Baltimore in 1999, we, as Americans, are going through a cynical time of disbelief — a time, quite frankly, with a lot more excuses and ideology than cooperation or action."
"We seem to have lost the shared conviction we once had," O'Malley said, "that we actually have the ability to make things better together."
O'Malley, a possible candidate in the 2016 presidential race, launched the $2.1 million "Believe" campaign in 2002, his second full year in office, to combat the city's twin scourges, drugs and crime. The new mayor blanketed the city in jarring television ads that promoted a hotline, "1-800-BELIEVE," for mentorship and drug treatment programs. The seven-letter slogan — printed in all capitals, a white san-serif font on a background of black — appeared across Baltimore on bumper stickers and garbage cans, buildings and bridges.
"It wasn't about the bumper stickers, or the signs," O'Malley said Saturday. "It was about something deeper: the belief we shared that in our city there is no such thing as a spare American. We continued to act on that belief, and over the next 10 years, Baltimore actually went on to achieve the biggest reduction in crime of any major city in America," he said to applause in the Expo Center.
Before O'Malley took the dais, he was introduced by a three-minute glossy black-and-white video — titled "Belief" — that described the Baltimore campaign and highlighted "CitiStat," the data-driven software he created to track crime. "Things that get measured are things that get done," the narrator says, as images flash by of a young and dark-haired O'Malley touring crime scenes and walking city streets.
The video, produced by Jimmy Siegel, Eliot Spitzer's longtime ad man, looked like a campaign spot, just as easily as O'Malley's talk sounded like the platform of a national campaign in the making. The speech, focusing almost exclusively on Baltimore, was a major departure from O'Malley's previous political appearances.
The two-term governor, who more often appears as a surrogate for other Democrats than as a spokesperson for his own record, gave a talk at the Center for American Progress in October that focused on his state's economic performance, and on the general, more broad themes of job creation and building what he called an "innovation economy." Republicans panned the speech, and journalists took to Twitter to call it boring. "Looking forward to O'Malley '16 and his running mate, Watching Paint Dry," one wrote.
But in Saturday's speech, O'Malley's soft-spoken Maryland drawl was loud, even forceful. And by the time he reached his closing lines, as New Hampshire Democrats stood to applaud, O'Malley's voice boomed over the loudspeakers. "Enough finger-pointing! Enough obstruction! Enough wasted time!" he yelled into the microphone. "Let us achieve like Americans again. Let us lead like Americans again. Let us believe like Americans again."
In the Expo Center, a 30,000-square-foot space whose white walls are lit by unpleasant fluorescents, O'Malley was received warmly. (The crowd was the event's largest in 10 years, a party official said.)
A number of New Hampshire Democrats recalled meeting the governor on the Hart campaign or later, in 2007, when he made two trips to the state to campaign for Clinton, whom he endorsed early in the primary.
"We knew back then that Martin had a great future," said Sen. Jeanne Shaheen, who worked for Hart with O'Malley in 1984.
During his visit to the state six years ago, New Hampshire Democrats identified the governor, now 50 years old, as a rising star in the party — someone who "has all the right characteristics," Sylvia Larsen, New Hampshire Senate Democratic leader, told the Baltimore Sun at the time.
But early polling shows that O'Malley, who has said he's considering running for president, has a long way to go. A survey of New Hampshire Democrats in May showed the governor polling at "zero percent" in the state. In that poll, Clinton got 65% of the vote, and Sen. Elizabeth Warren received 5%. Although Warren has said she is not running for president — she even signed a letter encouraging Clinton to get in the race — progressives have clamored in recent weeks for a candidate who lines up with Warren on economic issues.
Supporters of Clinton and Warren both made their presence known at the Jefferson-Jackson dinner. Adam Green, the co-founder of the left-wing group, Progressive Change Campaign Committee, passed out bumper stickers that read, "I'm from the Elizabeth Warren wing of the Democratic Party." And Terry Shumaker, a New Hampshire lawyer and senior advisor to the super PAC, "Ready for Hillary," passed out lapel buttons bearing the group's logo.
"Everybody's just picked me clean tonight," Shumaker said.
And O'Malley? "I was very impressed with Governor O'Malley, and the New Hampshire primary welcomes all candidates," he said.
When asked about the Warren bumper stickers circulating the room, Shumaker brandished his own "Ready for Hillary" button and asked, "Well, are people actually wearing the stickers? Or are they just lying on the table? I would draw that distinction, because people are actually wearing these."