Martin O'Malley Sends Staffers To Support Campaigns In Iowa, New Hampshire
The Maryland governor is the only Democrat sending people out this year. A way to build favor in early-voting states ahead of 2016.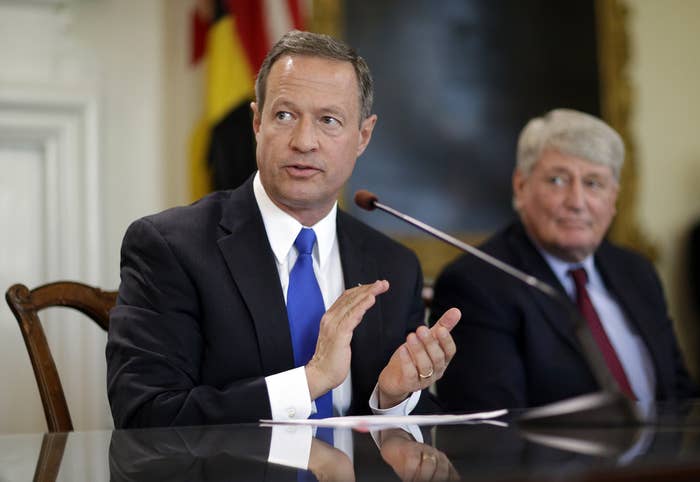 Maryland Gov. Martin O'Malley will pay for more than two dozen staffers to work on Democratic campaigns in Iowa, New Hampshire, and several other states ahead of the midterm elections this fall, his spokesperson confirmed Monday.
The move to dispatch campaign workers, first reported by the Washington Post, signals the extent to which O'Malley is pursuing a possible White House bid.
The governor's spokesperson, Lis Smith, would not discuss details about how many staffers would travel to which states. But she said the staffers would be helping Senate and gubernatorial campaigns across the country, including those races in Iowa and New Hampshire, the states that host the first caucuses and primary.
The staffers, Smith said, will be paid for by O'Malley's political action committee, O'Say Can You See, also called O'PAC.
Politicians considering a national run will often send money or manpower to early-voting states during the election cycle before a presidential race. In 2006, before Democrats' last open primary, workers paid by former Democratic Sens. John Edwards and Evan Bayh, for example, hit New Hampshire and Iowa.
But this year, O'Malley is the only known Democrat providing such support.
Raymond Buckley, chairman of the New Hampshire Democratic Party, said he had no knowledge of plans for other Democrats to engage in races in his state.
He hadn't heard of O'Malley's intentions to send staffers until Monday, he said.
Ready for Hillary, a super PAC preparing for a possible Hillary Clinton campaign, has been set up in primary states for the last year. The group made its first organizing trip to Iowa last January. But Clinton herself has yet to engage in midterm races. She is scheduled to appear in Iowa at Sen. Tom Harkin's annual steak fry next month.
O'Malley will finish his second and last term as governor in January. He has spent much of the last year traveling on behalf of Democrats, while putting together what he has called "the framework" for a possible presidential campaign.
The campaign workers will meet with O'Malley on Friday and will dispatch to states "imminently," Smith said.