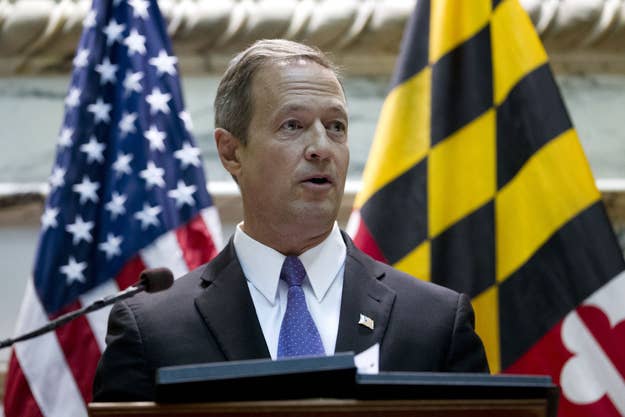 As he gears up for a likely presidential run in 2016, Maryland Gov. Martin O'Malley is testing a risky new political calculus for the post-Obama era: Win votes by raising taxes.
O'Malley, who is thought to be an all but certain player in the next race for the White House, surprised some observers when he proposed last week to raise taxes on gasoline statewide as part of a transportation plan designed to repair failing infrastructure and reduce commute time.
It's the type of legislation an aspiring presidential candidate wouldn't have touched a few years ago — something even O'Malley alluded to last week, when he told The Baltimore Sun that there isn't "a revenue more unpopular than the gas tax."
But emboldened by President Barack Obama's sweeping 2012 electoral victory — built largely on a pledge to raise rates on the wealthiest Americans — Democrats are now making the case that a record of tax increases isn't the albatross it once was, as long as they pay for substantive improvements for constituents.
With Obama's reelection — and his subsequent victory in Congress over a "fiscal cliff" deal to raise taxes on individuals who earn an income higher than $400,000 each year — we've entered a period of "Obamanomics," said Jason Stanford, a Democratic consultant and opposition researcher.
"It used to be you could never even talk about raising taxes — that would kill you," said Stanford. "Now we have even Boehner voting to raise taxes on the rich. Reaganomics is effectively dead. We're dealing with Obamanomics now."
Of course, it's one thing for Obama to find success in pledging tax increases on the rich during a presidential campaign against an opponent, Mitt Romney, defined publicly by his wealth. It's another for O'Malley to propose a gas tax that will hit every car-driving resident of his state — including the middle class and the working poor.
The two-term governor, for his part, is making the case that the gas tax will generate $3.4 billion in additional revenue for badly needed transportation projects and create 44,000 jobs over the next five years in Maryland.
But a tax increase — let alone one on gasoline — has for decades been political black water for presidential hopefuls.
In 2004, George W. Bush launched a television ad offensive in 18 states to link John Kerry to a 50-cent gas tax — "Some people have wacky ideas, like taxing gasoline more," read the track — even though the Democratic nominee had never voted for such a tax. And even before that, Bush Sr. and Bill Clinton spent months in 1992 arguing over the number of times the Arkansas governor had raised taxes and fees in his state — "128 times" was the Republican refrain; though Arkansas's Department of Finance and Administration said the true figure was 127.
Whatever the number was, the line on the stump was still the same: "I don't care whether it's 128 times — or maybe they're right, it's 127 times — but we know this," said Vice President Dan Quayle, on the trail in Texas in September of '92. "Bill Clinton has already promised the American people that the first thing he's going to do as president is to raise your taxes."
Democrats, though, say they see a shifting political landscape in which having a record with a gas tax would no longer harpoon a presidential campaign.
"It used to be straight dogma that you'd never call for a tax increase," said another Democratic strategist and researcher, who preferred to speak without attribution. "It will have an impact in the general election — that's the Republican playbook — but if it's an attack coming from a member of Congress, then they've raised taxes, too."
"What this really gets to is that the Republicans have been using the same playbook since the 1980s, and it gets less effective each time," said the strategist.
Bob Shrum, a veteran Democratic consultant, said he couldn't see the tax "becoming a big issue in 2016," but added, "I think raising gas taxes when prices are high already can be a tough sell. On the merits O'Malley is doing the right thing, but it's probably politically risky."
The transportation plan, introduced last week, is the newest iteration of an overhaul the governor has pushing for since 2007. The bill would put a new state sales tax on the wholesale price of gas — two cents this summer, and an additional seven cents next summer — while reducing the excise gas tax by five cents, and adjusting it in future years in tandem with inflation. (The bill calls for another seven cents in a sales tax increase in 2015, unless Congress votes to allow states to tax Internet purchases.) The governor says the plan, which was endorsed by editorials in the Sun and The Washington Post, will repair infrastructure damage and alleviate traffic congestion in Maryland, which has the longest average daily commute of any state in the country.
If the tax does cause O'Malley problems in a presidential race, it will be in a tight primary contest against New York governor Andrew Cuomo — "Cuomo has been able to cut taxes and balance budgets, so that's one possible contrast point," said the Democratic strategist. Cuomo did cut taxes for most New Yorkers in 2011, but he also raised them on the wealthiest residents, going back on a campaign promise to not raise rates at all.
In a general election against the Republican nominee, "where there would absolutely be a Republican ad," the strategist said, citing the Bush-Cheney television spot against Kerry in 2004.
The transportation plan has already been a target for Americans for Tax Reform — the anti-tax group headed by Republican power broker Grover Norquist — which has dubbed O'Malley "Barack Obama, Jr.," and blacklisted his state as "one of the most hostile places for taxpayers to live."
"Here we have a guy who has already raised taxes on millionaires and hundreds-of-thousandaires, and now he's coming back for people who drive cars," Norquist told BuzzFeed. "There's nothing quite so obvious as this. I'm happy and delighted that he is doing this, because it puts the tax issue front and center if he runs."
"He wants to run for president, but there's a problem — that's gonna be awfully hard to do," said Norquist. "He can't say, 'Oh, I'll only tax rich people.' That's obviously not the truth. He will go down the food chain."
But O'Malley's staff points to Republican governor Bob McDonnell — also thought to be a prospective 2016 candidate — who has proposed a similar transportation overhaul for his state. McDonnell's plan would eliminate its gas tax, but replace it with a mix of sales taxes that vary by region, so that the average resident would pay $10 to $15 more each month on transportation.
"This isn't a Democratic issue or a Republican issue. It's a jobs issue," said O'Malley's director of strategic communications, Teddy Davis. "Whether it's Virginia's Bob McDonnell or Maryland's Martin O'Malley, governors of both parties recognize the need for transportation plans that create jobs and ease traffic congestion."
Taken together, McDonnell's bill and Congressional Republicans' recent retreat from their pledge to never raise taxes, make for better odds on O'Malley's bet that the Maryland gas tax is worth its weight in possible political capital.
"The House Republicans are making this less damaging to Martin O'Malley," said the Democratic strategist. "It's more often being seen by the average American that Republicans are unwilling to raise the revenue necessary for government."
"If you're running for governor of West Virginia, say, then nothing's changed, but in the terrain that the 2016 campaign will be fought on, those old standards aren't working anymore," the strategist said.
This article has been updated to include more context on Cuomo's tax record.