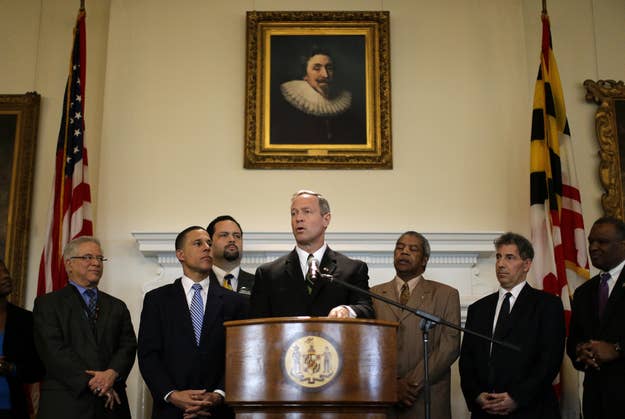 Maryland Gov. Martin O'Malley, a potential presidential hopeful whose latest round of legislative measures in the state is being cast by political observers as particularly left-leaning, is pushing back against the liberal-hero moniker with what he calls his own "bumper-sticker label."
O'Malley — according to O'Malley — is a "performance-driven progressive."
It's a term he used in an interview this week with Bloomberg, and again during a gaggle with reporters on Monday, the last day of his legislative session, in the halls of the Annapolis State House. Teddy Davis, O'Malley's strategic communications director, tweeted specifically about the descriptor on both occasions.
"I don't care. Call me anything but late for dinner," O'Malley told the group of reporters Monday. "The real test is are we making progress or not making progress. And I consider myself a performance-driven progressive."
The slight rebranding effort from the O'Malley camp comes on the heels of a spate of legislative wins in Maryland, including a death penalty repeal, regulations on gun purchases, approval for an off-shore wind farm, and a transportation plan that includes the first gas tax increase in the state since 1992. A front-page Washington Post article, to the dismay of the governor, described last Friday as a "dramatic liberal shift, even for a state long dominated by Democrats."
O'Malley later told Post columnist Robert McCartney that feature was "cruddy."
"I'm not fundamentally ideological in my approach to governing. I'm not of that generation. My primary question in governing is, 'Does it work?' " he said
The governor has described his record in similar terms before. In 2008, referencing his successful campaigns to create data-driven software to track crime — CitiStat, which he created as mayor of Baltimore and expanded into StateStat as governor— O'Malley characterized his leadership in the State House as "performance-based management" that is "truly omni-partisan, apolitical, and essential for making progress for the people we all serve."
O'Malley's new short-hand reflects an effort, ahead of a possible presidential bid in 2016, to package his legacy as not inherently liberal, but as results-oriented. As the governor told BuzzFeed in an interview in February, "I tend to look at things in terms of forward and back rather than left or right."