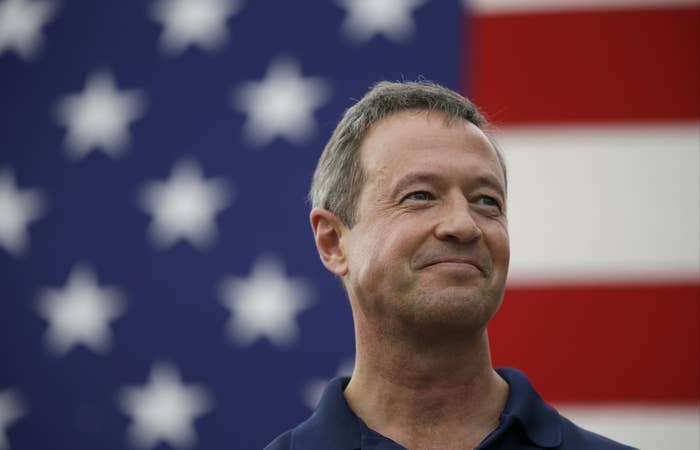 WASHINGTON, D.C. — Ask the Democratic governors gathered at the JW Marriott this weekend who they liked for president in 2016 — as all but every reporter here did — and most would come around to mentioning Martin O'Malley.
The annual winter meeting of the National Governors Association is, traditionally, one of the places the season of the Great Mentioner begins to settle in on the candidates for the presidency, and the Maryland governor — the Democrat with perhaps the best résumé, and the cleanest shot of any here — made himself known as one of the chosen few.
But the reporters at the event, ready to chase down governors in between conference sessions and meals and breaks for the bathroom, weren't asking about him: They were asking, as Politico did, about Hillary Clinton, leaving O'Malley to embody the frustrating waiting game inhabited by him and all other Democrats not named Clinton.
"I can't really control what decisions other people make, whether or not they run," O'Malley said after being asked, not for the first time, whether Clinton's decision to run would affect his own. "And even if I knew, I don't think it would change what I have to do this year, which is to govern well, always learn, become better prepared, and most important, deliver results for the people you're serving."
But while Clinton — and, to lesser degrees, two other absentees, Vice President Joe Biden and New York Governor Andrew Cuomo — cast long shadows over the NGA's winter meeting, O'Malley was its clear star. The two-term governor of Maryland was chair of the Democratic Governors Association; a top surrogate for Obama's reelection campaign; and, now, a barely disguised presidential candidate.
The governor won't say one way or the other what he wants to do when his second and last term in the Annapolis state house expires. But O'Malley is no rookie — he's been fielding questions about the race in 2016 for two years running, and questions about his White House ambitions have been rolling off the tongues of reporters and pundits for more than a decade.
In 2002, when O'Malley was not all that far into his first term as mayor of Baltimore, a city where he'd been turning crime rates around, he almost left office to run for governor. But the young mayor held off. Bill Clinton, as told in an Esquire profile of the governor, sent him a note: "You will go on to bigger things. I won't be surprised if you go all the way — but for the rest of your life you can always be proud of what you're doing as mayor and your decision to stay with the task at hand." O'Malley would go on four years later to win the governorship; and nothing about his focus on the national stage last year suggests he's inclined to wait for his chance at going all the way.
For now, though, O'Malley says he takes the chatter as a compliment to Maryland and the work of his administration.
"The mentions are very nice and very flattering, and they're a reflection of the good work that the people of my state have done through the toughest times," O'Malley told BuzzFeed. "The most important thing is to govern well and not get caught up in the punditry and the like. There will be plenty of time down the road for those decisions."
But at the annual D.C. mecca — where governors from far-off states take advantage of rare access to the national press — the talk about O'Malley had a way of slipping, somehow, into talk about Secretary of State Hillary Clinton.
And when Clinton's name comes into play, O'Malley and the rest of the pack fall into an indistinct, unnamed group of bench players — it's Hillary against the non-Hillarys, and not even Biden gets to stay in the game.
"What an incredible job she's done over the last four years. She would be a remarkable president," said Colorado Gov. John Hickenlooper, in between conference events Saturday. "I don't know if she'd clear the field, but she would clear half it, anyway. You never want to say everybody."
Peter Shumlin, the governor of Vermont and O'Malley's successor as chair of the Democratic Governors Association, was more even-handed with his 2016 shoptalk.
"We have a huge, huge talent pool that I would argue is much thinner on the Republican side," Shumlin said Friday. "When I see the number of governors that I've become close to who would make extraordinary presidents — and we all know Hillary would be an extraordinary president, and we've got a vice president who would make a great president — we have a wealth of candidates."
"The candidates most likely to emerge, including some of the governors here in the room, and Secretary Clinton, and Vice President Biden, are going to build off the winning combination we had in 2012," said Hawaii governor Neil Abercrombie.
The unnamed "governors" cited by Abercrombie, Shumlin, and Hickenlooper are, one can safely conclude, references to O'Malley alone; no other Democratic governor present at the NGA has expressed an interest in the race.
(Shumlin told BuzzFeed that his only ambition in 2016 is "to elect a Democratic president"; Hickenlooper, sometimes floated as a moderate candidate, said, "I don't pay attention to that. I'm not speaking in Iowa or New Hampshire or South Carolina"; Delaware's Jack Markell, chair of the DGA, told BuzzFeed he was rooting for Biden, also from Delaware, to get in the race; and Massachusetts' Deval Patrick told the Boston Globe last year that he'd return to the private sector at the end of his term.)
O'Malley, meanwhile, is working on teaching voters in the early primary states his name. Early polling from the University of New Hampshire shows 80% of Democratic voters there have never heard of O'Malley.
And it's more than the numbers. An article in the Washington Post — out just a day before O'Malley was set to appear at the NGA meeting in D.C. — collected a series of quotes from political bigwigs in Iowa, home to the all-important first caucus, saying they just couldn't remember the governor.
"Oh damn," says one. "Mike McNally? An Irish Name?"
Well, "Mike McNally" did not sit well with O'Malley. Asked about story, he just smiled. "Oh, you had to bring that up," he said.
But if O'Malley gets a national boost, it'll be from his record in Maryland, which already has all the fixings for a favorite Democratic candidate: The governor has pushed his schools to the top-slot ranking for five years running; he proposed sweeping gun control legislature after the shootings in Newtown last year; and he helped pass ballot measures for marriage equality and the Maryland DREAM Act last year that made his work in the state popular with base voters well beyond the Chesapeake Bay Watershed.
The governor, more recently, has tried to frame Maryland as a national example on initiatives like climate change and repealing the state's death penalty, a bill for which passed the state Senate last week and is headed for the House of Delegates in the coming weeks.
"I believe that our country is moving in the direction of repealing the death penalty," O'Malley said. "I believe that over time you'll see more and more states coming to the conclusion that I believe we are coming to in Maryland, which is that the death penalty is ineffective, it's expensive, and that the dollars could be better used to save lives by improving public safety in ways that we know work," he said.
In the death penalty repeal, O'Malley sees a window to lead, and for Maryland, as he wrote in his State of the State address this year, to be a state that acts "like the heart of a forward-moving country whose eyes and ears are open to the world."