Martin O'Malley Courts Hollywood
The Maryland governor keeps spending time in California with donors and fundraisers who have something in common: They supported Obama over Clinton.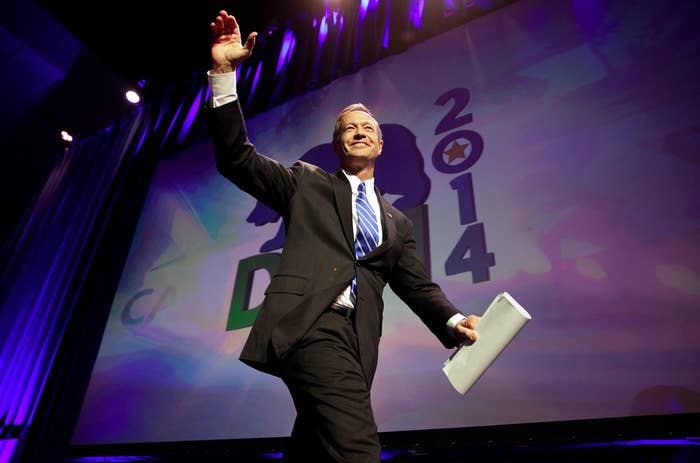 On a Monday in early June, a few dozen Maryland natives sat down in the executive dining room at the Sony Pictures Studios lot for a hometown meal, catered by CJ's Restaurants, one of Baltimore County's classic crabhouses.
The lunch spread, flown over the weekend into Culver City, Calif., was what a Marylander might simply describe as "correct": pan-fried crab cakes, crab soup, coleslaw, soft-shell crabs, corn, and Utz potato chips coated in Old Bay.
The group of more than 40 people, mostly producers and executives who left Maryland years ago for careers in Hollywood, came to meet a new face on the political scene in Los Angeles: the governor of their home state, Martin O'Malley.
The Maryland-themed gathering wasn't about fundraising. It was a chance for the little-known governor, who is putting together the framework for a possible presidential campaign, to get face time with the Hollywood political set. The meet-and-greet was put together by Steve Mosko, the president of Sony Pictures Television, and Tom Rothman, the former chairman at 20th Century Fox, and a donor and fundraiser for President Obama's campaigns.
O'Malley has raised money in California with some regularity during his two terms as governor, and as chairman of the Democratic Governors Association, but in the last year, he has stepped up his efforts to court Hollywood's potential donors.
Most of the people O'Malley's met in Los Angeles have something in common: They supported Obama over Hillary Clinton in the 2008 primary. In the West Coast cradle of established Democratic politics — where the Clintons already have a swelling set of donors, fundraisers, and consiglieres — O'Malley offers a fresh face and a penetrable political network to those not already aligned with Clinton.
The June event is one of four meet-and-greets with Los Angeles political players that O'Malley's had since the summer of 2013, an aide confirmed. This year, he's made four trips to the state for private meetings, fundraisers, and public appearances, including his keynote address to the state convention this spring.
Still, the idea that O'Malley could match Clinton's fundraising machine in Los Angeles is nowhere near likely. A review of the most recent filings available for O'PAC's federal and non-federal campaign committees shows that O'Malley has raised about $106,000 from California donors so far this cycle. That's about 4% of his total fundraising in the same period. The majority is Maryland money.
Last Sunday, O'Malley stopped over in Los Angeles for a fundraiser benefiting his political action committee, O'Say Can You See PAC, or "O'PAC," which the governor uses to fund his travel and pay a small handful of political aides.
People involved in the fundraiser, which took place at a high-priced Italian restaurant on Melrose Ave., said they would consider supporting the governor in a presidential race. But none said they had committed to his potential campaign.
The event, where tickets started at $1,000 per person, was hosted by a cadre of Obama people, including Eric Paquette, a Sony Pictures senior vice president who first supported Obama in 2006; Jon Vein, the MarketShare CEO who served on Obama's finance committee during both elections; Yolanda "Cookie" Parker, the founder of KMS Software and a prominent Obama "bundler," or fundraiser; and Dixon Slingerland, the executive director of the Youth Policy Institute who reportedly raised just under $1 million for the president's two campaigns.
(The co-hosts of the fundraiser last Sunday have something else in common besides Obama. They supported Los Angeles Mayor Eric Garcetti, who beat out Bill Clinton's pick for the job, Wendy Greuel, during a competitive, highly funded race last year. With Obama's early supporters backing Garcetti and Clinton's backing Greuel, the race was like a small-scale sequel to the 2008 primary.)
More than one Los Angeles Democrat described Slingerland as "all in" for O'Malley. The Youth Policy Institute head did not respond to requests for an interview for this article. Slingerland also hosted one of the governor's four meet-and-greets with donors, this one last March at the California Club.
People who planned the Sunday night gathering said the focus of the fundraiser wasn't the presidential race. Most of the donors and fundraisers said they wanted to help O'Malley get to know more people in Los Angeles, and help finance his travels on behalf of other Democratic candidates ahead of the midterm races this fall. (He has gone to at least 19 states since the start of last year, and his aides have said he'll be on the road just about every weekend until Election Day.)
"I support him in his efforts supporting other candidates," said Vein, the MarketShare CEO and one of the event's co-hosts. Vein said he heard a "very broad range" of responses from people as he organized the event. "Everything from, 'Who?' up to, 'That guy is awesome' and people talking about 2016."
Another co-host, Moctesuma Esperanza, a producer and the CEO of Maya Cinemas, said, "He's still not really well-known, and I think that his strategy to come out to participate in meet-and-greets has been excellent."
Esperanza, who supported former governor Bill Richardson in the last Democratic primary, said he would be "very disposed" to support O'Malley in a national race, citing his work at the state level on immigration policy and his public scuffle with White House officials this summer over the administration's response to the thousands of immigrant minors who crossed the U.S.-Mexico border.
"I think a lot of people here are waiting to see what else is out there," he said.