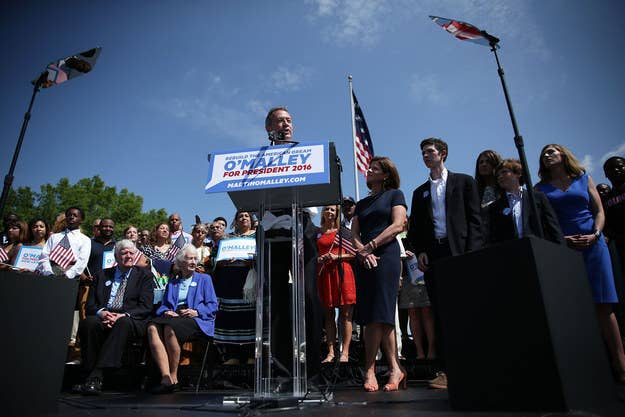 BALTIMORE — At the top of Federal Hill — as Martin O'Malley declared his run for president and made a progressive economic case for "rebuilding the dream" — there was another announcement his campaign was trying hard to broadcast.

It appeared on the signs, the posters, the tee-shirts and lapel pins, on the body of a hulking jumbotron truck — and on the screen it hoisted in the air, bearing in pixelated red and blue lettering the message that, more than any other, seemed to be the guiding slogan of the O'Malley for President effort on Saturday: "NEW LEADERSHIP."
Beside his wife and four children, in the state he led as governor and the city as mayor, O'Malley began his campaign under the banner of the next generation — and with a promise to "this generation" that it "still has time to become great."
At 52 years old, he is the youngest Democrat seeking the nomination.
Hillary Clinton, who holds a large share of the party's support in polling, endorsements, and fundraising, is 67. Bernie Sanders, the senator from Vermont, is 73.

For O'Malley, the rhetoric echoes that of his mentor, Gary Hart, the former U.S. senator who ran for president on a policy-heavy platform and a "new ideas" mantra.
Friends and former aides said in interviews this week that O'Malley sees his campaign in that historical lens — the unlikely underdog taking on an establishment candidate. Bobby Kennedy against Lyndon B. Johnson in 1968. Hart against Walter Mondale in 1984.
(Before his speech started, O'Malley aides tried playing an announcement video set to that very theme for the crowd of at least 1,000 people on Federal Hill. "We will not stick our finger in the air to see which way the wind is blowing," a narrator started. Then the clip sputtered, the jumbotron lost sound, and the video stopped altogether.)
The generational argument, though, has some supporters worried that O'Malley could appear to voters, as several put it, as if he is "playing the age card."
As he traveled last year to key primary states to test the potential for a campaign, O'Malley obliquely referenced the electorate's desire for new blood. He could sense a "yearning" across the country, he said at the time, for a "new generation of leaders." Still, O'Malley shied from questions about Clinton. He rarely mentioned her by name — even as he continued his calls for a fresh crop of talent in the Democratic Party.

Months later, the references are no longer oblique.

O'Malley's team recently released a statement suggesting Clinton is part of the "old guard" — and the "oldest story in politics." (His campaign has a vigorous press operation, with aides seeking to influence coverage. Earlier this month, in a live on-air interview with a Clinton official, NBC News's Andrea Mitchell appeared to accidentally cite off-the-record materials from the O'Malley team.)
And last week, two O'Malley associates started a super PAC to support his campaign called "Generation Forward." Upon its debut, the group's chief executive, longtime O'Malley adviser Damian O'Doherty, told the Washington Post, "This is not your grandmother's super PAC."
Ron Boehmer, a former O'Malley spokesman who founded Generation Forward with O'Doherty, said the comment was not a reference to Clinton, who is in fact a grandmother. "It was not an attack on Hillary Clinton's age, or any candidate's age. Instead, it's a PAC based on a candidate whose policies best fit future generations." (An official involved with Generation Forward did admit: "Saying grandmother's super PAC wasn't the best choice. We should have said grandparent's super PAC.")
The group plans to target young voters with digital and television ads, according to Boehmer. "He's the leader millennials can benefit from," he said.
On Saturday — with supporters on stage behind him, their "New Leadership" campaign signs raised in the air — O'Malley made his pitch to be that candidate. He outlined his eight years as governor of Maryland, where he ushered in same-sex marriage, a bill granting in-state tuition to undocumented immigrants, and an increase in the minimum wage. The speech touched only briefly on foreign policy, focusing more on the left-leaning economic policies he's pushed on the campaign trail in recent months.
Arguing for more regulation on the Wall Street, O'Malley wove in a line casting Clinton — along with Jeb Bush, a leading Republican candidate — as an establishment figure.
"Recently, the CEO of Goldman Sachs let his employees know that he'd be just fine with either Bush or Clinton. I bet he would," said O'Malley. "Well, I've got news for the bullies of Wall Street. The presidency is not a crown to be passed back and forth by you between two royal families."
The remark drew the loudest applause from the crowd of any during the speech.
O'Malley was coy when asked about the age issue at his first two campaign stops as a presidential candidate, both in Iowa later on Saturday.
At a union hall in Davenport, asked if he thought his age gave him an advantage in the Democratic contest, O'Malley didn't answer directly, making a joke instead about how young he was, at 36, when he became the mayor of Baltimore. And in Des Moines, surrounded by dozens of "New Leadership" signs stapled to the wall of his state headquarters, O'Malley was asked if he was making age an issue in the campaign.
"No," he said, "but I do believe that as times change our challenges change. And the things that we were able to do both in Baltimore and in Maryland required new thinking and new perspectives and, yes, new leadership that's willing to try new approaches."
"And I believe that's what our country needs right now."

Still, some who know O'Malley worry that the aggressive strategy could be too negative, and not consistent with his approach historically as a campaigner.
"The problem with playing the age card is very quickly it turns into playing the gender card," said a former top adviser to O'Malley. "He's a better person than that. He could unintentionally marginalize himself in a permanent way."
"There's something potentially offensive about it," the former adviser said.
Republicans in the race have also invoked Clinton's age. Marco Rubio often refers to a candidate "from yesterday." And in a more extreme case, Rand Paul suggested last year that Clinton was too old to handle the "rigorous physical ordeal" of the campaign.
For O'Malley, the language is particularly tricky given his long history of support for the Clintons. The former first family has been helpful to O'Malley dating back to the early Baltimore years. In 2002, after he made the decision to pass on the governor's race that year, O'Malley received a note from Bill Clinton: "You will go on to bigger things. I won't be surprised if you go all the way," it read, according to an account in Esquire.
And five years later, O'Malley was one of Hillary Clinton's earliest and most committed surrogates, making several visits to New Hampshire on behalf of her campaign.
"If I can, I will help her, wherever I can, whenever I can," he said at the time.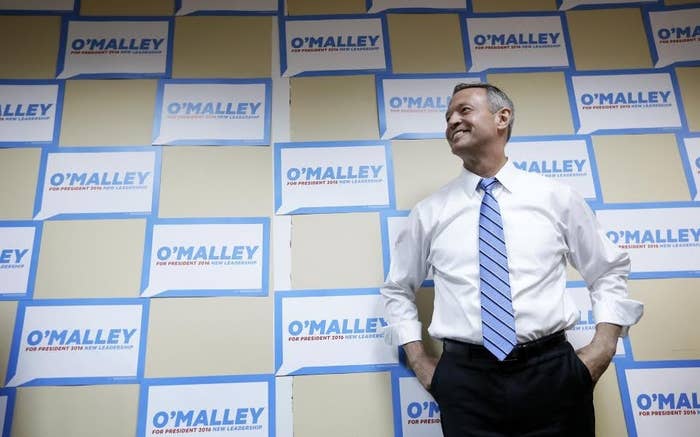 Others said O'Malley's more assertive approach has been "overplayed" by the media.
"That's being characterized by the folks covering him," said Shaun Adamec, a former O'Malley aide. "As you draw closer to an actual race, there are distinctions to be made. You can't fault him for drawing those distinctions."
Much of the old team surrounding O'Malley is no longer directly involved in the presidential race yet. There were faces from the old Baltimore crowd here on Saturday. But the campaign team itself is lean: Bill Hyers, the manager on Bill de Blasio's mayoral race, was hired as a chief strategist — though he is not expected to lead the day-to-day campaign. And O'Malley's longtime right-hand, Colm O'Comartun, is advising the campaign, but recently formed his own bipartisan consulting firm. Some who have known O'Malley longest, either from Hart's campaigns or the Baltimore years, have worried amongst themselves that it's not clear who exactly is in charge.
The bigger issue for others is that the push for "new leadership" won't be enough to drive a campaign. And in this primary, there's already a candidate to Clinton's left. Sanders, the self-described "socialist" senator, commands a vast and loyal base of followers.
Craig Varoga, who served as chief strategist on O'Malley's reelection campaign for governor in 2010, said that for a chance at the nomination, "first he needs an issue. Then he needs to be a perfect candidate and then run a perfect campaign. And then he needs to get really, really lucky. But it's not yet clear what that issue might be."
That wasn't the case in 1999, when a little-known city councilor stood at the corner of Harford Road and the Alameda in Baltimore and launched a campaign for mayor. Nobody thought O'Malley had a shot. But he ran as a crime-solver who wanted to address violence in every part of the city, not one. And when the frontrunner faltered, O'Malley was there with the resources and infrastructure — and the right issue for that race.
James Cauley, a consultant on the 1999 campaign, said Clinton may stumble, too.
"There's a path here. The Clintons are entirely capable, and not only capable but likely, to provide the opening," said Cauley. "Their ability to make huge mistakes is legendary."
But even still: "What's his issue now?" asked Varoga. "What is the wedge issue where Hillary cannot take the same position or not have a louder megaphone to communicate the same message? He needs a message to contrast with his opponent. Where does he draw the distinction?"
"A generational distinction is a theme — but it's not an issue the way that the Iraq vote was for Obama in 2008."
As a former big-city mayor, O'Malley may focus his campaign on questions of urban renewal and relieving poverty. Last month, after the death of a black man in police custody, Freddie Gray, touched off violent riots, O'Malley canceled a trip abroad to return home. But if those issues do become a centerpiece of his campaign, O'Malley will face critics of his tough-on-crime policing as mayor.
The unrest in the city has not subsided. The night before O'Malley's speech, Baltimore was hit with more homicides, bringing the total this month to 39.
At his announcement, he told the crowd of supporters that there was "something to be learned" from Gray's death. "For what took place here was not only about race," he said. "It's about everything it is supposed to mean to be an American."
"We have work to do," said O'Malley. "Our economic and political system is upside down and backwards and it is time to turn it around."

He went on speaking, but at least two protesters could be heard on Federal Hill.
One shouted "black lives matter" again and again as O'Malley spoke.

The other blew a whistle repeatedly.
Without a pause, O'Malley kept on with his speech.
Evan McMorris-Santoro contributed reporting from Iowa.
O'Malley announced his first campaign for mayor of Baltimore at the intersection of Harford Road and the Alameda. A previous version of this story misstated the location.