Marriage Equality Advocates Angry At Facebook Founder For Backing Chris Christie
The N.J. governor, who vetoed a bill last year to legalize same-sex marriage, is off to a fundraiser Wednesday at the home of Mark Zuckerberg and Priscilla Chan. The couple just attended Chris Hughes' wedding, says Efthim.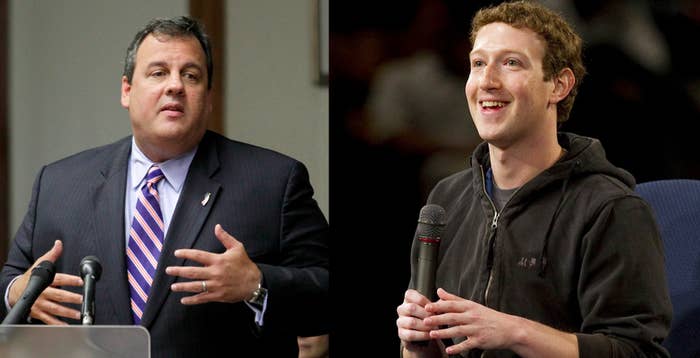 Democrats across the Garden State put out the call Monday on Facebook and Twitter to "Unfriend Christie," in advance of the Republican governor's political fundraiser this Wednesday — first reported by BuzzFeed last month — at the Palo Alto home of Facebook founder Mark Zuckerberg and his wife Priscilla Chan.
A cadre of the state's progressive organizations — the gay rights advocacy group, Garden State Equality; the popular liberal blog, Blue Jersey; and the New Jersey chapters of Democracy for America and Communications Workers of America — are leading an online campaign to hit Christie and Zuckerberg, specifically on the issue of marriage equality.
Although Facebook is a giant in the progressive Silicon Valley community — and was the first social media company given a "Special Recognition Award" last year by GLAAD, the Gay and Lesbian Alliance Against Defamation — its founder has extended his support for "the only guy standing in the way of gay people getting married here," Blue Jersey founder Rosi Efthim told BuzzFeed.
Christie vetoed a bill to legalize same-sex marriage in the state last February, calling instead to put the issue to referendum on the ballot.
Efthim and her partners in the social media campaign have taken to Facebook and Twitter to push out the hashtag, #UnfriendChristie, and have launched an online petition asking Zuckerberg to "reaffirm his position as a supporter of LGBT equality for all persons including those in the state of New Jersey."
"Here's the way it looks to me," said Efthim. "Mark Zuckerberg is still a newlywed. Just recently, he and Priscilla attended the same-sex wedding of Chris Hughes," she added, of last year's July wedding of Hughes, a Facebook co-Founder and Zuckerberg's former college roommate, and Sean Eldridge, who this month filed papers to run for Congress in New York's 19th District.
Hughes, who worked on President Barack Obama's campaign in 2008 and is now the editor and publisher of The New Republic, told ABC News last month that Christie's record on marriage equality raises "serious concerns about supporting someone like him."
Zuckerberg's event will be one of four fundraisers the governor attends during a three-day swing through California this week, according to a report in the Bergen Record. Christie will spend Monday in Beverly Hills, Tuesday in La Jolla and Santa Barbara, and Wednesday with Zuckerberg and Chan in Palo Alto.
"Facebook even has icons representing same sex marriages," Efthim added. "We think Zuckerberg and Chan can do better, and we're going to use social media, rallying, and whatever it takes to tell him."