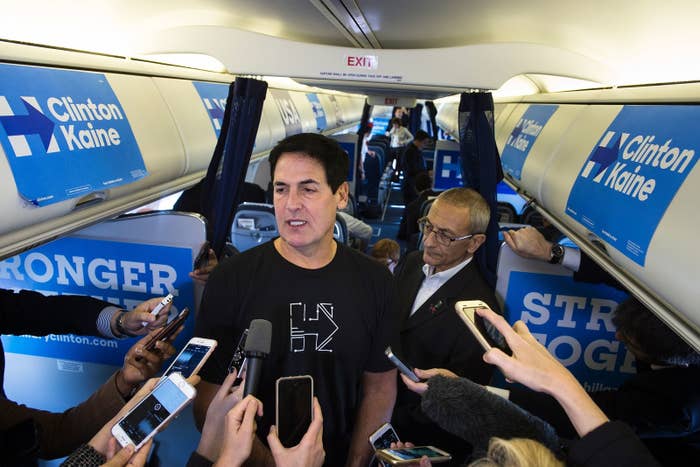 DETROIT — Billionaire Mark Cuban clarified his suggestion on Friday that Charles and David H. Koch once tried to pay Donald Trump to leave the presidential race, saying there had been a serious "buyout" attempt, just not from the Republican financiers.

The claim arose on Hillary Clinton's Boeing 737 aboard a flight to a rally here in Detroit when Cuban, one of the campaign's biggest surrogates, came to the press cabin to take questions alongside chairman John Podesta. Earlier in the day, appearing with the candidate at an event in his hometown of Pittsburgh, Cuban told the crowd they shouldn't trust a President Trump to say no to a bribe of billions of dollars to act on behalf of foreign governments.
Later, as Clinton's plane made its way to Detroit, a reporter joked that the Koch brothers, two of the party's wealthiest Trump critics, could've "bribed" the nominee to drop out.
"They tried," Cuban snapped back.
"They did?" the reporter asked.
"I know they did," said Cuban, a solemn look on his face. "Didn't offer him enough."
The exchange circulated in a pool report and quickly set off theories among political observers on Twitter.
Asked to elaborate on his remark, Cuban said by email that he had not been referring to the Koch brothers — a name the reporter brought up, he said — but that "an offer was made to buy him out of the election," that the offer "got to Trump," and that Trump declined.
Pressed several times, Cuban declined to spell out who made the alleged offer or how exactly he learned of it, saying only that he "discussed it with someone who was trying to put it all together."
Cuban said that this took place right after the Democratic National Committee in late July, one of the worst points for Trump in the race. At the time, Trump was fading in state and national polls and under fire for his attacks on Khizr and Ghazala Khan, the Gold Star parents who delivered a passionate address at the DNC in Philadelphia.
Trump declined the supposed offer, Cuban said, because it wasn't "enough" money.
"The response was that it wasn't enough and to wait… I presume to see how he was doing in the race," he added. "There was no follow up from there."
The Dallas Mavericks owner and Shark Tank star also pushed back against the characterization of the proposition as a bribe. "That word never came up," he said. "It was discussed as a buyout. What amount would get him to drop out of the race. Nothing under the table or hidden. That he would decide to drop out and would be given an above-the-table deal of some sort."
Before and after this summer's convention, Trump's critics and some of his former aides wondered if he might actually drop out before Election Day.
"I bet if someone offered him $150 million to drop out, he would," one former Trump adviser told POLITICO in June, setting off a spate of speculation that has followed Trump into the final days of the race about whether he truly wants to be president. In that same article, Cuban said $5 billion might be enough to convince Trump.
Anything less, he said at the time, "no chance."