Man Behind "47 Percent" Video Opens His Own Research Firm
Jimmy Carter's grandson turns his big scoop into a career. He's already taken down another Republican with a hidden-camera video.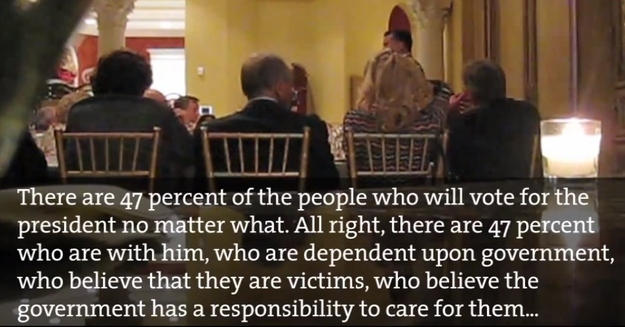 The freelance researcher who became a minor campaign celebrity after unearthing the now-infamous video of Mitt Romney railing against 47 percent of Americans at a private fundraiser has used his political fame to start his own opposition research firm.
When the researcher, James Carter IV, first saw the secretly recorded footage of Romney in August, he immediately identified it as a bombshell, and sent it to David Corn, a Mother Jones reporter with whom he had worked in the past. When the magazine published the scoop — headline: SECRET VIDEO: Romney Tells Millionaire Donors What He REALLY Thinks of Obama Voters" — Corn received a solo byline, with Carter getting a modest mention at the foot of the post: "Research assistance: James Carter."
Corn would later turn what his magazine called "the scoop of the decade" into a HarperCollins e-book, which he titled, 47 Percent: Uncovering the Romney Video That Rocked the 2012 Election. Carter is thanked in the acknowledgements for "his diligent pursuit of the source for the Romney fundraising video and for introducing the two of us," writes Corn. "It was a consequential hook-up."
It was, in fact, Carter who found the video, researched Romney fundraisers, identified the likely location and date of the one featured in the video, and convinced the source of the footage through a series of Twitter direct messages to hand it over to Corn.
"[Corn] got a lot of the credit for it, and that's fine — that's the way it had always worked," Carter told BuzzFeed, adding, "I was perfectly fine with it. I'm the research guy, and he was the reporter and publicist."
After the 47 percent video broke, Carter got a slew of job offers from news organizations such as the Huffington Post, Reuters, and The Daily Beast.
But he knew early on that a job in media wasn't for him. "I'm very partisan," he said. "The way I look at it, having to even acknowledge that there's another side of the argument is doing the other side's work for them."
So he decided to start his own opposition research firm instead. He didn't know how to start a business, but his cousin lawyer helped him file the papers, and on Oct. 15, he officially opened Carter Research, LLC, for business.
The firm operates from Carter's home in Atlanta, where he and his wife work together side-by-side. "She's the writer, and does some researcher too, but she mainly puts it in a form that's presentable to the client," he said.
Carter's first big victory was a campaign he did for Better Georgia, a progressive advocacy organization that wanted to dislodge Chip Rogers, Republican majority leader of the state Senate, before leadership elections in November.
In late September, Rogers sent out an invitation on his majority leader stationary to 35 Republican members of the Senate inviting them to an Oct. 11 closed-door "Agenda 21 Information Session." The four-hour event would feature a lunch, movie, and PowerPoint presentation.
According to the invitation, the discussion would focus on the ways in which Agenda 21 — a United Nations resolution that has become the target of conservative derision — was "fostering a Socialist plan to change the way we live, eat, learn, and communicate," read the invitation.
Carter sneaked a videographer into the meeting — 47-percent style — and got it all on tape. Carter said the meeting, led by Rogers, was even more damaging than he'd hoped. One of the slides in the PowerPoint showed the number of deaths by famine under Stalin and Mao. Listed beneath the two dictators was Obama — famine death count: "TBD." Rogers also warned that Obama was using a mind-control techniques.
"We were hoping to just get anything that we could add to our Chip Rogers file," said Carter. "But it was better than we were expecting. It went national."
The Rogers video was featured first on Nov. 11 in the Atlanta Journal-Constitution. Three days later, it got picked up by Mother Jones. And finally, on Nov. 17, Rachel Maddow gave Carter's video its own segment. Maddow called it "lunacy."
While the Senate was holding its leadership votes that week, Rogers withdrew his name before resigning altogether two weeks later on Dec. 4 to take a job in public television. "The governor got him his own television show just to get him out of there," said Carter.
His success is perhaps one reason, as Carter said, "clients generally just come to me." And just two months ago he kept a plea for employment — "currently looking for work" — prominently displayed in his bio line on Twitter. Then, said Carter, opposition research was "just what I would do in my spare time," he said. "Being paid for my hobby was a pipe dream, because I was doing it for free anyway."
Carter graduated high school in 1995, and he's reticent about how he spent the years between then and now, claiming he doesn't even keep track of his age.
"I can never remember. I actually stopped counting, because a lot of those years run together. I was worthless for a while," he said, recounting intermittent drug issues he has since resolved.
Carter is close with his grandfather, although he is careful not to be the first to bring up the former president in conversations. As Corn noted in 47 Percent, "I wouldn't learn of his relationship to the former president until early September," when the two met at the Democratic National Convention nearly two months after they began emailing.
But "whenever big stories come out that I contributed to," said Carter, "I would send them out to my family." And when he sent out the 47 percent video, the former president sent James an email. It was the first time his grandfather had ever responded to one of his emails.
"James: This is extraordinary," wrote the former president. "Congratulations! Papa."