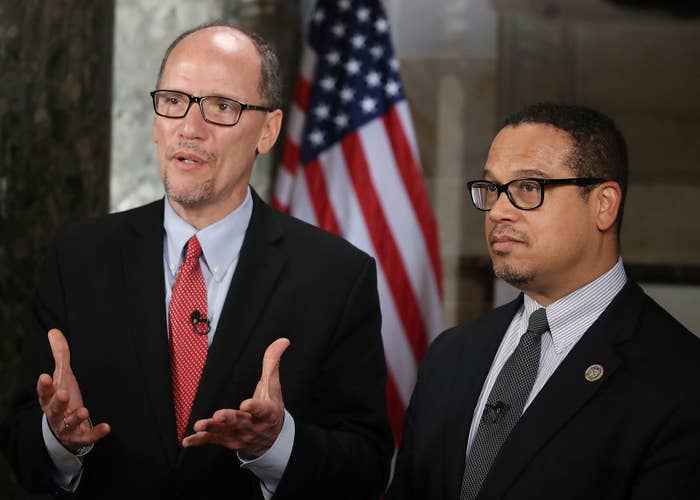 LAS VEGAS — A rumor that pro-Bernie Sanders Democrats have proposed removing three prominent black women as at-large members of the Democratic National Committee set off a fury here at the party's fall meeting, lighting up tensions between anti-establishment progressives and chairman Tom Perez as Democrats rushed late Thursday to find out where the rumor had come from and what motives drove it.
In the chandeliered ballrooms of Bally's casino, Democrats spent the first two days of their meeting whispering in large part about Perez's appointments to the DNC. His 75 chosen at-large members, a diverse selection that included a young woman protected under the DACA program as well as a black transgender woman, also became a point of contention and speculation when longtime Democrats were removed from their posts.
James Zogby, a key Sanders ally and a longtime DNC member who found out he would lose his spot on the party's executive committee, was among several progressives who cast the move as a form of retaliation against those who did not support Perez in his bid for chair earlier this year.
By Thursday afternoon, two days after Perez announced his appointments, the rumor was this: Zogby and other pro-Sanders Democrats wanted to flout Perez's picks for at-large DNC members by proposing an alternate slate, one that would swap out three prominent black women. The names circulating among Democrats were Leah Daughtry, former DNC convention chair; Minyon Moore, veteran Democratic strategist; and Symone Sanders, former national press secretary to Bernie Sanders. By Thursday evening, the rumor was Daughtry, Moore, and former DNC chair Donna Brazile.
Zogby flatly denied the rumor in an interview early on Thursday evening.
He has known Daughtry, Moore, and Brazile for years, he said, in large part through his work on the 1984 and 1988 Jesse Jackson campaigns. "I would never turn against those three women. That is not what I've done," Zogby said. "These are friends of mine who I care about. And I simply find it deplorable that someone would start that rumor in order to create a deeper wedge to absolve themselves from the crappy decision they've made."
Zogby, a DNC member since 1993 and a member of the party's Unity Reform Commission, said he will likely "reintroduce" his candidacy as an executive member later on in this week's meeting. "We haven't worked out the mechanics of it," he said. "But it was never these people instead of those people. It was never that at all, ever."
The rules require that the full body of the DNC be notified seven days in advance of a slate, according a party adviser.
Two Democratic sources said Zogby and Jane Kleeb, another prominent Sanders supporter and the chair the Nebraska Democratic Party, discussed plans to introduce an alternate slate of 75 at-large members. One of those Democrats said the alternate slate would be less diverse than the one put forward by Perez earlier this week.
Kleeb dismissed the rumor broadly as a smear attempt by establishment forces. "Whoever's doing it [is] this little cabal of people who just love to create drama, especially around Bernie folks, who they see as some threat," she said.
In a statement, DNC spokesperson Xochitl Hinojosa told BuzzFeed News, "We are proud of the unprecedented diversity of this year's slate of at-large DNC members. We must come together in unity and embrace our diversity in order to win elections up and down the ballot."
The infighting comes at a sensitive time for the party, as Perez presides over his first party-wide meeting as chair after closely watched race against the candidate favored by progressives, Rep. Keith Ellison, who now serves as deputy chair in a still-divided party. The incident also comes off the heels of an open letter black women leaders sent to Perez titled, "There's Too Much at Stake to Ignore Black Women."
"The Democratic Party has a real problem," read the letter, signed by seven members of Congress. "The data reveals that Black women voters are the very foundation to a winning coalition, yet most Black voters feel like the Democrats take them for granted. The Party's foundation has a growing crack and if it is not addressed quickly, the Party will fall even further behind and ultimately fail in its quest to strengthen its political prospects."
Zogby spoke with the three women on Thursday to try to clear up the rumor, which quickly reached Daughtry in Las Vegas — and even Moore and Brazile in Washington. As he talked about his history with Brazile, a relationship that dates back to 1983, her name lit up in a text to his phone, asking what was going on and why she was involved. Before the start of the DNC's eastern regional caucus meeting, Zogby waited by the door for Daughtry. The two hugged and exited the room to talk privately. Later, Daughtry said she believed Zogby, and would support his bid for executive committee, but wanted to uncover the source of the rumor.

"I'm gonna get to the bottom of it," she said. "If my name isn't Leah Daughtry."
On Saturday, the final day of the DNC meeting, Daughtry addressed the rumors about specifically in a speech to attendees, describing first how she'd worked for the party since 1989 and how President Obama and former DNC chair Debbie Wasserman-Schultz appointed her to be a DNC at-large member in 2013. Then she addressed the "unnamed, shadowy" faction she says pushed for her removal:
"I have done the work. I have paid my dues. And I have earned my seat at the table. And yet, over the course of this meeting, some unnamed, shadowy, increasingly noisy faction of our party has suggested that I — and a few of my likeminded friends — are the wrong kind of Democrat to hold membership of the DNC. That somehow, maybe because of my race, maybe because of my gender, maybe because of the brashness that comes from the combination of the two, maybe because I actually had history and institutional memory of our party, maybe because I chose to support the nominee of our party. I don't know what their reasons were. Maybe they didn't know that black women are the strongest, the loyalest, and the most consistent voting block of the Democratic Party. Maybe they forgot that we show up when nobody else shows up. Maybe they didn't know that black women control $1.3 trillion in the economy of the United States of America.
"Maybe they forgot. Maybe they didn't know. I don't know what their reason was. I don't know their rationale. And they've receded to the shadows. So maybe we'll never know. But let me tell you what I do know. I know that though my name, and the names of Minyon Moore, Donna Brazile, Symone Sanders, and Jim Zogby were called this week, it's really not about us. We were just this week's targets. Tomorrow, or maybe even later today, or maybe even before this meeting is over, it will be about different names, different people, who don't meet some imaginary ever-changing standard of what it means to be a Democrat. Maybe it will be because of the color of our skin. Maybe it will be because of our gender or our sexual orientation or gender identity, or choice of faith, or choice of employer. It doesn't matter this week's reason or excuse. Because there are always forces that are looking to exclude people at a time when we need to be drawing the circle bigger. We have to be on our guard against these negative, divisive forces... We have to root them out, call them out, and expel them from our midst.
"Let me tell you what I do know. I know that the Democratic Party is the party of opportunity, fairness, and inclusion. I know that the Democratic Party is the party that fights for those who cannot fight for those who cannot fight for themselves -- the least, the last, the lost, and the left behind. Those who have little. Those who have more. And those who have much. This is a big tent that welcomes all who are willing to fight for the principles we cherish. There are no litmus tests here. If there were, we'd be the Republicans."
On Thursday, Moore, the longtime Democratic strategist named alongside Brazile and Daughtry, called Zogby an "honorable man" whom she respects. She said she didn't believe would do something like this. But she also expressed concern about what it said about the Democratic Party's feelings about its base if it feels that black women are disposable.

"If they think targeting black women who have committed themselves to this party as an avocation and not a vocation and have given more than they've gotten, is a smart idea, then God bless them," Moore said.
After publication late Thursday, Symone Sanders told BuzzFeed News in a statement that "clearly" there is still work to be done when it comes to "respecting" the contributions of black women. "Perhaps if we stopped tying our politics to people and started to look at the issues, we could put the battles of the 2016 primary behind us. That's what I did and that's what I'll continue to do."
"But for the life of me I still can't figure out how black women continue to get the brunt end of the stick in this party," she added. "It's disgraceful."