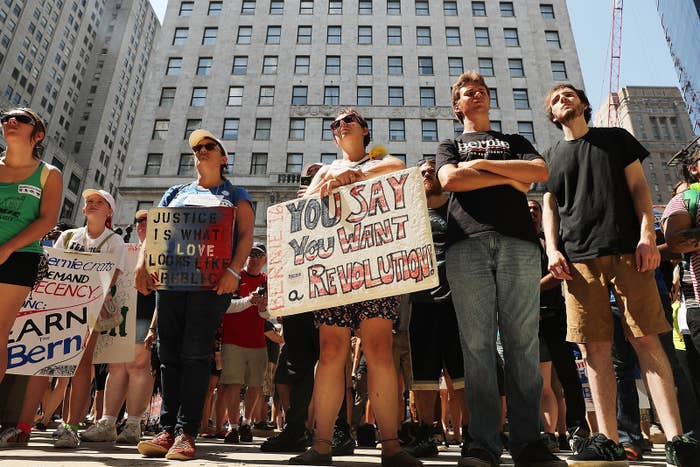 PHILADELPHIA — Hillary Clinton's campaign dismissed the "Lock Her Up!" shouts that rang out from a pro-Bernie Sanders march here on day one of the Democratic convention, echoing chants heard from Republicans last week in Cleveland.
"I don't think that's a consensus sentiment at all," said Clinton national press secretary Brian Fallon, asked about whether Democrats can expect to the same vitriolic language that overtook much of the Republican National Convention.
The chants came on Monday morning during a march in downtown Philadelphia, organized independently of the Vermont senator's former campaign.
Supporters were sporting "Hillary For Prison" t-shirts and signs.
Sanders endorsed Clinton at a carefully managed rally in New Hampshire on July 12, and the two campaigns have made an effort to collaborate ahead of this week's convention, aimed at contrasting a unified Democratic Party with the GOP.
But amid this week's ongoing controversy over leaked emails from the DNC, culminating Sunday in the resignation of party chair Debbie Wasserman Schultz, Sanders diehards have reignited to efforts air concerns about Clinton favoritism.
Some Sanders activists have launched the so-called Bernie Delegates Network, boasting 1,250 Democratic delegates, and told reporters Monday they believe they can mount a challenge to Clinton's vice presidential pick, Sen. Tim Kaine.
Fallon, speaking to reporters after a press briefing here, dismissed the idea that in the end, Sanders voters will flock to Donald Trump: "There's been a way overwrought narrative about the idea that Bernie Sanders supporters are in play for Donald Trump." Sanders and his aides, Fallon argued, "would dispute that notion."
Last month, a Bloomberg Politics national poll found that 40% of Sanders supporters said they wouldn't vote for Clinton, and 22% would vote for the GOP nominee.
"Everything that Donald Trump stands for is antithetical to everything that the Sanders movement was all about during this primary," Fallon said.